Commentary
Roberto Luongo is statue of the week!
Originally Published:
June 20, 2011
By
Kurt Snibbe
| Page 2
Editor's note: There's a statue of Jason White at Oklahoma. There's a statue of Danny Wuerffel at Florida. The Phillie Phanatic was feted with no fewer than 20 statues last year in Philadelphia -- and he hasn't even won a Heisman Trophy! If these guys have their own statues, something must be done to honor more deserving sports figures whose artistic immortalization is long overdue. So each Monday, Page 2 will proudly unveil its Fictional Sports Statue of the Week.
Page 2's Fictional Sports Statues of the Week:
Week 1: Jim Tressel | Week 2: Charles Barkley (golf) | Week 3: Zach Randolph
Week 4: Kareem Abdul-Jabbar | Week 5: Chad Ochocinco | Week 6: Miami Heat
Week 7: Mavericks forward Brian Cardinal | Week 8: Canucks goalie Roberto Luongo
Week 9: New York Yankees | Week 10: Bye | Week 11: Deron Williams
Week 12: Legendary caddie Steve Williams | Week 13: The invocation of pastor Joe Nelms
Week 14: Randy Moss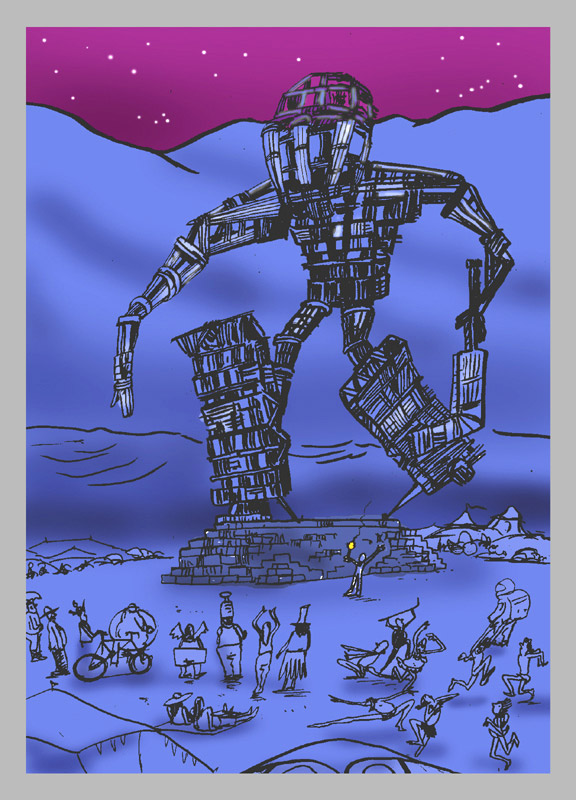 Roberto Luongo
Location: Black Rock Desert, Nev.
Design Inspiration(s): The Burning Man wooden effigy.
Plaque Inscription:
Roberto Luongo
This effigy serves to honor Vancouver Canucks goalie Roberto Luongo, one of the finest goalies on the entire planet. Unfortunately, he was torched for 18 goals in four defeats during the Stanley Cup finals loss to the Boston Bruins -- stopping a mere 79 percent of opposing shots in those games. So in the burn, baby, burn spirit of Canucks fans, we present them with an invite to ignite this awesomely massive likeness.
Text by Thomas Neumann.