Commentary
Statue of the week: Deron Williams
Originally Published:
July 11, 2011
By
Kurt Snibbe
| Page 2
Editor's note: There's a statue of Jason White at Oklahoma. There's a statue of Danny Wuerffel at Florida. The Phillie Phanatic was feted with no fewer than 20 statues last year in Philadelphia -- and he hasn't even won a Heisman Trophy! If these guys have their own statues, something must be done to honor more deserving sports figures whose artistic immortalization is long overdue. So each Monday, Page 2 will proudly unveil its Fictional Sports Statue of the Week.
Page 2's Fictional Sports Statues of the Week:
Week 1: Jim Tressel | Week 2: Charles Barkley (golf) | Week 3: Zach Randolph
Week 4: Kareem Abdul-Jabbar | Week 5: Chad Ochocinco | Week 6: Miami Heat
Week 7: Mavericks forward Brian Cardinal | Week 8: Canucks goalie Roberto Luongo
Week 9: New York Yankees | Week 10: Bye | Week 11: Deron Williams
Week 12: Legendary caddie Steve Williams | Week 13: The invocation of pastor Joe Nelms
Week 14: Randy Moss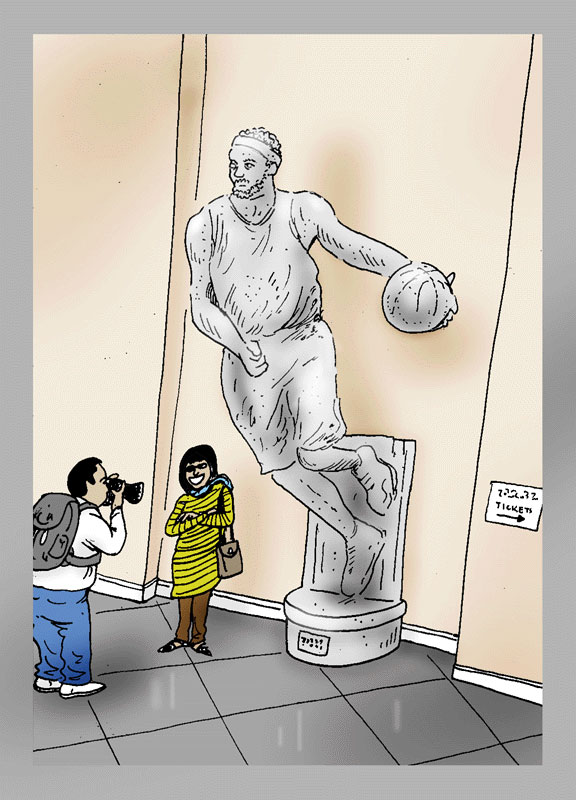 Deron Williams
Location: BJK Akatlar Arena, Istanbul, Turkey.
Plaque Inscription: (Translated from Turkish)
This statue stands in tribute to Deron Williams, who becomes the finest player in the history of the Turkish Premier Basketball League even before stepping foot on a court in this country. Sure, Hedo Turkoglu and Bootsy Thornton were pretty good, but now we finally got a real baller!
Text by Thomas Neumann.