Commentary
Charles Barkley deserves a golf statue!
Originally Published:
May 9, 2011
By
Kurt Snibbe
| Page 2
Editor's note: There's a statue of Jason White at Oklahoma. There's a statue of Danny Wuerffel at Florida. The Phillie Phanatic was feted with no fewer than 20 statues last year in Philadelphia -- and he hasn't even won a Heisman Trophy! If these guys have their own statues, something must be done to honor more deserving sports figures whose artistic immortalization is long overdue. So each Monday, Page 2 will proudly unveil its Fictional Sports Statue of the Week.
Page 2's Fictional Sports Statues of the Week:
Week 1: Jim Tressel | Week 2: Charles Barkley (golf) | Week 3: Zach Randolph
Week 4: Kareem Abdul-Jabbar | Week 5: Chad Ochocinco | Week 6: Miami Heat
Week 7: Mavericks forward Brian Cardinal | Week 8: Canucks goalie Roberto Luongo
Week 9: New York Yankees | Week 10: Bye | Week 11: Deron Williams
Week 12: Legendary caddie Steve Williams | Week 13: The invocation of pastor Joe Nelms
Week 14: Randy Moss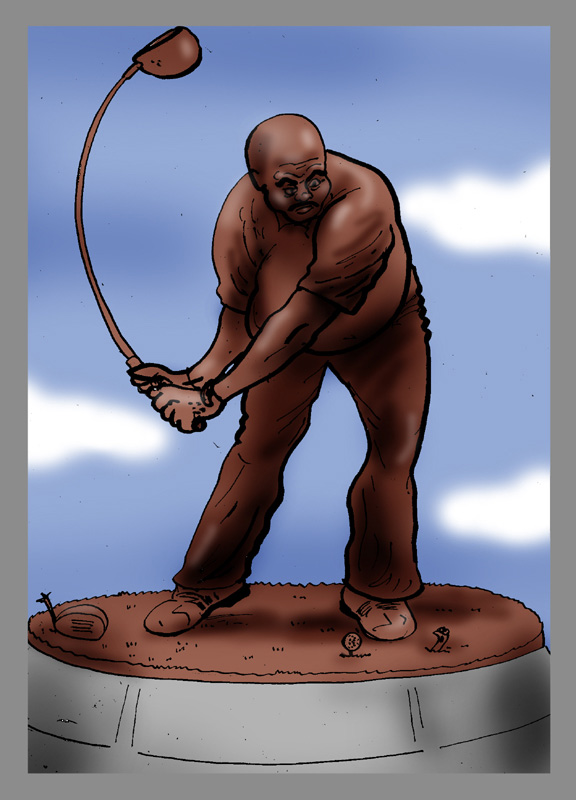 Charles Barkley
Location: Outside any golf course in America.
Design Inspiration(s): The 7-foot-high statue of Ben Hogan at the Colonial; Charles Barkley's actual golf swing.
Plaque Inscription:
Charles Wade Barkley
Golfer
Handicap Unknown, But Very Large
Immortalized here is a golf swing known but to God. A former professional athlete, Charles Barkley appeared to be anything but one when holding a driver. His tortured swing was a metaphor for quantum physics -- somehow jerky and rigid at the same time -- and beset by an awkward, Dadaist, midswing hitch that made him appear to have a video-game pause button installed in his belt buckle. Barkley once was a 10-handicap golfer who could break 80. He regressed. He was friends with Tiger Woods. Didn't help. He tried hypnosis. Didn't work. He received coaching from Hank Haney. He actually got worse, hitting a spectator with a slice and breaking his club head on a drive. Barkley had access to world-class equipment, yet finished last in the Lake Tahoe celebrity golf tournament five consecutive times. He had monetary wealth and widespread social renown, yet could not hit a little white ball with anything approaching a degree of accuracy. He supposedly had a decent short game. Supposedly. In his Sisyphean futility and dogged desire to keep engaging in a masochistic activity designed to frustrate and disappoint, Barkley was more than a golfing everyman. He made the rest of us hacks look downright competent, inadvertently justifying every dollar we ever wasted on laser rangefinders and high-tech clubs. For that, he is honored.
Text by Patrick Hruby.