Commentary
Zach Randolph won't ever be forgotten
Originally Published:
May 16, 2011
By
Kurt Snibbe
| Page 2
Editor's note: There's a statue of Jason White at Oklahoma. There's a statue of Danny Wuerffel at Florida. The Phillie Phanatic was feted with no fewer than 20 statues last year in Philadelphia -- and he hasn't even won a Heisman Trophy! If these guys have their own statues, something must be done to honor more deserving sports figures whose artistic immortalization is long overdue. So each Monday, Page 2 will proudly unveil its Fictional Sports Statue of the Week.
Page 2's Fictional Sports Statues of the Week:
Week 1: Jim Tressel | Week 2: Charles Barkley (golf) | Week 3: Zach Randolph
Week 4: Kareem Abdul-Jabbar | Week 5: Chad Ochocinco | Week 6: Miami Heat
Week 7: Mavericks forward Brian Cardinal | Week 8: Canucks goalie Roberto Luongo
Week 9: New York Yankees | Week 10: Bye | Week 11: Deron Williams
Week 12: Legendary caddie Steve Williams | Week 13: The invocation of pastor Joe Nelms
Week 14: Randy Moss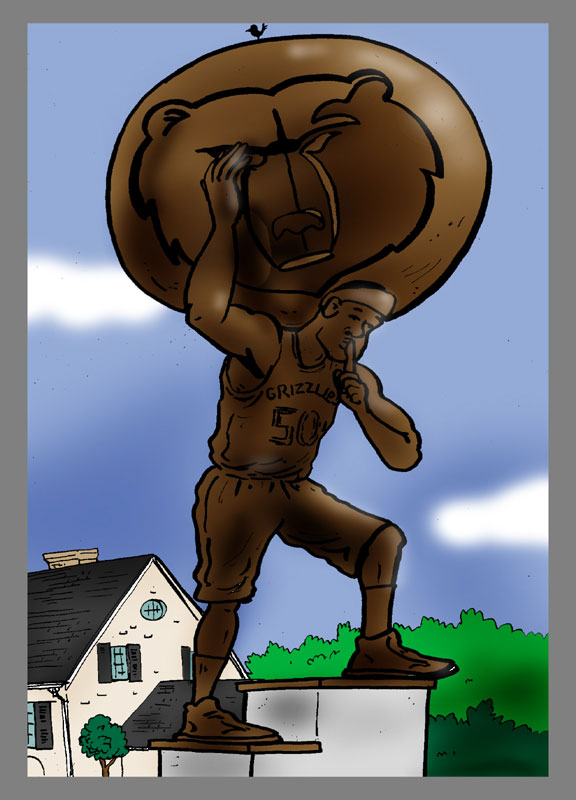 Zach Randolph
Location: Outside Graceland, so people will actually see it.
Design Inspiration(s): The Atlas statue outside Rockefeller Center in New York City; Randolph's "shush" gesture in the first round of the 2011 NBA playoffs.
Plaque Inscription:
Zachary "Z-Bo" Randolph
Power forward, Memphis Grizzlies
2009-present
On behalf of a grateful Grizzlies Nation -- all 3,000 members -- this monument is dedicated to Zach Randolph, who heroically averaged 21.5 points and 9.2 rebounds per game in a 2011 first-round NBA playoff series victory over San Antonio. With determination and valor, Randolph did not flip off fans; did not throw his headband at a referee; did not punch any teammates or any opponents; did not ask for time off to grieve the death of a friend and then go to a strip club where he failed to pay the bill; did hit a game-clinching 3-pointer in Game 3 against the Spurs. In dominating the ossified remains of Antonio McDyess and Tim Duncan, Randolph achieved what Pau Gasol could not; what Shareef Abdur-Rahim would not; what Stromile Swift never, ever had an ice cube's chance in a volcano of accomplishing: leading the Grizzlies to ultimate victory and a historical zenith by realizing the franchise's utmost goal -- advancing past the first round of the playoffs. For six games in April, Randolph was so much more than a journeyman double-double machine with more baggage than United Airlines. He shushed Spurs fans. He shushed us all. Regardless of what happens during the remainder of his career, Randolph will forever be a Memphis legend. We will never forget.