Commentary
Brian Cardinal wins statue of the week!
Originally Published:
June 13, 2011
By
Kurt Snibbe
| Page 2
Editor's note: There's a statue of Jason White at Oklahoma. There's a statue of Danny Wuerffel at Florida. The Phillie Phanatic was feted with no fewer than 20 statues last year in Philadelphia -- and he hasn't even won a Heisman Trophy! If these guys have their own statues, something must be done to honor more deserving sports figures whose artistic immortalization is long overdue. So each Monday, Page 2 will proudly unveil its Fictional Sports Statue of the Week.
Page 2's Fictional Sports Statues of the Week:
Week 1: Jim Tressel | Week 2: Charles Barkley (golf) | Week 3: Zach Randolph
Week 4: Kareem Abdul-Jabbar | Week 5: Chad Ochocinco | Week 6: Miami Heat
Week 7: Mavericks forward Brian Cardinal | Week 8: Canucks goalie Roberto Luongo
Week 9: New York Yankees | Week 10: Bye | Week 11: Deron Williams
Week 12: Legendary caddie Steve Williams | Week 13: The invocation of pastor Joe Nelms
Week 14: Randy Moss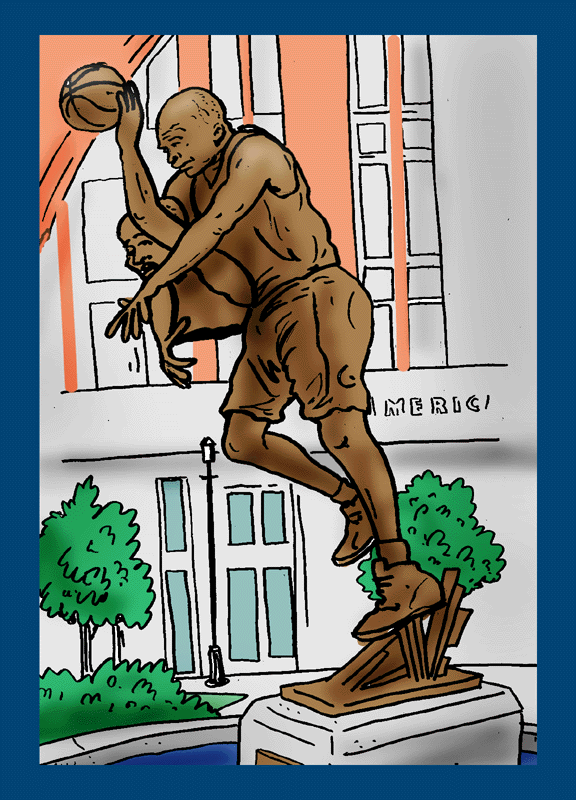 Brian Cardinal
Location: American Airlines Center, Dallas
Design Inspiration(s): The Michael Jordan statue in front of the United Center in Chicago.
Plaque Inscription:
Brian Cardinal
This statue serves as a monument to the fortitude and skill of the gritty power forward, an instrumental member of the 2011 NBA champion Dallas Mavericks. In the NBA Finals, he shot 66.7 percent from the field and averaged one personal foul every 3.75 minutes. The Mavericks were 4-0 when he played in the series and 0-2 when he didn't. He also grabbed a rebound.
This work of art also salutes Cardinal, an alumnus of Purdue University, as the living embodiment of the beauty, grace and high-flying elegance that is Big Ten basketball.
Text by Thomas Neumann.