Page 2
EDITOR'S NOTE: We have a tradition around here at ESPN.com: Whenever one of the family gets in a family way, we collaborate on a personalized children's story and give it to him or her as a gift. It's not much, but it comes from the heart. It's usually a privileged thing, reserved only for in-house folks-to-be. But when we heard the rumor that Anna K might be busting out all over, we couldn't help ourselves. She's like one of the Page 2 family, anyway. And truth be told, we've never been able to help ourselves when it comes to Anna ...
WINNING ISN'T EVERYTHING: An Anna Kournikova Story
(By Eric Neel)
In the great green room there was a telephone. And a red balloon.
And a picture of ... Little Anna jumping over the moon.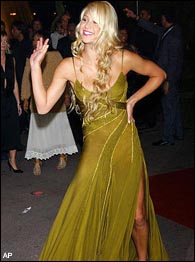 Anna Kournikova is the stuff fairy tales are made of.
And there were three little bears sitting on chairs.
And two little kittens. And a pair of photographers, smitten.
And a little toy house. And the most tasteful see-through blouse.
And a comb, and a brush, and a bowlful of blush.
And a quiet old lady who was whispering "hush."
Because it seems Little Anna was sad.
Her leave-in conditioner had made her hair feel oily and stiff.
She ate no mush. She used no blush. She would not hush.
Goodnight stars, and goodnight air. Little Anna decided to take another shower and try a different product on her hair.
"They're free samples from sponsors," she thought, "and I have plenty of time, so why not get it right?"
And like the old saying goes, the second time was the charm. Her hair felt vibrant and soft. She was ready to hit the town.
Suddenly, while she was sorting through her closet, looking for the perfect mini-skirt and halter-top combo, there came a knock at the door ...
* * * * *
(By Patrick Hruby)
"Who is it?" asked Little Anna.
"Ghosts of Christmas Past," came the answer.
Careful to sidestep the unused tennis rackets littering her floor, little Anna made her way to a window. Peering around an empty trophy case, she spied two men standing in her walkway.
"Hmmm," thought Little Anna. "The FHM photographer wasn't supposed to be here until noon. But I do like Christmas presents, especially in June. And these men don't look like paparazzi. I supppose I shall open the door."
Little Anna squinted through her half-open front door.
"Hello," said the first man, clad in a Florida Panthers jersey. "I'm Pavel Bure. This is my friend, Sergei. We're the Ghosts of Christmas Past."
"Don't worry," added Sergei. "I'm not here to serve divorce papers. I don't even want the ring back. May we come inside?"
Little Anna let them in. Pavel and Sergei took seats on Little Anna's red leather couch and rested their hockey skates on the coffee table.
"These men look familiar," thought Little Anna. "Did one of them sell me a swank South Beach condo for $1? Oh, I wish I could remember!"
Suddenly, Pavel took Little Anna's arm.
"Little Anna, we are here to remind you of what was," said Pavel. "Look around. See your picture in Rolling Stone. See your sucessful doubles partnership with Martina Hingis. See your serve, actually clearing the net cord."
"Little Anna," added Sergei. "You were once the most downloaded woman on Lycos."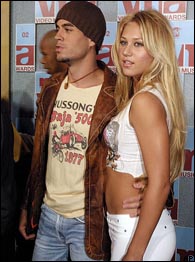 Now that Enrique's got Anna pregnant, we like him even less.
"Oh, those times were wonderful," gushed Little Anna, overjoyed at the visions before her. "And look there! Page 2 had never even heard of Jennie Finch! Tell me, kind ghosts, how I can return to those bygone days ... "
Before Little Anna could finish her sentence, she heard a mighty thunderclap. Pavel and Sergei vanished, replaced by a small man in a ratty skullcap.
"Little Anna, there is no going back!" said the man. "Just as there is no escaping my love. But do not fear. Call me Enrique. I am the Ghost of Christmas Present. Your hero, baby. I can take away the pain."
Enrique was the prettiest man Little Anna had ever seen. So pretty it made her a bit jealous. But that voice! Oh, that voice! Little Anna was in rapture. Enrique was a much better singer than William Hung.
"Little Anna, look into this mirror," said Enrique, mussing his studiously-disheveled hair. "You will see your life as it is. You are still young, still famous, still richer than 95 percent of the WTA players who have actually won a tournament. Don't squander your 15 mintues!"
"All of this is true," replied Little Anna. "Maybe I can't beat the world's 250th-ranked player. But I do have it pretty good. Perhaps I should lobby to cameo in another Farrelly Brothers movie."
With that, the room went dark. Little Anna felt dizzy, then terrified. Her house seemed to fade away, and was replaced by a giant castle.
"Where am I?" screamed Little Anna. "The Taj Mahal?"
"No!" came another voice. "The TRUMP Taj Mahal. Little Anna, I am the Ghost of Christmas Future. Your fourth husband. Donald Trump."
"Oh, goodness!" squealed Little Anna. "However did this happen? And what happened to your hair? Is that blow-dried ferret fur?"
"Never mind that," said the Donald. "Let's talk about you. You're 47 years old. You've got two kids, twins. Both hate you, especially after what you said about them on Oprah while promoting your second tell-all memoir. You're coming off another round of plastic surgery -- tummy tuck, face-lift -- and about to pose for Playboy for the third time. You've got a seat on Hollywood Squares, next to the surviving cast from "Queer Eye," and US Today -- the end result of US Weekly's friendly takeover of USA Today -- is about to publish a photo of you eating an overstuffed takeout burrito while picking a wedgie.
"Also, I'm about to divorce you so I can shack up with a clone of Heidi Klum. Really. I cloned her. It's great to be rich. Anyway, you're fired!"
Little Anna furrowed her brow. Something had to be done.
"Oh no," said Little Anna. "This is a terrible fate! Good Donald, how can I avoid it?" ...
* * * * *
(By Jeff Merron)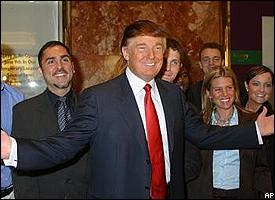 Donald and Anna met on "The Surreal Life 19."
But Donald had gone.
She was left in a Lurch.
"What should I do?" she thought to herself.
"Can I dare to go out? Do I dare to stay in?"
"How much more can I lose? And where's my damned gin?"
So then she went out with her nose all up high,
And took a big plane way way up to the sky.
When the plane came down she was in a strange place.
She looked all around and she saw her own face.
The face that she saw was the famous old pout,
The one that wowed crowds but drew all the louts.
Fame!
She'd been famous as famous can be,
With the 13-24 male demographic watching her lose on TV.
She'd jumped up and down, only balls had been bounced,
But when she had lost she had soundly been trounced.
And then she remembered the great wise advice
That Old Seuss had given not once and not twice.
Three times he had said, "No, you're not such a grump
"And your looks will for sure draw a rich man named Trump.
"But when you have kids, you'll turn into a frump.
"And the chances are then that you'll be in a slump."
So Anna recalled the last words he'd said,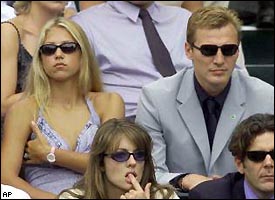 Sergei and Anna were always in denial.
Before Sergei and Pavel had fought by her bed.
"When you're in a slump, you're not in for much fun.
"Unslumping yourself is not easily done."
Then she got a new ride on a big red balloon,
A ride that she thought, "This can leave not too soon!"
But when she arrived, she thought "Oh disgrace!
"I'm here, but here is a most useless place."
The Waiting Place.
And Little Anna just waited ...
* * * * *
(By Jim Caple)
And then a silly old bear with very little brain sidled up to Little Anna and asked, "Do you have any honey?''
Honey, thought Little Anna. Sergei used to do such wonderful things with honey.
"No, I don't have any honey,'' Little Anna told Pooh. "But I know where to get some.''
And so Little Anna and Pooh, tiddley-pom, went off into the Hundred Acre Wood, tiddley-pom, to enjoy some honey at Rabbit's house, tiddley-pom. But they ate so much honey that both Little Anna and Pooh's rumps grew so enormous that they got stuck in the doorway.
"Oh, bother,'' said Pooh.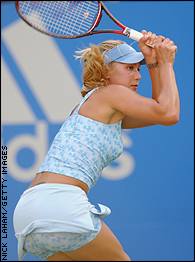 Go on now, take a look -- her backside may never be the same.
"Oh, @#$&!'' said Little Anna.
"We'll have to get all the animals together to push you out,'' suggested Rabbit.
"No,'' screamed Little Anna, "Only humans can touch me.''
"In that case,'' said Rabbit's friend, Glenda. "Tap your heels together three times and say, 'There's no place like South Beach, There's no place like South Beach,' and you'll be home in no time.''
Little Anna shook her head. "But it won't do me any good to go to South Beach if I can't wear a thong in public.''
"In that case,'' said Glenda's friend, Charlie. "Return this Ever-lasting Gobstopper to Mr. Wonka and he'll get you out and then give you his chocolate factory.''
Little Anna shook her head. "But I don't need a chocolate factory. I need to lose weight.''
"In that case,'' said Charlie's friend, Harry. "Grab hold of my broomstick and I'll fly you to Hogwart's.''
Little Anna shook her head. "But I can't go to England. I can't win on grass courts.''
"In that case,'' Harry's friend, Prince Charming, said, "let me kiss you.''
Little Anna gave him a quizzical look. "And how will that get me out?''
"Oh, it won't. I just want to kiss you.''
Little Anna shook her head. "Call the cops.''
"In that case,'' Prince Charming's friend, Alice, suggested. "You can take one of these pills. One pill makes you tall and the other pill makes you small. Take the second pill.''
So Little Anna did. And her rump not only grew small enough to fit through the door, it grew small enough for her to get out of her slump. And soon she was again the most downloaded tennis player in the Internet.
And everyone lived happily ever after.
At least they did in this version. In an alternate version, Little Anna chose the first pill and is spending the rest of her life making crappy movies with Keanu Reeves.