Commentary
Stafford need not travel by scooter
Updated:
July 30, 2009, 9:36 AM ET
By
Laura Lane
| Special to Page 2
Page 2 recently caught up with Detroit Lions quarterback Matthew Stafford, the No. 1 overall pick in the 2009 NFL draft, to ask him about his first few months as a pro.
Page 2: What's the craziest thing a fan's ever done?
Matthew Stafford: A fan asked me to sign his prosthetic leg and I did it. It was a pretty wild story. It was at Georgia. It was a Georgia Bulldogs prosthetic leg and I signed it right down the cast.
Barry Zito once told me he ate 75-cent cans of tuna in college to get by. Is there anything you did in college to save money before your big contract?
Instead of driving a car around, I used to always a ride a scooter because gas prices were way better.
Do you still have the scooter?
[+] Enlarge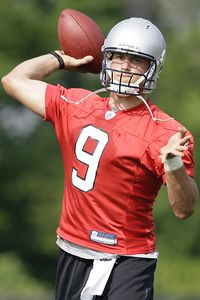 AP Photo/Paul SancyaMatthew Stafford hasn't been hazed yet by his Lions teammates, but it's still early in training camp.
No, it's still at school. I gave it to one of my buddies. It was a little Zuma.
What's the first thing you bought when you got your contract?
Dinner for about 20 people in New York. I really haven't bought anything too big, to tell you the truth. I really haven't had time, so I can't say like a sweet watch or anything like that. I don't really buy that stuff.
Have you had to go through any rookie hazing yet from your Lions teammates?
They make fun of me for having a lot of money, but that's about it. One of the guys was trying to chase me in a bootleg. He couldn't catch me and then said that his excuse was that he was too busy picking up all the hundreds falling out my pockets behind me. They say stuff like that, but it's not too bad.
I bet they don't get mad, though, when you're handing out free Axe Hair products with your big endorsement deal.
Exactly. You've just got to make them happy.
We've all seen the new Axe commercials. What's the key to making your hair look so good?
A little finger rub spread with the product works. (Laughs) I use the 2-in-1 shampoo and conditioner because it's really easy to use, I guess, and then I use the Messy Look products sometimes when I'm going out.
What's something you keep in your locker for good luck?
I don't really keep anything in my locker but I always wear a rubber band on my left wrist, which everybody finds weird. I just wore it for good luck ever since I was about 7 years old, and I always switch it out when it breaks and all that kind of stuff. It's just like the normal rubber band that you would see in the stores, and I wear that.
You were born in Florida, grew up in Dallas, went to school in Georgia and now you're in Detroit. So where do you call home?
Dallas right now, and then once I move into Detroit it will definitely be Detroit during the season, and probably Dallas during the offseason.
Do you have any pets to keep you company in Detroit?
I don't. I'm living in a high-rise condo in Detroit, so I don't really know if I have enough space for a dog, but I might get a dog, so we'll see.
Who have you bonded with the most on the Lions?
I like our new tight end, Brandon Pettigrew. He's a rookie with me, from Oklahoma State. Me and him are pretty good buddies. We talk a lot.