By Kevin Jackson, Jeff Merron & David Schoenfield
Page 2
Moments: 100 to 76 | 75 to 51 | 50 to 26 | 25 to 11 | 10 to 1 | By Super Bowl
100 GREATEST SUPER BOWL MOMENTS
The Super Bowl streaker
AP

Super Bowl XXXVIII: Infamous British streaker Mark Roberts bought a ticket to the game, wore referee's clothes underneath his regular clothes, snuck out onto the field, undressed to a G-string and then did an Irish jig at midfield right before the start of the second half. His fun ended when New England linebacker Matt Chatham flattened him to the turf with an elbow.
C-A-T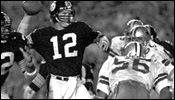 AP

Super Bowl XIII: Cowboys LB Thomas "Hollywood" Henderson stirs the pregame plot when he says of Steelers QB Terry Bradshaw: "He couldn't spell cat if you spotted him the 'c' and the 't'."
Roger dodges Dolphins
Super Bowl XIX: Roger Craig high-steps into the end zone -- he would score three TDs on the day -- after receiving a pass up the middle from Joe Montana, the signature move in the 49ers' 38-16 defeat of the Dolphins.
Not Griese enough
Super Bowl VI: Dallas' dominating 24-3 win over the Dolphins is wrapped up when defensive tackle Bob Lilly finally chases down QB Bob Griese for a 29-yard sack.
Theismann plays defense
Super Bowl XVII: With the Dolphins leading the Redskins 17-13 in the third quarter, Miami LB Kim Bokamper deflects a Joe Theismann pass and is about to corral the ball for a possible TD. But Theismann saves the day by knocking the ball loose.
Pittsburgh's blocked punt
Super Bowl X: The game turns when Steelers' backup fullback Reggie Harrison blocks a Cowboy punt early in the fourth quarter for a safety to cut the score to 10-9. Steelers go on to take a 21-10 lead and hold on, 21-17.
Lett strips Thomas, Washington scores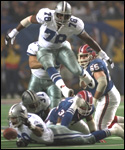 AP

Super Bowl XXVIII: Fifty-five seconds into the third quarter and the Bills leading the Cowboys 13-6, Dallas' Leon Lett strips Thurman Thomas of the ball. Safety James Washington picks it up for a 46-yard, game-tying, momentum-turning TD. Washington has a spectacular game: 11 tackles, an interception and the TD.
Montana-to-Rice keeps drive going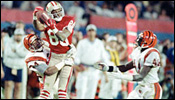 AP

Super Bowl XXIII: In San Francisco's game-winning drive against the Bengals, the key play occurs when Joe Montana finds Jerry Rice between two defenders on second-and-20 from the Cincy 45 for a 26-yard gain.
Setting the stage
Super Bowl XXXVI: Ricky Proehl's 26-yard TD pass from Kurt Warner gives the Rams a 17-17 tie with the Patriots with 1:30 remaining.
Robbins is missing in action
Super Bowl XXXVII: Raiders C Barret Robbins creates a big disruption when he goes AWOL the day before the game. Robbins watches the game from a hospital, where he checked in for treatment of depression.
Namath's prediction
Super Bowl III: Three days before the game, Jets QB Joe Namath declares, despite being 18-point underdogs to the Colts, "We're going to win Sunday. I guarantee it." The Jets do win and Namath's legacy is created.
Len Dawson accused of associating with gamblers
Super Bowl IV: On the Tuesday before the Super Bowl, NBC reports that Chiefs' QB Len Dawson (and other players) would be summoned to testify at a federal investigation into sports gambling. Dawson does admit to a casual acquaintance with an arrested gambler, but is cleared of any wrongdoing.
Back-to-back kickoff returns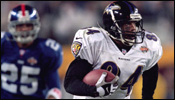 AP

Super Bowl XXXV: After Ron Dixon's 97-yard kickoff returns breathes life into the Giants by making the score 17-7, the Ravens' Jermaine Lewis immediately follows with an 84-yard kickoff return for a TD.
A thriller of a halftime show
Super Bowl XXVI: Michael Jackson took the Super Bowl halftime show to a new level with his pyrotechnic extravaganza, including his memorable entrance: standing perfectly in the middle of the field after the smoke cleared, wearing sunglasses and pseudo-military gear.
The missing helmet
Super Bowl XXVI: Star running back Thurman Thomas sets the tone by losing his helmet and missing Buffalo's first possession in its 37-24 loss to Washington.
Zonk rambles over Redskins
Super Bowl VII: Miami's Larry Csonka bulldozers his way to a 49-yard run in which he plows over Washington's Chris Hanburger and breaks several other tackles before he is finally dragged down.
The Super Bowl shuffle
Super Bowl XX: Pregame escapades reach a new low when Bears QB Jim McMahon moons a TV helicopter.
What were they thinking?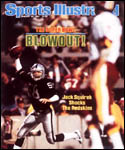 AP

Super Bowl XVIII: Trailing 14-3 with 12 seconds left before halftime and deep in their own territory, the Redskins try to throw a swing pass to Joe Washington. But Raiders' LB Jack Squirek intercepts Joe Theismann's pass for an easy TD.
Good kick, bad game
Super Bowl V: Colts rookie kicker Jim O'Brien boots a 32-yard field goal as time expires, providing the Colts a 16-13 win over the Cowboys in one of the sloppiest Super Bowls ever played (14 penalties, 10 turnovers).
A linebacker's dream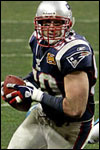 AP

Super Bowl XXXVIII: Normally a linebacker, New England's Mike Vrabel lines up in the backfield on second down at the Carolina 1-yard line late in the fourth quarter and slips out to receive a touchdown pass from Tom Brady to give the Patriots a 29-22 lead.
Swann's magical game (take II)
Super Bowl X: Lynn Swann reaches over his shoulder to haul in a 64-yard bomb from Terry Bradshaw with 3:02 left to give the Steelers a 21-10 lead over the Cowboys.
The original orange bucket
Super Bowl XXI: The Giants serenade coach Bill Parcells with a Gatorade bath after beating the Broncos.
The uncontested game-winning TD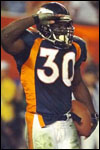 AP

Super Bowl XXXII: The Packers let Terrell Davis score an uncontested 1-yard TD -- his third of the game -- with 1:45 left to give the Broncos a 31-24 lead. Green Bay wanted more time on the clock to try to score, but Denver held on.
Super Ball to Super Bowl
Super Bowl III: Originally dubbed the "AFL-NFL Championship Game," Chiefs owner Lamar Hunt coined the term "Super Bowl" one day when he came across his daughter's "Super Ball." The named stuck by Super Bowl III.
Jackie Smith's dropped touchdown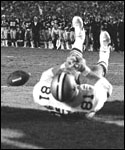 AP

Super Bowl XIII: Dallas' 38-year-old backup tight end Jackie Smith, wide open in the middle of the end zone, drops a certain TD pass during the third quarter of the Cowboys' 35-31 loss to the Steelers. Dallas settles for a field goal in a game it loses by four points.
Moments 25 to 11