By Kevin Jackson, Jeff Merron & David Schoenfield
Page 2
Moments: 100 to 76 | 75 to 51 | 50 to 26 | 25 to 11 | 10 to 1 | By Super Bowl
100 GREATEST SUPER BOWL MOMENTS
Simms to McConkey
Super Bowl XXI: Phil Simms -- who was 22-for-25 -- completes a 44-yard flea flicker to WR Phil McConkey, who flips over as he is tackled at the 1. Joe Morris scores to give the Giants a 26-10 lead over the Broncos.
The Minister of Defense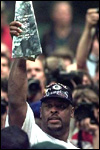 AP

Super Bowl XXXI: The Packers' Reggie White takes the Super Bowl trophy and runs the length off the field toward the Green Bay fans in the end zone and is mobbed by a throng of photographers as he holds the trophy aloft.
The Young and no longer restless
Super Bowl XXIX: With the 49ers about to wrap up their rout over the Chargers, quarterback Steve Young yells to his teammates on the sidelines, "Somebody take the monkey off my back!" Gary Plummer does the honor.
Timmy who?
Super Bowl XXII: Unknown Redskins rookie running back Timmy Smith breaks loose for a 58-yard TD run during Washington's second-quarter explosion against Denver, on the way to his record 204-yard day.
Unstoppable Jerry Rice
Super Bowl XXIII: Ninety-one seconds after Stanford Jennings returns a kickoff to give the Bengals a 13-7 lead, the Niners' Jerry Rice makes a terrific one-handed grab for a 14-yard TD to tie the game.
Where have you gone, Mr. Robinson?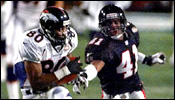 AP

Super Bowl XXXII: On the first play following a Morten Andersen missed 26-yard FG, Denver's John Elway and Rod Smith connect on an 80-yard TD play, beating Atlanta safety Eugene Robinson, who had been arrested the night before for soliciting an undercover police officer for oral sex.
"65 toss power trap"
Super Bowl IV: Kansas City coach Hank Stram utters the immortal words: "65 toss power trap." Mike Garrett scores from 5 yards out on third down for a 16-0 lead as the Chiefs beat the Vikings 23-7.
Unitas to Hinton to Renfro to Mackey
Super Bowl V: The Colts take a 7-6 lead over the Cowboys when Johnny Unitas' pass is tipped by receiver Eddie Hinton, off cornerback Mel Renfro and into the hands of TE John Mackey, who goes 75 yards for the TD.
Matuszak parties past curfew
Super Bowl XV: "I'm going to see that there's no funny business," Raiders defensive end John Matuszak declares. "I've had enough parties for 20 people's lifetimes. I'll keep our young fellows out of trouble." The next night, Tooz was spotted out at 3 a.m., four hours after curfew, as the Raiders partied all week in New Orleans.
Bengals race to the lead
Super Bowl XXIII: Stanford Jennings' 93-yard kickoff return give the Bengals a 13-6 third-quarter lead over the 49ers.
Ingram's fantastic catch-and-run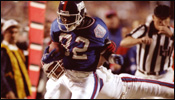 AP
Super Bowl XXV: Mark Ingram makes a clutch first-down catch to set up the Giants' go-ahead field goal in the fourth quarter of Super Bowl XXV against Buffalo. Ingram broke a tackle at the 30, escaped Darryl Talley at the 25 and spun away from two other defenders to reach the 18.
A Swann leap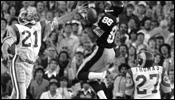 AP

Super Bowl XIV: The Steelers' Lynn Swann outleaps two Rams' defenders for a 47-yard TD pass and a 17-13 lead in the third quarter.
"There's John Candy"
Super Bowl XXIII: Trailing 16-13 with the ball on San Francisco's own 8-yard line and only 3:10 left in the game, Joe Montana leans into the 49ers huddle and points to the back of the end zone: "There's John Candy." A few minutes later: 49ers 20, Bengals 16.
King for a day
Super Bowl XV: Jim Plunkett's swing pass to running back Kenny King turns into an 80-yard TD romp down the sideline for a 14-0 lead over the Eagles.
Great Scott!
Super Bowl VII: Jake Scott's interception -- his second of the game -- in the end zone early in the fourth quarter protects Miami's 14-0 lead over Washington.
Life's a Butch for Denver
Super Bowl XII: Dallas' Butch Johnson, who had broken his right thumb earlier, dives through the air at the goal line to grab Roger Staubach's pass for a 45-yard TD and a 20-3 third-quarter lead over the Broncos.
Game over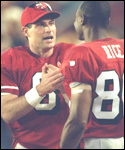 AP

Super Bowl XXIX: On the third play of the game, Steve Young throws the first of his record six TD passes, 44 yards to a wide-open Jerry Rice down the middle. Final score: 49ers 49, Chargers 26.
Green Bay's up-Rison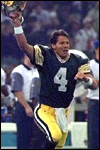 AP

Super Bowl XXXI: On the second play from scrimmage, Brett Favre hooks up with Andre Rison for a 54-yard TD pass down the sideline -- and dances around like a schoolboy after giving the Pack the early lead over the Patriots.
The missing link
Super Bowl III: A key play in the Jets' 16-7 upset over the Colts occurs 25 seconds before halftime with the Jets leading 7-0. On a flea-flicker, Colts WR Jimmy Orr is standing wide open at the 10-yard line, waving frantically line with no Jets defender within 20 yards. But QB Earl Morrall never sees him and throws an interception to Jim Hudson.
The Bills take the lead ...
Super Bowl XXV: Thurman Thomas breaks several tackles on his way to a 31-yard TD run that gives the Bills a 19-17 lead over the Giants early in the fourth quarter.
Elway gets a ring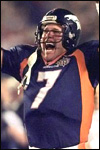 AP
Super Bowl XXXII: After John Mobley breaks up a Brett Favre pass on fourth-and-6 inside the Denver 40 with 32 seconds left, John Elway flashes his famous grin. He's finally a Super Bowl champ, as Denver wins 31-24.
Williams to Sanders (and a whole lot more)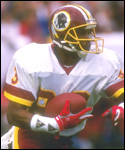 AP

Super Bowl XXII: The most dominating quarter in Super Bowl history begins when Doug Williams drops a soft pass into the hands of Ricky Sanders at midfield. Sanders races for an 80-yard TD and the Redskins score 35 second-quarter points in a 42-10 rout of Denver.
Swann's magical game (take I)
Super Bowl X: Lynn Swann makes the first of three spectacular catches in Super X, a 32-yard, leaping, stay-inbounds grab over Dallas defender Mark Washington to set up Pittsburgh's first touchdown in a 21-17 victory over the Cowboys.
Hammer time ...
Super Bowl I: The Super Bowl media frenzy kicks off right from the first game when Chiefs DB Fred "The Hammer" Williamson says, "Two hammers to (Boyd) Dowler, one to (Carroll) Dale should be enough."
... Down goes The Hammer
Super Bowl I: Instead, it was Williamson who got hammered -- he was knocked out of the game trying to tackle Green Bay running back Donnie Anderson..
Moments 50 to 26