It's Super Bowl Saturday Night!
What's that, friend? You say you're tired of spending the day after the Super Bowl with your head on your desk or stuck in a trash can, retching out the excesses of the previous evening? You say you've run out of excuses to give the boss for why you can't show up for work on Super Bowl +1? You say you can't quite enjoy the game as much as you'd like, on account of having to get up early the next morning and get back to the grind? You say you don't know a way out of this annual dilemma?
Well, worry no more, friend, because ol' Scribbly has just the remedy for what ails you and just about every other Super Bowl appreciateur out there. I will now dispense with the suspense and come right out with it: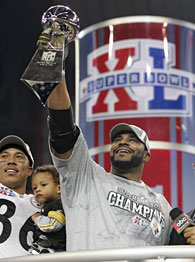 AP Photo/David J. Phillip
Wouldn't this have been a lot more fun on a Saturday night?
The Super Bowl should be moved to Saturday night.
Now, although I believe the genius of this idea is apparent and should therefore attract no criticism, I will defend it anyway because all of the great thinkers over the centuries have had to beat back doubters and detractors.
The germ of the idea is this: The Super Bowl has evolved into a major social occasion in American culture, an occasion that sees many people hosting and attending parties in private homes and public watering holes. A game that started as the first visible bridge between the American and National Football Leagues has become one of our society's best excuses to party. The very first Super Bowl, on Jan. 15, 1967, was played at 4 p.m. Eastern (which means it started at 1 p.m. in Los Angeles, where it was played) and the game has since crept to a 6:25 ET kickoff. Since Super Bowls run about an hour longer than a typical NFL game, this puts the final gun after 10 p.m. in the Eastern time zone.
Who wants to go to a party on a work (or school) night? Not this correspondent, and despite reports and predictions about telecommuting and alternative work scheduling, there are still a hell of a lot of people who have to get up on Monday morning and go to work. (If you don't believe me, stand outside the Lincoln Tunnel one morning begging for change like I do and watch the endless parade of buses and cars being absorbed into Manhattan.) I don't know about you, but I've never much enjoyed myself at parties when I knew I had to get up and go to work the next morning. We Americans live in a culture whose foundation is consumption, and having the Super Bowl on a traditional nonwork, nonschool night will allow us to consume more foods and beverages at our Super Bowl gatherings, as we will not have the inhibition of an early rise the next morning to stifle our cravings.
And it's not just Americans we're talking about here. Consider this: If the Super Bowl were moved to Saturday night, it would no longer be played in the wee hours of Monday morning in Europe. It would no longer take place during a work day in Australia or in the Asias, Major and Minor both. Instead, the Super Bowl would now be a weekend event the world over.
"But Scribbly," you might be saying if you are on a first-name basis with me in your mind, "how can you mess with a successful institution like the Super Bowl, which already has more viewers than it knows what to do with?" That's a good question, and I'll answer it this way: The audience is certainly not going to get any smaller on Saturday night, so why not move the game for the convenience of the viewers? There's also this to consider: If the game were played on a Saturday night, the starting time could be moved to a later hour so that just about the entire game would be played in prime time in the Eastern and Central time zones. Even in the Pacific time zone the last hour or two of the game would nose into prime time. Certainly this would appeal to the network carrying the game, would it not? The network carrying the game would dominate all of prime time, not just the portion in which the game takes place.
I am suggesting an 8 p.m. starting time in the Eastern time zone. (7 p.m. would also be acceptable.) That would put the end of the game somewhere around midnight in the East. To mollify the networks they should consider this: It is not a school night, so the youngsters -- our little season-ticket holders of the future -- will be allowed to stay up late and absorb all the advertising pointed their way. Like the beer commercials that feature adorable Dalmatian puppies, and others that plant that early seed about what products to buy when they get a little older. Right now, your well-bred Eastern time zone youngster is probably being sent to bed at some point in the third quarter. With a Saturday night Super Bowl that prime demographic will be allowed to watch the game in its entirety.
And, of course, let's not forget about our soldiers and sailors in faraway places.
So then, for the children, for the working and fighting men and women, for the would-be foreign converts to the great game of American football, for the economy, for the morale of the nation, this change must be enacted, as soon as possible!
Now I call you to action to take up the cause and do whatever is in your power to help bring about this monumental and much-needed change. A campaign must be launched at once to bring this idea to the attention of those who could actually do something about it.
We've wasted 40 years, friend, and we owe it to ourselves and our descendants not to let another year go by in this fashion.
Scribbly Tate is a veteran but not necessarily venerable sportswriter. You can tell him how much you agree with him at ScribblyTate@yahoo.com.