Page 2 staff
What the heck was Maurice Clarett thinking at the moment he heard he'd been ruled eligible for the NFL draft?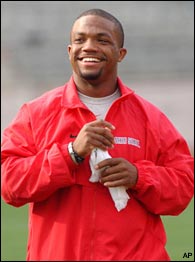 No more homework for Maurice.
A. "My gambling buddies totally called this one."
B. "I've been dreaming of this ever since I was a freshman in college."
C. "What does 'eligible' mean?"
D. "Not that I was anticipating this or anything, but I already sent LeBron's mom out to find me a car."
E. "I take my responsibility as a pioneer seriously. You know, like that Burt Flood guy in baseball."
F. "The first thing I'm doing? Donating $500,000 to my favorite university. Go Wolverines! Hail to the Victors!"