Page 2 staff
What the heck was Pamela Anderson thinking when she announced that she was "retired" from acting? ("I don't want to be an actress. I never did want to be an actress," she told E! News Live.)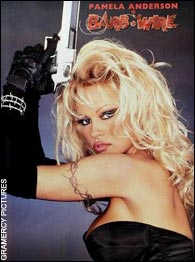 "I'm just disappointed that my porn career never really took off."
A. "I'm not really giving up acting -- just acting in film and TV. I'm going to return to my roots: the legitimate stage. In fact, my next role is playing Desdemona in a Royal Shakespeare Company production of 'Othello'."
B. "This isn't my idea. The Screen Actors Guild says I have to move on because I've used up my quota of names: Pamela Denise Anderson, Pamela Anderson Lee, Pamela Lee, Pamela Anderson Lee-Rock ..."
C. "I'll never forget my esteemed colleagues from 'Baywatch,' who taught me everything I know about the thespian craft."
D. "I do, however, intend to do plenty more love scenes on videotape."
E. "Kate Hepburn got five minutes at the Oscars after she died. 'Scary Movie III' and 'Barb Wire' ought to get me at least two. That's enough for me."
F. "I prefer to re-direct my energies toward the silicone arts."