Page 2 staff
What the heck was Michael Jackson thinking when he went shopping at Wal-Mart wearing a ski mask?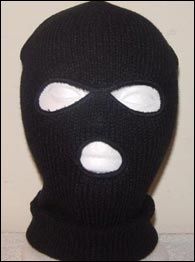 "Hey, that's Michael! Wait, his skin is too dark. My bad."
A. "All my beekeeper's masks were at the cleaners."
B. "Ssssshhh! Don't tell anyone I'm here. I'm surprising my giraffe, who's shopping the electronics aisle."
C. "It's not enough for me to have the paparazzi cameras focused on my every move -- I want the surveillance cameras, too."
D. "This ought to keep what's left of my nose from falling off."
E. "How am I supposed to get kids to hang around me these days if they can recognize me?"
F. "And after this, I think I'll stop by the bank."