Page 2 staff
What the heck was World Wrestling Entertainment thinking when it announced it will induct Pete Rose into its hall of fame on March 13? (Rose made three appearances at Wrestlemania events from 1998-2000.)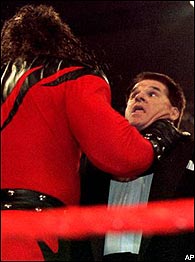 Pete's signature move was the dreaded Bowl Cutter.
A. "Normally, we'd be above such a shameless publicity stunt. But this is Charlie Hustle!"
B. "Do you have any idea how much the clothes Pete wears during his induction will go for on eBay?"
C. "Call costuming. Tell them we need a hairpiece -- dark brown and cut in Moe Howard-style ... What? It's real? Well, no wonder he played a game where you always wear a cap."
D. "Anybody who'd pass up the chance to bet on our sport, which is totally fixed, and do baseball instead is deserving of some kind of honor."
E. "We let the Canadian Baseball Hall of Fame get the jump on us with this. We'll never let that happen again."
F. "And next year, we're inducting Shoeless Joe."