Page 2 staff
It was a wild first two rounds of the NCAA Tournament, with two top seeds going down and several other upsets throwing everybody's bracket out of line. Which means it's perfect time for a special Tourney edition of "What the Heck Were They Thinking?"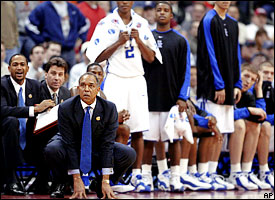 AP Photo
Even more disappointing is we want have any more Ashley Judd sightings.
What the heck was Tubby Smith thinking when Gerald Fitch and Chuck Hayes missed shots in the final 2.2 seconds, sealing No. 1 Kentucky's 76-75 loss to No. 9 UAB?
A. "There's no shame in losing by one point to Team USA. Wait, only the conference is named USA? You're telling me we lost to someone named UAB?"
B. "But we still get to go to the Final Four, right? We did really well in the computer polls. "
C. "It's not fair that our players are distracted with academics at this time of year. This kind of thing never happened when I was at Georgia."
D. "Maybe I shouldn't have let Ashley Judd diagram the last play."
E. "I'd just like to point out that we won more games than Rick Pitino and Louisville in this year's Tournament."
F. "Somehow I don't think "Tubby's Twerps" is going to have quite the resonance of "Rupp's Runts."