Page 2 staff
What the heck was Vandebilt senior Matt Freije thinking after shooting three-for-18 in a Sweet 16 loss to Connecticut?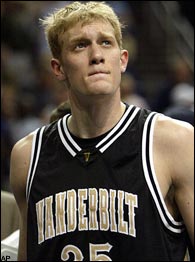 There would be no help from above for Matt Freije.
A. "Some scouts have questioned whether or not I have an NBA game. I wanted to prove I can't hit mid-range jumpers just like they can't up there."
B. "How can I concentrate knowing Tom and Penelope broke up? I thought those two kids were forever."
C. "At least with a name like Freije people already think I'm just another soft European."
D. "Oh sure, and I bet now nobody is going to want to talk about that time I scored 31 on 12-for-20 shooting against Tennessee Tech."
E. "So much for David Stern having to sweat out the pronunciation of my last name."
F. "Let's just remember that even if I had hit half my shots, UConn would still have covered."