Page 2 staff
What the heck were movie star Julia Roberts and her husband, Danny Moder, thinking when they named their newborn twins Phinnaeus and Hazel?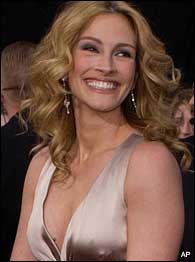 Come on, it's bad enough that their uncle is Eric Roberts.
A. "We kicked around the idea of naming the boy 'Steve,' and the girl 'See "Closer" Coming Soon To A Theater Near You.' But we didn't like 'Steve.'
B. "We debated 'Banana,' but I didn't want to steal Gwyneth's thunder."
C. "Look, we'll probably just end up calling them by the nicknames their schoolmates will give them -- 'Please kick my butt' and 'Pick on me.'"
D. "'Tiki' and 'Ronde' were taken."
E. "From the OCEAN'S of names to choose from, we narrowed them down to 12, but had to pick fast because the babies were COMING quicker than FRIDAY, DECEMBER 10."
F. "We live in a world where parents are naming their kids 'ESPN,' and you're giving us crap?"