By Gregg Easterbrook
Special to Page 2
Each year around this time, Tuesday Morning Quarterback journeys alone to the top of a distant mountain, meditates, fasts, burns chinstrap-scented incense sticks and chants a prayer of thanks to the football gods that the NFL is not the NBA. The prayer:
Oh football gods, on thine couch above
Copyrighted be thy names.
Give us each fall some mojo sport.
And reverse our bad calls,
As we reverse the bad calls of others.
Deliver us from the NFL ever turning into the NBA!
For thine is the franchise, the ratings and the buzz
Now and forever, or at least till the next network contract.
Tuesday Morning Quarterback annually prays the NFL never turns into the NBA, not because the NBA isn't entertaining -- it is, with great athletes, action and astute marketing -- but because every year the NBA comes up with another way to make itself worse. Two years ago it was the sight of Larry Bird, then coaching the Pacers, throwing Celtics-style team basketball out the window and shrugging as his players went one-on-one against the Lakers in the championship. Last year, it was the NBA raiding high schools on draft day, not only stocking the league with guys who have no fundamentals, but insuring in the process that those gentlemen will never become the kind of marvelous college stars whose ascent to the pros would generate excitement. Why, exactly, did the NBA, which 15 years ago had the hottest product in sports, become obsessed with making itself worse? Oh football gods, let not this woe betide the NFL, which now has the hottest product in sports.
This year the NBA's self-dilution initiative is the collapse of offense. Everybody repeats the cliché that the NBA plays no defense. Everybody adds, "But baby, can those pro b-ballers shoot." Actually, in this year's playoffs, the defense has been pretty good. It's offense in general and shooting in particular that have been cover-your-eyes awful.
That the NBA can't play offense was vividly on display in Game 7 of the Kings-Lakers series, as Sacramento, ostensibly the year's top offensive team, grew worse and worse with the ball down the stretch. But before slamming the Kings in detail, let's cite a few prior egregious examples: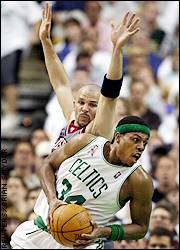 When Boston's Paul Pierce wasn't running "clear" plays, he was at his improvisational best.