Commentary
Tony Mandarich's career in focus
Updated:
October 15, 2010, 12:16 PM ET
By
Wendell Maxey
| Special to Page 2
Say the name Tony Mandarich in some NFL circles and one thing comes to mind -- professional photographer.
Or maybe not.
But in the 11 years since Mandarich retired from a controversial football career with the Green Bay Packers and a comeback with the Indianapolis Colts, he's gone through yet another transformation. Always interested in photography, Mandarich is now a working professional with his own photo studio in Phoenix. He shoots primarily fitness models for his company, Mandarich Models.
Surprisingly, he sees parallels between blocking on the field and in the studio.
"With photography, it gets to a point where you either have it or you don't," said Mandarich, who started the photography company with his wife, Char, in 2005.
"That's just like a football player -- you can lift all the weights in the world, but you still have to get on the field and play. You either have it or you don't."
Mandarich thought he did, so six years ago, he walked into Paul Markow's Phoenix studio. The 6-foot-5, 300-pound Mandarich wanted to get serious about photography, so Markow -- a professional photographer for 42 years -- agreed to let Mandarich tag along on shoots for Phoenix Magazine.
Once his toe was in the door, Mandarich knocked it down. Those couple of shoots evolved into Mandarich becoming Markow's second assistant -- carrying photo and lighting equipment and soaking up Markow's photo knowledge along the way. "I'd sort of heard of him, but I've never had anyone ask as many questions on a shoot -- and meaningful questions," said Markow, who has traveled the world as a commercial advertising photographer and mentored Mandarich for two years.
"Everything you taught him, he tried and learned. We would go out on shoots and he'd ask about different lighting techniques, and then would come back a week later and basically duplicate my shot. He'd just suck all this information out of you and use it. That is a real rare breed."
Of course, that's nothing new for Mandarich.
[+] Enlarge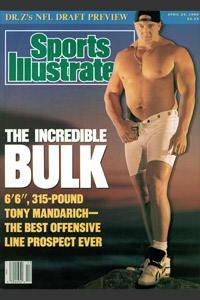 Gregory Heisler/Sports Illustrated/Getty ImagesBefore the 1989 draft, Sports Illustrated put Mandarich on the cover, shirtless and massive. They called him "the best offensive line prospect ever."
A two-time All-American at Michigan State, Mandarich was the second overall pick by the Packers in the 1989 NFL draft behind Troy Aikman. He was taken ahead of Barry Sanders, Derrick Thomas and Deion Sanders, but while those players had success, Mandarich went from beast to bust.
In a 1989 cover story, Sports Illustrated called him "the best offensive line prospect ever" in a cover story headlined "The Incredible Bulk." But after just three unproductive seasons in the league, he was cut by the Packers in 1991 and re-labeled "The NFL's Incredible Bust" by the magazine.
Mandarich can pinpoint the reason for his failings -- an ongoing struggle with addiction. At Michigan State, he said he kept syringes in his athletic supporter to have a supply ready to shoot up. While steroids took him to the top of his football game, alcohol and drugs dragged him down.
It's no wonder photography is the last thing that comes to mind when people think about Mandarich. But it is photography that has given him focus.
"With photography, I always felt I had an eye. Then it was just a matter of learning the tools, and that's when you realize how many options you have. I'm always looking at magazines -- Time, Newsweek, Sports Illustrated -- and seeing how [photos] are lit. That's become an instinct for me when I start to dissect a picture," said Mandarich, who started shooting as a hobby in the mid-'90s.
Today, Mandarich Models -- where Tony works in boudoir, glamour and fitness photography -- is part of a growing business within the Scottsdale-based Mandarich Media Group. The company specializes in web development, design, advertising and Search Engine Optimization work for small and mid-size businesses.
"People by far are my favorite things to shoot with a camera. Whether that is a fitness model or a CEO of a company, that composition is totally different," Mandarich said. "When you meet with a client, you want to know what they want the picture to convey. I break a lot of rules when it comes to photography. I like the pictures I like -- and if it makes me feel good, then I think it's a good picture. But what my definition of beauty may be different than what a woman's definition is, because we see the world through different sets of eyes. Once I see what their definition of beautiful is, then we'll shoot it like that."
After his fallout in Green Bay, Mandarich returned to football for three years (1996-98) with the Indianapolis Colts -- and it was that opportunity that he feels allowed him to move on.
"People had no idea I was almost dead a year before coming back," he said. "I couldn't get off the couch because of my addiction and because I took so many painkillers. For the last five or six years of my drinking and drugging, I tried so many different ways to clean up. I started believing it was impossible to get clean.
"How do you make right the wrong for all the screwups in Green Bay? It was a matter of going back to play, keep your mouth shut and do what is asked of you. Those were my goals and they were accomplished. When that miracle happened, I knew anything was possible. I would have played for free, I was just grateful for the opportunity to play."
Mandarich, who says he has been sober since 1995, said he only took steroids in college. His time in Green Bay was a different struggle.
[+] Enlarge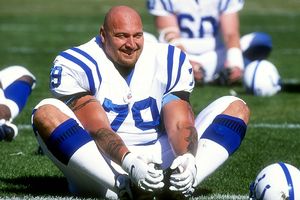 Tom Hauck/Getty ImagesIn 1996, Mandarich made it back to the NFL, playing three seasons with the Colts -- without the aid of steroids, he says.
"I've mentioned before that I never spent a sober day in Green Bay," he said. "Maybe I wasn't a falling down drunk, but I was drinking and doing painkillers daily. Then I did that for three more years after leaving Green Bay.
"My perception always was that you have to take something performance-enhancing to excel in the NFL. I played those three years [with the Colts] clean, so it was a crucial event in my life that proved to me that it could be done."
Mandarich detailed his journey in "My Dirty Little Secrets: Steroids, Alcohol, & God -- The Tony Mandarich Story," which was released in March 2009. The book chronicles Mandarich's recovery and experience with Alcoholics Anonymous. Now that story can be seen through a lens and Mandarich's passion for photography.
After retiring from the NFL in 1998 with a shoulder injury, Mandarich worked for Morgan-Stanley as a financial adviser before moving to Canada and getting involved in a family golf course business. He liked it. But his heart wasn't completely in it, so it was time for a change. Mandarich and Char -- who is also a photographer -- moved to Phoenix and got serious about the photography business.
That's when Mandarich walked into Markow's photo studio.
"You get kind of skeptical," Markow said. "Everyone wants to be a photographer or a model, but he humbled himself to learn a new career. He understands what it takes to be successful. What makes a successful photographer, bottom line is, Tony brings the same attitude that he brings to everything else -- it is focus."
Mandarich still works out five days a week and gets his football fix on the weekends -- unless he's on deadline with a shoot. When he's not playing in a 12-team fantasy football league, Mandarich keeps tabs on Peyton Manning and the Colts or roots for his Michigan State Spartans.
But his camera is never far away.
"The comeback to football and those three years in Indy was like a fantasy come true, but that was a chapter in my life," Mandarich said.
And the book isn't finished.
Wendell Maxey is a freelance writer for Sports Media Exchange, a national freelance writing network.