Editor's Note: This is Part 2 of Pat Toomay's two-part look at former Raiders coach John Madden. In Part 1, Toomay explained what it was like to play for Madden as the Raiders defended during their first Super Bowl title in the 1977 season.
The exhibition game in which Darryl Stingley was paralyzed was played in Oakland. It was one of those sloppy exhibitions played early in the preseason, when everyone's legs are dead and everyone's minds are numb.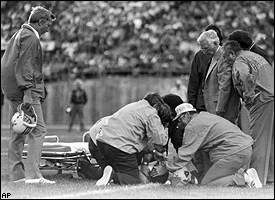 Oakland coach John Madden had an unsettling premonition about Darryl Stingley's paralyzing injury.
It was one of those games in which everything is out of sync, out of kilter, a comedy of missed passes, overthrown balls, dropped punts, fumbled snaps, unnecessary penalties. That's the way it is when too many nervous rookies vie with too many aging vets for too few open positions on their respective teams. That's the way it is when new systems have been implemented and nobody's sure how to execute them. This confusion and uncertainty, a near lethargy, also afflicted the organizations. The Patriots were in the second week of a West Coast road trip. The previous week they had played in Los Angeles, and then practiced near San Francisco. Normal people, with responsibilities in their communities, would find a reason to go home. So it was with the New England team physician, perhaps, for he departed after the L.A. game, leaving the club without an orthopedist for the game in Oakland. Because of his absence, game day found both teams under the medical supervision of our two physicians: Dr. Robert Rosenfeld, a Beverly Hills orthopedist, and Dr. Donald Fink, a local internist. Dr. Rosenfeld was a gruff, insensitive man, whose typical response to a player's injury was, "You're OK, it's just a bruise." (In 1987, Dr. Rosenfeld's operating privileges were suspended at Cedars-Sinai Medical Center in Los Angeles, where he practiced, because of a high complication rate and an unusually large number of malpractice cases.) Doc Fink wasn't much better. Though affable and in possession of a medical license, he was lugging around players' medical records in the trunk of his car. The plaque on Doc Fink's office door read: "Investments." His physicals sometimes consisted of a single question: "How do you feel?" If the answer was, "Good," that was all he needed to hear.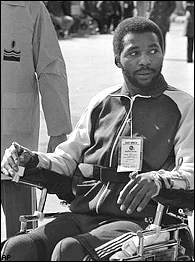 Stingley's life was changed forever by one play in an exhibition game.
This was the backdrop, then, of that fateful game. The ancient Greeks would see hubris here, on an epic scale. They would warn us. In fact, there was a sense of warning on the sidelines. Only a play or two before Stingley went down, John Madden, who was growing more and more upset because all night long the Patriots had been probing the Raiders middle with passes, turned to the guy beside him and said, "They'd better stop doing that or somebody's going to get hurt!" It happened in the second quarter -- a hurried pass launched over the middle for Stingley, who was slanting into the secondary. It was high and too far in front of him. Leaving his feet, Stingley was prone in the air, arms outstretched, as the ball sailed past him. In my memory, there he hangs. For his part, Jack Tatum seemed fooled. Having started back to his right, he pulled up as the ball was released. The receiver, he realized, was coming from the opposite direction. Jack turned, but managed only three or four strides before the action was upon him. He crouched over, sort of leaning into Stingley as the Patriots receiver drifted toward him. They collided. Stingley, in an awkward position, fell to the turf. There was no explosive hit. No flying helmet. Yet Stingley was down. He wasn't moving. He wasn't getting up. Trainers from both teams rushed out on the field. They tended to Darryl for a long time. Then an ambulance was summoned. Darryl was carefully loaded up and carted off. The game resumed, but under a sickening pall. After the game, Madden went directly to the hospital. It was Madden's first instinct to go to Stingley. At the hospital, Stingley had been found to have fractured vertebrae in his neck and was being fitted with a halo brace to stabilize the injury. Our physicians, thankfully, had risen to the occasion. Having overseen a safe transport, they had summoned the appropriate specialists. Experts were now at hand. But even at the hospital something was dissonant, out of sync. Expecting to find himself among concerned New England officials, Madden found himself alone. No one from the Patriots was there. Not the owner. Not the coach. No one. Grabbing a phone, Madden called the Oakland airport. Immediately, he was patched through to the New England charter, taxiing out to take off. A more than animated discussion followed. The plane returned to the gate. The business manager was put off.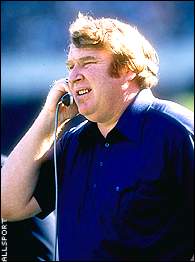 Unlike anyone on the Patriots, Madden offered constant support to Stingley in the hospital.
In the hospital, Stingley was conscious, as doctors worked to fit the halo. Having donned surgeon's garb, Madden appeared beside him, leaning close. "Everything's going to be all right," he whispered. If only it had been true. Meanwhile, a second disaster was averted. On the New England charter, now airborne and headed east, players were struggling to understand Stingley's injury when an engine started gushing fuel. Immediately, the flight was diverted to San Francisco. A dozen fire trucks lined the runway as the plane touched down. In the days and weeks that followed, Madden visited Stingley, if not daily, then as often as he could. During one visit, Madden discovered a malfunction in Stingley's ventilator. In summoning a nurse to fix the problem, Madden might have saved Stingley's life. Football is about assault and survival, as much as it is about anything. Collisions are where each play starts and ends. Grace exists on the field to elude savagery. Men are meant to smash into each other, the harder the better. But they are supposed to get back up, if not instantly, then in seconds, or minutes. After an injury, they come back. It might be months later, or even a year later. But they come back. When this fails to happen, as it did in the case of Darryl Stingley, our frailty shows through the masquerade of pads and numbers and facemasks and helmets, the fake armor of invincibility. In such a moment, we don't like what we see. An explanation outside the norms of the game is needed, and so scapegoats are sought. Disturbing feelings are pushed aside. Only the rarest among us grasp the depth of our frailty and still love the game. Is John Madden such a man? I think so. And if I'm right, it all revolves around something that opened him up a long time ago. Something that made him acutely aware of his own vulnerability. It took me a long time to find out what it was. After that horrible night in Oakland, I scoured books, read newspapers and magazines, looking for the transformative event I suspected was buried in his past. I found only tantalizing clues. One was an incident that occurred during his first year as head coach at Hancock Junior College. Like most coaches, Madden thought players should be serious before games; he couldn't accept it when some players turned on music or told jokes. Before one game Madden yelled at his worst offender: "Hey, football is serious!" Off went the music. The jokes stopped. Everyone got serious as Madden wanted them to be. Before the next game, however, the player who'd been scolded stepped into Madden's office. He explained there were all different kinds of personalities on the team, that while everybody wanted to win in the same way, there were different ways of preparing to win. "Some guys take a nap, some go to the bathroom, some throw up, some, like me, tell jokes. We're not all the same."
| | | |
| --- | --- | --- |
| | | In the case of Darryl Stingley, our frailty shows through the masquerade of pads and numbers and facemasks and helmets, the fake armor of invincibility. In such a moment, we don't like what we see. An explanation outside the norms of the game is needed, and so scapegoats are sought. Disturbing feelings are pushed aside. Only the rarest among us grasp the depth of our frailty and still love the game. Is John Madden such a man? I think so. |
| | | |
Madden thought about it and realized the player was right. From that point on, he accommodated all the various styles of preparation. "I learned from my mistakes, from decisions that went wrong," Madden said. "But looking back, I think I learned more from people." When I read this, I had no doubt that it was true, but I was also convinced that the ease with which he made that adjustment, the facile nature of the shift, had deeper roots. I began to wonder about his fear of flying. Duane Benson, when I roomed with him during the '77 preseason, told me that Madden was a white-knuckle flyer, but I didn't witness the phenomenon for myself until '78, when I arrived at the airport late for a road game after Stingley was hurt. There, I found our coach with a towel draped around his neck, sweating profusely, as he paced the floor outside the tunnel that led down to the plane. Startled by Madden's panic-stricken look, I paused to see if there was anything I could do to help. "I can't get on 'til the last second," Madden murmured. Embarrassed, he wheeled away. Before heading down the ramp, I stood there for a moment, taking it in. Madden's fear was deeper and darker than anything I'd imagined. Seeing it made me think about my own fear. When I was 10, my family lived in West Covina, Calif., a bedroom community nestled against the Covina Hills 30 miles east of Los Angeles. This was 1958. I attended Vine Street School and played baseball for the 7-Up team in the West Covina Little League. My best friend on the team, Larry Young, lived in a big house up in the hills; while spending time with him there, we would sometimes toss rocks into the pool of the house behind his, which belonged to a Southern California football coach named John McKay. My father's two brothers lived in Ontario and Claremont respectively, two towns adjacent to each other 17 miles further east. On weekends, we would drive to Ontario for family get-togethers. On these trips, we would follow I-10 over Kellogg Hill, passing the new Forest Lawn cemetery, with its gaudy imitation Italian statues, and the Cal Poly campus, which was set against the west side of the hill with its name spelled out in white rocks on the slope of an embankment. During the time we lived in West Covina, these landmarks became an integral part of my childhood life, as I roamed the hills, played Little League baseball and caddied at a local golf course.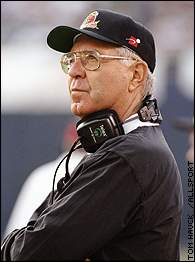 Ted Tollner, now the 49ers quarterbacks coach, was one of 26 to survive the Cal Poly (San Luis Obispo) plane crash in 1958.
Late in 1958, the Air Force moved my family to upstate New York, and that's where we were living when news came that a charter plane carrying the Cal Poly football team had crashed while taking off from the Toledo airport after the team had lost a football game 50-6 to Bowling Green. At the time, my 12-year-old brain assumed the plane was carrying the team from the Pomona Cal Poly campus near our home in West Covina. My father's intense reaction to the accident only served to reinforce this impression, because I could think of no other reason why he would be so consumed by it. And he was consumed by it. Twenty-two of the 48 people on board had been killed. Yet 26 had survived. How? Why had some perished and not others? The C46 had exploded and flipped in dense fog at an altitude of 100 feet. Engine problems were suspected. A few minutes before takeoff, quarterback Ted Tollner had switched seats with receiver Curtis Hill, who had asked to sit near the front of the plane instead of over the left wing. Everybody from Tollner's spot back lived while everyone in front of Tollner died, including Hill. Why? Why Hill and not Tollner or the others? In photographs of the wreckage, the back half of the plane appeared undamaged. That's where the survivors were sitting and, for my father, that became key. When I began flying in high school for recruiting trips, he'd pound it into me. Sit in back of the plane. That's the safest part. Always sit in back of the plane. After Stingley got hurt, I found myself drawn to this same kind of whirling rumination. I was on the field when the play happened. Recovering from a John Hannah bang-block, I launched myself at quarterback Steve Grogan, hitting him just as he threw. My pressure might have caused the errant pass that put Stingley prone and made him vulnerable to the hit. A sack would have prevented his injury. The vortex of guilt that descended was unrelenting. Had I been lined up over tackle Leon Gray instead of Hawg Hannah, I might have gotten to Grogan. But we were playing our new 3-4 defense. I'd slid inside so a linebacker could blitz. If only we hadn't changed. This past August, the Cal Poly football team returned to Toledo to play a game for the first time since the tragedy 41 years before. While reading an article about the visit, I realized I'd made a mistake. When I was 12, I'd assumed the Cal Poly flight was from the Pomona campus near my home. But it wasn't. The flight was carrying the team from Cal Poly San Luis Obispo, John Madden's alma mater. A 1959 graduate, Madden had returned to campus in 1960 to do graduate work, after wrecking his knee in Eagles training camp. I vaguely knew this, but what I didn't know, and what wasn't mentioned in the Toledo article, was that Madden was supposed to be on that flight. I found this out when I dug up a column written by Washington Post reporter Ken Denlinger on the occasion of Madden's retirement. "As assured as Madden seemed publicly," Denlinger wrote, "there were signs of inner turmoil. Because a quirk of fate kept him off the plane that crashed and killed several Cal Poly San Luis Obispo players in 1960, Madden has avoided flying whenever possible." That was the extent of the reporting. Wanting to know more, I phoned Denlinger and asked if he remembered what had happened. He didn't, but he referred me to another reporter who did; Betty Cuniberti, who had covered the Raiders for the San Francisco Chronicle during the '76 Super Bowl season and who had subsequently worked with Denlinger at the Post, told me that her memory was sketchy, but she seemed to recall that Madden was involved with the football team when he returned to school. She said that he might have been sent on some other assignment -- he was kept at home to coach the junior-varsity team -- that had kept him out of harm's way. That was all I needed to hear. As we know now, proximity to such a disaster can create what psychologists call an ensouled perspective. Madden's patience, caring and understanding, his tolerance and absolute refusal to judge, were no mere pretense, as cynics held, but rather a response to devastating loss. Madden's intimate knowledge of his own frailty enabled him to respond to frailty in others. This was what made him the perfect coach for Al Davis and his quirky Raiders. This was what enabled him to respond to Darryl Stingley in the way he did. This is what has fueled his unexpected and spectacularly successful broadcasting career. On a certain level, Madden communicates the simple thrill of being in one's body. The earthy entanglements of line play. The grunting and banging. The rollicking in the muck and crap. Though football is a violent game, Madden grasps its essence. He reveres it. But then he always did -- the memory of, and longing for, the joy of playing.
Former NFL defensive end Pat Toomay played in the league for 10 years (1970-79) with the Cowboys, Bills, Bucs and Raiders. He is the author of two books,
The Crunch
and the novel
On Any Given Sunday
. You can e-mail him at
pat_toomay@hotmail.com.