Commentary
The unveiling of Uga VIII.0
Originally Published:
December 3, 2009
By
Jim Caple
and
Kurt Snibbe
| Page 2
Following the sudden death of Uga VII, the thoughtful folks at PETA (People for the Ethical Treatment of Animals) called upon Georgia to replace its live mascot with an animatronic bulldog. Apparently, sitting in a stadium and occasionally getting fired up enough to lick itself on a dozen or so Saturday afternoons each year is just too hard on an actual live dog.
Naturally, critics complained that this is just further proof that PETA is the nation's unofficial publicity-crazed killjoy. Which the organization most definitely is. But the animatronic idea isn't half-bad. No, seriously. It's certainly no more ridiculous than mascots such as Herbie Husker and Pistol Pete. C'mon. Can it get any more ludicrous than having humans dressed up to be, well, humans? (Although I do admit to a certain fondness for Purdue Pete.)
Plus, an actual animal can only sit there and look bored, or walk around and soil the field. Just imagine all the cool stuff an animatronic mascot could do: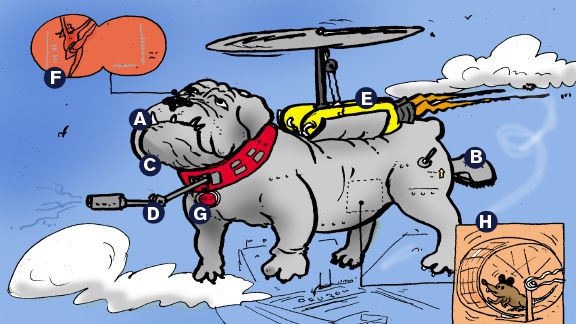 (A) Bluetooth technology allows Uga VIII.0 to receiver Twitter feeds from the press box. "Sic Auburn receiver!"
(B) Not only is there no more messy mascot poop to scoop up between the hedges -- a partnership with Roomba means Uga VIII.0 can be programmed to vacuum a 12x15 luxury suite in just 12 hours!
(C) An MP3 player, state-of-the-art speaker system and Big Mouth Billy Bass technology allow Uga VIII.0 to twist his head, wag his tail, and hum the Georgia fight song, deliver the Gettysburg Address or sing "Take Me to the River."
(D) Uga VIII.0 can plug into Florida's computer system and download the Gators' entire game plan. "A direct hit with proton torpedoes to Tim Tebow's thermal exhaust port will start a chain reaction that will destroy the Gators."
More importantly, he can tap five kegs at once.
(E) A jet pack and missile system allows Uga VIII.0 to fly and achieve air superiority over Auburn's War Eagle.
(F) With X-ray vision and a retina camera, Uga VIII.0 can transmit video of Ole Miss cheerleaders instantly to a secret Web site accessible only to Georgia alumni making $10,000-plus annual "scholarship'" donations.
(G) A GPS unit in Uga VIII.0's dog tags means he requires no handler.
(H) Uga VIII.0 produces no greenhouse gases.