The Page 2 USC-Ohio State quiz
If you have even a passing appreciation for college football, you'll be glued to ABC's Saturday night broadcast of No. 5 Ohio State against No. 1 USC in the "Collision in the Coliseum." But if you don't have a strong rooting -- or financial -- interest in either the Buckeyes or Trojans, you might be wondering which team to pull for.
Fear not, Page 2 has compiled this handy quiz to determine which team you're most compatible with:
1. You have an important event. Do you:
(a) Dress up to give a good impression?
(b) Dress down so you can feel comfortable and be yourself?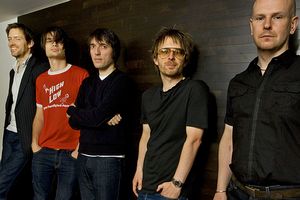 AP Photo/J. Scott Applewhite
Does Radiohead evoke USC or Ohio State?
2. Do you appreciate proper punctuation and grammar?
(a) Yes
(b) No
3. Which band do you prefer?
(a) Radiohead
(b) Maroon 5
4. Which activity do you prefer?
(a) Long walks on the beach
(b) Smashing windows of cars with Michigan license plates
5. What is your preferred manner of furniture disposal?
(a) Place on Craigslist
(b) Public burning
6. Which academic pursuits pique your curiosity?
(a) Music, AIDS awareness and golf
(b) Ballroom dancing only
7. What's the best manner in which to handle defeat?
(a) Put it in perspective
(b) Go down swinging
8. How do you prefer to consume your alcoholic beverages?
(a) Grey Goose in your water bottle
(b) Via beer bong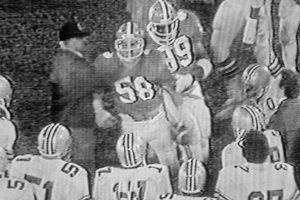 AP Photo
We wonder if Woody Hayes inspired Def Leppard to proclaim, "It's better to burn out than fade away."
9. As police commissioner of Gotham City, you are facing a major crime wave. You turn on a giant spotlight to request assistance from:
(a) Batman
(b) The Batman
10. Which of the following is most like a nightmare you have experienced?
(a) Surrounded by sinister reptiles, no escape
(b) Attempting to take final exam in a class you've never attended
11. How do you feel about Rich Rodriguez?
(a) Dead to me
(b) Is he the guy who directed "Sin City" and "Spy Kids"?
12. Which article of autumn clothing do you prefer?
(a) sweater vest
(b) turtleneck
Tiebreaker: Which name is better suited for an adult film star?
(a) Tommy Trojan
(b) Brutus Buckeye
---
Answers

1. If A: You're a sweater-vest-wearing Jim Tressel man.
If B: You're a shirtless, yelling Pete Carroll man.
2. If Yes: You will enjoy Ohio State's ceremonial dotting of the "i" in Script Ohio.
If No: Text messaging is likely your primary means of communication, and you align more closely with USC.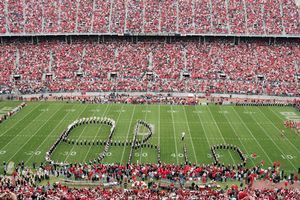 Brian Bahr/Getty Images
The Best Damn Band in the Land provides punctuation as well as musical talent.
3. If A: You appreciate talent over looks; you support The Best Damn Band In The Land.
If B: Appearance trumps talent; you love you some USC Song Girls.
4. If A. You are laid-back, like residents of Southern California.
If B: You share Ohio's vitriol for "that school up north."
5. If A: You're web-savvy and in tune with the online community, similar to USC fans.
If B: Your fanhood never smolders below 950 degrees Fahrenheit, similar to Ohio State fans.
6. If A: Your interests are aligned with former Buckeyes linebacker Andy Katzenmoyer.
If B: Your interests are aligned with former USC quarterback Matt Leinart.
7. If A: You lean toward the measured, calculated analysis of Pete Carroll.
If B: Woody Hayes is a man after your heart.
8. If A: You prefer the clandestine imbibing of former Buckeyes tailback Maurice Clarett.
If B: You opt to drink loudly and proudly like Leinart. Woooooooooo!
9. If A: You think like a USC fan, with an appreciation for blockbuster entertainment coming out of Los Angeles.
If B: You think like a respect-minded Ohio State fan, who wants to distinguish the famous comic book hero from various, lesser-known, less-prestigious bat men, like the guy who handles marsupials at the local zoo.
10. If A: You're similar to Ohio State fans, with a subconscious fear of Florida Gators.
If B: You're similar to USC fans, with a subconscious fear of NCAA investigators.
11. If A: You think like an Ohio State fan, or a spurned West Virginia fan.
If B: You think like a USC fan, and are blissfully ignorant of any college football played east of Phoenix.
12. If A: You prefer the distinguished, yet casual appearance of Ohio State coach Jim Tressel.
If B: You love you some USC Song Girls.
Tiebreaker: If you get to this question with six answers on each side of the ledger, this determines who you should root for on Saturday:
If A: USC
If B: Ohio State
DJ Gallo, Patrick Hruby, Thomas Neumann and David Schoenfield have already been called to Dean Wormer's office to discuss their involvement with this article.