By David Vecsey
Special to Page 2
I think we've learned enough about our world by now to know not to call an NHL work stoppage a tragedy. And I hope we've all been paying enough attention over the past two years to know that this didn't just suddenly happen last night. Like, Poof!, where'd the season go?
For months now, both sides, the NHL owners and the NHL Players' Association, have been squirreling away money and drawing their lines in the sand. And fans have had ample time to ready themselves for the possibility that there will be no season.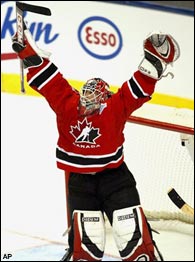 With the World Cup over, you probably won't see many on-ice celebrations for a while.
Yet now that it's actually here, now that the World Cup is over and the padlocks are officially on the doors to the rinks ... what next? How will the absence of NHL hockey affect us?
I mean, without hockey, I'll have but one other occasion to yell, "He put the biscuit in the basket!" And from the looks of things on the home front, we could be facing a lockout there, too.
Here's what else we'll be facing in a Life Without Hockey ...
Without hockey, I'll lose my enthusiasm to flood and freeze the backyard of my suburban Atlanta home.
Without hockey, ESPN and ESPN2 will have some mighty big time blocks to fill. How many hours until the World Series of Cribbage?
Without hockey, Don Cherry will have to be overly critical of French-Canadians and Europeans in other lines of work.
Without hockey, the Rangers will have no free agents to overpay. Their latest offer: four years, $48 million to beer vendor Pete DiFritti.
Without hockey, who's going to not go to Caps games?
Without hockey, the job as the mackerel in Disney's "Finding Nemo on Ice" is going to be real tough to get.
Without hockey, the only place for on-ice violence will be at the U.S. Women's Figure Skating Championships.
On the bright side, the Sharks' players book club can finally get around to its much-delayed roundtable discussion of "The Da Vinci Code."
With no season, commissioner Gary Bettman will probably look to pick up more hours in his second job as The Count on "Sesame Street."
Each day without hockey, the Blackhawks' 14-year rebuilding plan will take just that much longer to come to fruition. The team will have to raise ticket prices to cover the cost.
Without hockey, the Thrashers fan who dresses up in "Braveheart" gear and rallies fans with blood-curdling yells will have to find a new outlet to express himself. Sir, may I suggest decaf during these trying times.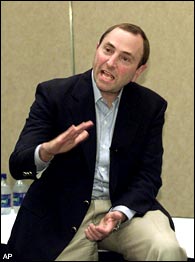 Never knew Gary was a cast member on "Sesame Street."
Without hockey, arenas will scramble to book acts for their open dates. Blue Oyster Cult, happy to be getting the gigs, can't wait to fill the Garden like in the good ol' days.
With no NHL, minor leagues can try out this edgy new marketing slogan: "See Tomorrow's Stars Today! You Know, the Guys Who Will Get Screwed by the Inevitable Salary Cap."
No hockey means 3.2 fewer goals per night. The league will blame the size of goalie pads.
Toronto's worst fear will be realized: Without hockey, they're not really that much different from Hamilton, are they?
Without hockey, it'll technically be "illegal" the next time Matthew Barnaby two-hands somebody across the back of the knees.
Without hockey, fans will give NBA games a shot. Security will politely ask them to stop blowing that foghorn after every basket.
On the bright side, neighborhood kids in Denver will be treated to free snow cones made from the scrapped Pepsi Center ice surface.
The possibility of a shortened season jeopardizes Eric Lindros' streak of missing at least 40 games due to injuries.
On the bright side, no hockey cuts down on the chances of Mike Keenan being hired and/or fired by somebody.
Without hockey, Canadians will finally have enough time to iron out those plans to attack their primary U.S. target: Mall of America in Minneapolis.

Former ESPN.com staffer David Vecsey works for the Atlanta Journal-Constitution. You can reach him at DVecsey@aol.com.







David
Vecsey
LIFE WITHOUT HOCKEY