Can't get the Packers-Cowboys game? Fret not
NFL Network Vs. Cable Providers
What's the biggest problem facing humanity today?
Global warming? Poverty? Drugs? Cancer?
Please. We all know it's the inability of millions of Americans to watch Thursday's titanic showdown between the Packers and Cowboys on NFL Network.
But never fear. If you don't get NFLN or aren't able to get to a sports bar, Page 2 explores the myriad offerings elsewhere in the broadcast universe … you're welcome.
Rutgers at Louisville football:
ESPN, 7:30 p.m. ET
Imagine it's August again. You probably would have thought then that this game would be bigger than Packers-Cowboys. So go with your first instinct. Who cares about the NFC championship! This game has International Bowl implications!
"Quigley Down Under": Encore Action, 7:50 p.m. ET
If you can't watch the greatest gunslingers of all-time, Brett Favre and Tony Romo, this is your next best option for gunslinging fun on Thursday night.
Knicks at Celtics: TNT, 8 p.m. ET
Who cares about an NFC game when one of the three best teams ever (Patriots, Celtics, Red Sox) is playing on basic cable? What's everyone complaining about?
"Are You Smarter Than a Fifth Grader?": Fox, 8 p.m. ET
Watch some kids who are smarter than whoever negotiated the NFL's last TV contract.
"Survivor: China": CBS, 8 p.m. ET
Contestants try to outwit, outplay and outlast choking pollution and encroaching hype for the 2008 Summer Olympics.
"Notorious": Biography, 8 p.m. ET
A look at how bigamists get away with preying on vulnerable women focuses on former major league outfielder Al Martin.
"I Want To Look Like a High School Cheerleader Again": CMT, 8 p.m. ET
We're not even making this up.
"Throwdown with Bobby Flay": Food Network, 8:30 p.m. ET
It's a doughnut challenge, but we're unsure if that means cooking or eating. If it's the latter, we're expecting a special guest appearance by Nate Newton.
Oregon at Kansas State men's basketball: ESPN2, 9 p.m. ET
KSU freshman Michael Beasley is averaging 27.2 points and 15.5 rebounds per game thus far in his college career. Bet Favre and Romo can't do that.
"Austin Powers: The Spy Who Shagged Me": TBS, 9 p.m. ET
Is there any doubt that "Austin Powers" is actually a pseudonym for Bill Belichick?
"Kathy Griffin: Straight To Hell": Bravo, 9 p.m. ET
So you won't pony up a few bucks for the NFL Network? Punish yourself by watching Kathy Griffin's "comedy."
"Parables of Jesus": EWTN, 9 p.m. ET
It's not the parables of Brett Favre, but it'll do.
"Hypersexual Behavior": Discovery Health, 9 p.m. ET
Watch to learn insights on the football media's love of Brett Favre.
"ER": NBC, 10 p.m. ET
Yes, this show is still on. And it's still pretty darn good, featuring a very underrated Maura Tierney -- if you know what we mean, and we think you do.
"Celebrity Plastic Surgery: The Good, The Bags & The Ugly": E!, 10 p.m. ET
Is there any chance Jerry Jones doesn't show up on this list?
Sound off to Page 2 here.

PACKERS AT COWBOYS (Thursday, 8:15 ET)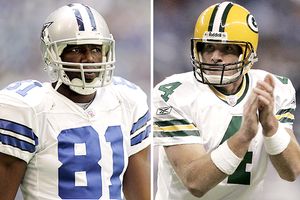 Terrell Owens and the Dallas Cowboys (10-1) play host to Brett Favre and the Green Bay Packers (10-1) on Thursday night in a game that could determine homefield advantage in the NFC playoffs. Only about a third of the homes in the U.S. will be able to watch the game on TV. Here's why

| Discuss the game.

Commentary/features
•
Power rankings: Dallas second, Green Bay third
•
Garber: Romo, Favre are improvising masters
•
Garber: Five improvising QB masters
•
Snoop Dogg raps Tony Romo
•
Clayton: First and 10
•&nbsp
Grant's run to glory
•
Wickersham: Best of weak NFC
•
Packers or Cowboys? Experts make their picks
•
Page 2: Inside Favre's brain
•
Cowboys-Packers through the years
News
•
Clayton: Injury report

ZOOM galleries
•
Top 5 NFL improvisational QBs
•
Top 5 NFL improvisational QBs ever
•
Top 5 college improvisational QBs
Video
•
Steve Young: QB improvisation about awareness
•
Brett Favre: "Play loose but be ready to play"
•
Dissecting Brett Favre's renaissance
•
Keyshawn Johnson's advice for Tony Romo
•
Field Pass: Green Bay vs. Dallas
•
Phillips and McCarthy surprising many
Simulation
•
EA Simulation: The winner in OT is...
Scouts Inc.
•
Tale of the tape: Too close to call
•
Offenses are in high gear
•
Improved Packers' O-line benefits Grant
•
Packers' terrific cornerback tandem
•
Packers' coaches are the key
•
Game could be decided by trench warfare
•
Horton: Notes from the film room
ESPN Top Headlines