"Bull Durham: 21st Century Edition"
"Bull Durham" is 20 years old, a fact that should make people of a certain age check for the sudden onset of liver spots. To celebrate, a "Collector's Edition" DVD goes on sale Tuesday, the third release of the film on disc. It contains the usual commentaries and extras, but unfortunately, doesn't address how anachronistic the movie has become in the ensuing two decades. Here then, a plot for a new, more realistic "Bull Durham: 21st Century Edition."
We meet prize rookie Ebby Calvin "Nuke" LaLoosh before his first minor league start with the Durham Bulls. Nuke signed a huge contract after 20 teams passed on him in the amateur draft because his agent is Scott Boras. Boras is steamed that his client isn't with the parent club immediately out of spring training, but nevertheless has secured a girl for Nuke to help him relax before his first game. But manager Joe Riggins kiboshes the shenanigans, telling Nuke to hit the field. Boras then cautions Riggins not to mess with his meal ticket, or he will have local anti-chewing tobacco groups hammer Riggins about his habit.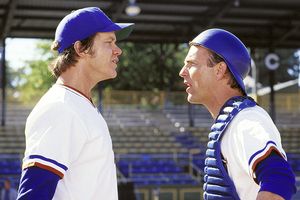 Kobal Collection/Getty Images
"Nuke, I'm gonna introduce you to a fella named Sandy Grimes. He hit .367 at Louisville. Or was it .371? Anyway … "
Nuke strikes out 18, walks 18, and hits the mascot in a memorable performance that immediately becomes a YouTube classic. After the game, Riggins sits through a conference call with the parent club's GM and director of scouting, who berate the manager for allowing LaLoosh to exceed his strict pitch count. Riggins hangs up, and grumbles to pitching coach Larry Hockett about "the worst part of a manager's job -- dealing with know-nothing bosses." Hockett replies that it beats "selling cheap MP3 players at Sears." Nuke appears afterward on dozens of radio and television shows, feeding the worry of the big club that Nuke might be out of control.
Enter savvy veteran Crash Davis, having been acquired by the Bulls for the express purpose of babysitting Nuke. Crash introduces himself to Nuke by picking a fight with him outside a local bar. Nuke misses Crash with a thrown ball, and is dropped by a single punch. In response, Nuke's posse of 10 hometown hangers-on, the "Meat Puppets," pummel Davis, putting him on the disabled list for 15 days. The Bulls announce the injury as "back spasms." Despite his bruised state, Crash, ever the professional, gets together with Nuke, and over a few beers, counsels him on reality -- the fact that an aging Crash punched him out proves that Nuke needs to put on some muscle, and fast. Crash tells Nuke about the wonders of HGH, and introduces him to Sandy Grimes, a former minor leaguer (who hit .371 at Louisville) turned Durham pool hall operator who can hook up LaLoosh with the drugs without any hassles.
The two players meet Annie Savoy, an aging groupie who hooks up with a single player over the course of a baseball season. Crash declines a relationship, noting that he believes in "guaranteed contracts, no-trade clauses, performance-based incentives, corked bats, at least three Red Bulls before batting practice, protein shakes in the postgame spread, Constitutional amendments outlawing day-night doubleheaders and mandatory autograph sessions, and that the novels of J.K. Rowling are self-indulgent, overrated crap. Also, long, slow, deep, soft, wet kisses that last three days." But he doesn't believe in dating Annie. Nuke feels otherwise, so long as Annie signs a waiver that forfeits any rights to Nuke's fortune should the two conceive a child during their time together. The two engage in a torrid affair, replete with cross-dressing and bondage.
Meanwhile, another groupie, Millie, makes the rounds of the Bulls, but seems less interested in the sex than in picking up inside information for her AL-only keeper fantasy league. Her team, Wealldeservetowearwhite, has won her 5x5 league three consecutive seasons, thanks to "tips" she has received from players throughout the Carolina League. She accepts a proposal of marriage from Jimmy the second baseman, and the couple register at Crate & Barrel. She returns one gift: the candlesticks.
Thanks to Annie's ministrations and Crash's pharmacological "guidance," Nuke leaps from A-ball to The Show by midseason. Boras immediately negotiates several endorsement deals for Nuke, including one for a line of hair products, aimed at helping others with "million-dollar arms and five-cent heads." However, Nuke's reliance on clichés sours his relationship with the local media, who trash him relentlessly. In response, LaLoosh starts his own Web site, TheMeltdown.com, in which he blogs about the game and his love of karaoke, because with it "you can't get the words wrong."
The Bulls' marketing department receives a call from an obsessive fan and sabermetrician who informs them that Crash is about to break the minor league record for career home runs. The team, despite Crash's protestations, alerts the media, who descend on Durham to catalogue the moment. Before he gets another at-bat, however, Crash is contacted by the parent club. Seems they have just hired a new GM, one who believes in the "Church of Moneyball." Davis is now prized for his discipline at the plate and high OPS. Crash is called up to the bigs for another shot, becoming teammates once again with Nuke, who requests that Crash bring a supply of HGH with him to the majors.
Crash informs Annie of his new career move. To his surprise, Annie reveals that photos of her cavorting with Nuke have become an Internet sensation, thanks to several influential sports blogs. As a result of the hubbub, Annie has received an offer to pose for Playboy and another to write a weekly online column for Baseball America about minor league groupiedom and the positive effects of garter belts on pitching prospects. As such, Annie has quit her job at Alamance Junior College, and is moving from her ramshackle house into a WiFi-equipped condo in Raleigh.
Fade to black. Talk about a Hollywood ending.
Robert Weintraub is a contributor to ESPN.com.