Page 2
In the spirit of the 2004 Olympic Games in Athens, Carl Lewis and Jackie Joyner-Kersee have been awarded the cover on commemorative boxes of Wheaties.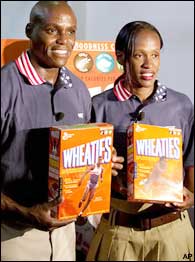 Here's some other great news -- Wheaties let Carl and Jackie keep those shirts.
That got Page 2 to thinking ... who would we put on the cover? Who embodies what we've been trying to say all these years?
OK, it has to be an athlete. Sorry, Jacko. Odds are you couldn't leave the state for the photo shoot, anyway.
It has to be someone who has the ability to cross into the mainstream. Sorry, Jennie Finch. Your time here appears to be up.
So who do we go with? When all else fails at Page 2, there's always one place to look -- the endless reservoir of attractive Russian tennis players.
Do we pull a Wheaties and recognize past achievements? Or do we use a little forward thinking and honor our next great star? Once again, we're leaving it up to you. We've narrowed the competition down to this: Page 2 stalwart Anna Kounikova vs. girl-of-the-hour Maria Sharapova.
You all know the drill. Vote away in our series of photo matchups, and help us pick who gets the cover of Page 2's Wheaties box.
---
Anna Kournikova
Maria Sharapova
TENNIS: Anna's game? Hmm ... that's been about as easy to find as Osama. There have been talks of a comeback from her camp. Really? Then Page 2 is forced to ask, comeback to what? First-round exits? Do you really need to train for that?
TENNIS: We could say she's in the semifinals of Wimbledon and end it there ... but we won't. It's not a big "IF" but a huge "WHEN" as far as Maria taking a Grand Slam tournament. And by tournament, we mean on the tennis court, not some Page 2 bracket.