By Jason Whitlock
Special to Page 2
DURHAM, N.C. -- Imagine my luck. I tell my newspaper and radio bosses that I need a break, a little time away from the jobs to recharge my batteries before the football season. After a quick pit stop in Indianapolis, I head down to Tobacco Road to unwind at one of those famous Duke University weight-loss clinics frequented by professional athletes, celebrities and the well-to-do.
I pack my Xbox and a DVD player, grab a book or two and figure I'm set for a couple of weeks. No phone calls. No Morton's of Chicago dinner invitations from my lawyer. No deadlines. No interviews. No nothing. Just me, an advance copy of EA Sports NCAA Football 2005, an all-you-can-stomach rice-and-fruit buffet and an occasional conjugal visit from the girl back home.
Does an overweight sports writer on furlough really need anything else?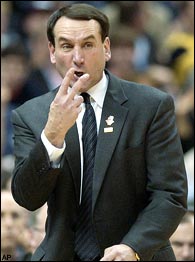 Did Coach K ever seriously consider leaving Duke?
So why did I hit Tobacco Road in the middle of a Mike Krzyzewski-Roy Williams, Duke-North Carolina spitting match?
You didn't know that's what all of the Coach K-to-the-Lakers hubbub was about? Don't feel bad. Neither did Lakers general manager Mitch Kupchak or Duke president Richard Brodhead or almost anyone on Tobacco Road.
The picture didn't really become clear until Tuesday, when word "leaked" that Kupchak, shunned by Coach K, had contacted Williams about taking marching orders from Kobe. The only thing close to as absurd as Kupchak, a former Tar Heel, being able to snatch Williams away from UNC would have been Coach K uprooting his family after 24 years to work in Los Angeles for Dr. Jerry Bryant ... oops, I mean Dr. Kobe Buss.
Fool me once, shame on you. Fool me twice ...
I originally fell for the Krzyzewski bulls---. I took his flirtation with the Lakers seriously. Coach K's boss, athletic director Joe Alleva, sold the idea of college basketball's No. 1 employee bolting to the NBA pretty strongly during a choreographed press conference last Thursday. Alleva insinuated that Krzyzewski had been frustrated by the early defections to the NBA of some of his underclassmen. Coach K lost his two best players, freshman Luol Deng and recruit Shaun Livingston, to this year's NBA draft.
But Roy Williams to the Lakers, and recruited to LA by Kupchak? There's a better chance of Michael Moore voting for George Bush.
Williams has been at Carolina, Kupchak's alma mater, for one season. The Tar Heels program has been in chaos since Dean Smith retired. It took two messy, gut-wrenching recruitments of Williams to drag him away from Kansas and back to Tobacco Road. And Kupchak, a member of Tar Heel Nation in good standing, a man who still considers Coach Smith a mentor, was going to tear apart a UNC program that still hasn't healed?
No way.
Leaking Williams' name was pure public relations. It was Kupchak's way of doing a solid for the Tar Heels after he'd been played by Duke's head man. Coach K spent the weekend as the top story on "SportsCenter." Coach K's "big decision" was news across the country. Every sportswriter and talk-show host in the world felt obliged to comment about Krzyzewski's importance to the college game.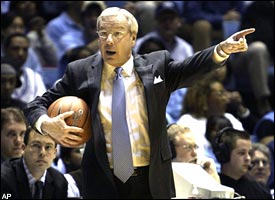 And was Roy Williams ever really a candidate at all?
The consensus: "Krzyzewski is the modern-day John Wooden."
When you've just lost your two best teenage players, this sort of free publicity can be very beneficial on the recruiting trail. And when your No. 1 rival (UNC) has recently backed up a Brinks truck to land the coach of its dreams, a little public flirting with the Lakers is the easiest way to modify your "lifetime" contract, the one Krzyzewski signed in 2001.
"We were able to do a few things for Mike in his contract," Alleva sheepishly acknowledged on Monday.
And Krzyzewski was able to let his new school president, Brodhead, know exactly who is in charge at Duke. Brodhead, who has been Duke's president for about a week, proudly announced on Monday that Coach K would remain "special assistant to the president," as he had under Duke's previous leader.
The ACC is desperately trying to re-invent itself as a football conference. Don't look for Brodhead and Duke to spend any time in that laboratory.
The college basketball world has changed rapidly. Krzyzewski has every intention of establishing a new world order without loosening his grip on command. If that means taking advantage of an opportunity not of his own creation, then so be it. He didn't ask Kupchak to offer him the job. Coach K and his agent, David Falk, just listened (and leaked).
They knew we -- the media, sports fans -- were gullible. We ate it up. Coach K was going to throw away a 24-year legacy to take over a team led by a star player scheduled to stand trial for rape. If you believe that, you probably believe Kupchak thought this would be the ideal time for Roy Williams to think about leaving North Carolina.
Jason Whitlock is a columnist for the Kansas City Star and a regular contributor on ESPN The Magazine's Sunday morning edition of "The Sports Reporters." He also hosts an afternoon radio show, "The Doghouse," on Kansas City's 61 Sports KCSP. He can be reached at ballstate68@aol.com.