By Jason Whitlock
Special to Page 2
DURHAM, N.C. -- University and college presidents are afraid of their high-profile football and men's basketball coaches. That's the only reason the men and women who allegedly really run college sports -- school presidents and chancellors -- can't weed out the commercialism and corruption that undermine the academic integrity of big-time college sports.
I've seen this with my own eyes during the month I've spent on Tobacco Road. Richard Brodhead, president of Duke, was terrified at the thought of losing basketball coach Mike Krzyzewski, a key fundraiser for the university. When Coach K -- after fleecing Duke for some new stipulations to the "lifetime" contract he'd signed just three years earlier -- announced he wasn't interested in coaching the Lakers, Brodhead talked about Duke's hoops coach as if he'd starred in a real-life re-make of "The Passion of The Christ."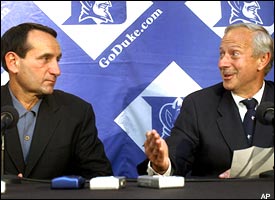 Doesn't Coach K look like the one with the power in this picture?
Coach K reciprocated, talking about Brodhead in a manner that suggested the two men don't really know each other. They don't. Brodhead was in his first week on the job.
I bring all this up now because USA Today published a Wednesday story highlighting the fact that during one October-November stretch this fall, there will be 19 straight days of nationally-televised NFL and NCAA Division I football.
It sounds like heaven to me. Quite a few of those days will be filled with mid-major schools appearing on ESPN and ESPN2, including mid-majors from my beloved Mid-American Conference.
But to the men and women charged with looking for ways to de-corrupt college football and basketball - -members of the more-than-a-decade-old Knight Commission on Intercollegiate Athletics -- 19 straight days of televised football sounds like a system spiraling even more out of control.
"When you're taking a look at it, particularly from the educators' perspective and from the perspective of students who want to get an education," Knight Commission member Len Elmore told me Wednesday, "you have to start to realize that ... you know, what's driving college sports, particularly college football, today? Unfortunately, it has to be money. We see a number of ills in college sports linked directly to commercialism and dollars. It's pretty ironic that the presidents, who have charge of this system and have an opportunity to reform it, are essentially smitten with those dollars."
But in truth, the presidents don't see those dollars. The presidents and the universities, if you believe the Knight Commission, don't reap any real benefit from the sports exposure. According to the Commission, only a dozen or so D-I athletic departments break even or turn a small profit.
"We have a study that we will release in September coming out of Cornell University by a nationally-recognized figure," Knight Commission Chairman William Friday shared with me on Wednesday, "that's going to show no correlation between the success and failure factor in college sports, in annual giving, enrollments, or whatever you want to relate to it. It just isn't there."
Instead, the presidents are smitten with pleasing their high-profile coaches.
Terry Hoeppner, coach of Miami of Ohio, was quoted in Wednesday's USA Today cooing about all of the positive ramifications from his program appearing on ESPN last season. He claimed school admissions were up this year because of Miami's 11-1 season.
"There's not a corner of the university that wasn't impacted positively," he said in America's newspaper.
In reality, there wasn't a corner of Hoeppner's resume or salary that wasn't positively impacted by Miami's success.
"One other thing that really stands out in my mind is the word recognition or visibility," Elmore added. "People want to be on television because it opens the door to recognizing their institution and their conference. And in this day and age, even though people aren't making money, many schools are striving to just break even. And in doing so, they essentially have to put themselves on the map. It's become what a lot of people call an arms race, where you do more and more and you spend more and more and you go further and further to get that edge that allows you to be recognized, that allows you to sell more tickets and bring in more money to the institution.
"And then you talk about ironies. This thought process that being on television, winning ... those things don't really translate into more endowments from boosters and from alumni. It doesn't translate into dollars."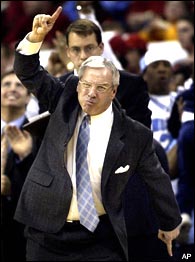 Roy Williams will probably become the No. 1 fund-raiser at UNC.
Actually, it does translate into dollars for one group: coaches.
"Oh, sure, it does for them," said Friday, president emeritus at the University of North Carolina. "Two-and-a-half million dollars to coach basketball is pretty good."
Friday is referencing his own coach and friend, Roy Williams (and UNC's chief rival, Coach K).
Williams and Coach K are everything that's right about college athletics, as well as what's wrong. Coach K, not the Duke basketball program, is a terrific fund-raiser for Duke. If Coach K asks for money, he gets it. Brodhead knows that. Williams had similar power at Kansas, and will eventually have it at UNC. The school presidents need their high-profile coaches. They don't need the student-athletes. The schools can take athletes and make them pretend to be students for three or four years, and then start all over again with a new batch.
It's a vicious cycle that will spin out of control for 19 straight days this fall. We, the fans, will enjoy it. The athletes will enjoy it. The coaches will love it. And the Knight Commission will rail against it.
"Football on Tuesday, Wednesday and Thursday isn't right for college sports," Friday said. "I saw a news release on the Big 12 about where they are wanting to have 12 football games. Now, if you have 12 football games and conference playoffs, and then you have the bowl games ... look at what we're doing. You see, we're getting almost within the 16 games the pros play. So the time has come when I think those who really care about what goes on in college sports have got to sit down and have got to say, 'Enough is enough.' This is where we've got to put a harness on this if we're going to really be academic institutions doing the work of academic institutions."
Too late?
Jason Whitlock is a columnist for the Kansas City Star and a regular contributor on ESPN The Magazine's Sunday morning edition of "The Sports Reporters." He also hosts an afternoon radio show, "The Doghouse," on Kansas City's 61 Sports KCSP. He can be reached at ballstate68@aol.com.