By Jason Whitlock
Special to Page 2
Okay, we have two choices when it comes to assessing what's wrong with America's "Olympic Movement."
No. 1: We can remain in denial and A) pretend that our sprinters don't cheat; B) ignore that our baseball team didn't even qualify for the Athens Games; and C) complain that our best basketball players won't compete because they're either fighting rape cases, partying in South Beach or are afraid of terrorists.
No. 2: We can use our leverage as the world's lone super power and force the International Olympic Committee to include two new sports -- American football and battle rapping- - in the 2008 Summer Games.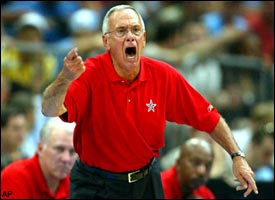 Larry Brown doesn't have the best U.S. players on his squad for Athens.
I'm leaning toward the latter, but both options need to be discussed.
America (not just America's sports world), we're in trouble. We're fat and lazy and we're always on the hunt for an easy short-cut. Nowhere is this more evident than in our Olympic Movement. Ever since shortly after Lincoln emancipated the slaves and we truly began the process of becoming one nation under a dollar sign, Americans have dominated the world in baseball, basketball and the 100-yard/meter dash.
This is no longer the case. Oh, we still own the sprints. But there is so much rumor and speculation about steroid cheating among our sprinters that a U.S. sweep of the 100-meter dash this summer might do more harm than good. Heck, we might as well have the BALCO chemists accept the medals for our sprinters.
As embarrassing as the BALCO controversy is, think about this: No American baseball player will even step foot in Athens this summer. Our team was eliminated from the Games during a qualifying tournament in 2003. Seriously, this is the equivalent of Michael Moore not getting a Christmas card from Teddy Kennedy, or O.J. not winking at a blonde Playmate.
If there's one sport that America should dominate without the use of its professional players, it's our alleged national pastime. Hell, what countries besides Japan, Cuba, Mexico and the United States even play baseball? We should be able to win the bronze -- at least -- in baseball just by filling out a lineup card. It's not like we sent the Kansas City Royals to the qualifying tournament, did we?
As for basketball, if you saw Shaq and Kobe play together in the NBA Finals, you know damn well that Italy would've whipped our butts by 30 points in Tuesday's exhibition had Larry Brown been forced to work with these two. Team USA is not talent-deficient. Larry has plenty of unmotivated, lazy, arrogant NBA talent with which to work. The problem is, these guys won't play any defense. Dirk Nowitzki dropped 32 and 12 on our all-stars like it wasn't (spit).
The team could use a couple of bona fide role players. Erick Dampier or Kenny Thomas or Brad Miller could do quite a bit of dirty work on the boards and on the defensive end.
The other issue is that the rest of the world has made dramatic improvement. I mean, can we talk? Can we let our hair down and just talk straight from the hip? I believe I saw two brothers on the court for the German team. When I saw two "brothas" running alongside Dirk, I said, "Oh, (spit), we in for a long day. Pack a lunch, A.I." Please, God, don't let me see Yao running a pick-n-roll with LeDantre Lee or Jerome Ming. If that happens, it's curtains. Just hand LeBron and Carmelo their bronze medals and send them home now.
Look, we can go ahead, fess up and admit that we don't have a lock on producing the world's greatest athletes anymore. Our young athletes are so smothered in cholesterol, salt, fat grams and super-sized french fries that by the time they're 16, they work up a sweat just sitting in their basement playing online games of NFL 2K5 and Madden 2005.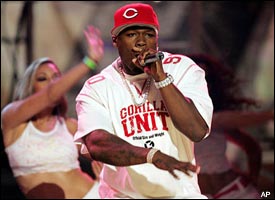 Maybe 50 Cent could add a gold medal to his gold chains.
(I can't wait to finish this column so I can get back to my dynasty season of NCAA College Football 2005.)
If you don't want to admit the truth, you can join me in asking the International Olympic Committee to consider adding American football and battle rapping to the 2008 Games.
Not only would Americans dominate those events for years and years, but the addition of these sports would be good for Olympic security. Osama bin Laden and Al Qaeda don't want any part of Ray Lewis and his limousine entourage, or DMX, 50 Cent, Ja Rule and Ol' Dirty Bastard. Hell, Quincy Carter could quarterback Team USA and we'd still win in a blowout.
And just think what could happen if we get a little cooperation from freedom fighter George W. Bush, and he pardons Rae Carruth and Suge Knight to captain our football and rap teams. Big Suge would have Osama and his terrorist squad assigned to Death Row by the end of the opening ceremonies -- which, of course, would feature a performance by Janet Jackson and Justin Timberlake.
The only problem with this plan is whether the IOC considers marijuana to be a performance-enhancing drug. If so, I could see a lot of our top rappers following the lead of their NBA brethren and declining a spot on the team.
Maybe the legalization of the stickee-ickee-ickee would solve our problems both on the basketball court and in the proposed sport of battle rapping.
Jason Whitlock is a columnist for the Kansas City Star and a regular contributor on ESPN The Magazine's Sunday morning edition of "The Sports Reporters." He also hosts an afternoon radio show, "The Doghouse," on Kansas City's 61 Sports KCSP. He can be reached at ballstate68@aol.com.