By Jason Whitlock
Special to Page 2
Nothing could be worse for golf than Vijay Singh as the PGA Tour's No. 1 player.
Seriously, Singh replacing Tiger Woods as the world's No. 1-ranked player is like Oprah as the nude body double in Halle Berry's next movie. Now, Oprah deserves a lot of credit for her ongoing battle against the bulge; for a woman of 50 with a sweet, fried and pork tooth, Oprah looks damn good. She's come a long way from "The Color Purple." She's overcome a lot and beat all the odds.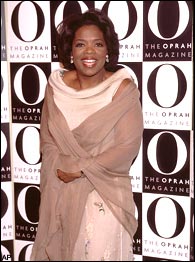 Keep your clothes on Oprah, please. And can we have a few of those free cars?
But Steadman might be the only man who would pay hard-earned money to see Oprah naked.
Nobody wants to see Vijay Singh at No. 1, either. It's bad for golf. As much as Tiger Woods needs a nemesis, a hated rival, Vijay is the wrong guy for the job. Vijay has no sex appeal. No charisma. No nothing. He's the one golfer on tour who could get unbelieveably hot, win seven tournaments (including a major), whip Tiger heads-up for the No. 1 ranking ... and not create a ripple of conversation among sports fans.
Vijay is Rocky Balboa, and no one cares.
Vijay has risen from the ashes, rebounded from allegations that he cheated on the Asian Tour, survived two years in golf exile, supported himself and his wife on $600 a month and what he could earn from gambling.
Vijay is a great story. The only player on tour with a clearly superior story is John Daly.
Compared to Tiger and Phil and Ernie and Duval -- and all the other silver-spoon golfers -- Vijay is just the kind of underdog story with whom we normally fall in love. But it's damn near impossible to love Vijay. He's even despised in his homeland of Fiji. And if his own people don't like him, why should we?
I haven't liked Vijay since he criticized Annika Sorenstam for accepting an exemption to play in a men's tour event.
So is he a villain you love to hate? Is he J.R. Ewing? Would you tune in just to see Vijay lose?
No. Vijay is the ultimate golfing wet blanket. His 2004 season is a prime example of poor timing. If not for Vijay winning the least prestigious of the four majors -- the PGA Championship -- the sports world would still be in a tizzy over Mickelson's breakout year. Phil would be the Golfer of the Year and the toast of the sports world. But Vijay ruined it. His timing is horrible. Was anyone surprised that Vijay stopped Canadian Mike Weir from winning the Canadian Open? Hell, Vijay is from the wrong part of the world. He can't even play in the Ryder Cup. This guy is just bad luck.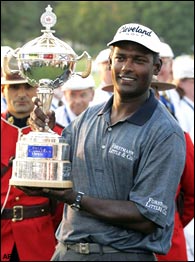 Singh's success is no good for golf.
I'll grudgingly grant that Vijay should get some props for being reluctant to talk up his own good story. But does he have to ruin everyone else's?
It could've been Phil or Ernie who knocked Tiger out of the No. 1 ranking, but we get stuck with Vijay. Can you imagine how many people would be talking about the Tour had Ernie or Phil won seven tournaments and beat Tiger heads-up on a Sunday for the No. 1 ranking?
When Vijay does it, he doesn't even rate a Sunday Conversaion on "SportsCenter."
It's because we don't really know Vijay. He lives in a big house, surrounded by huge walls and protected by vicious dogs. His comments about Sorenstam gave us a glimpse of what kind of jerk he can be. We've heard stories about how rudely he treats people. We know the Asian Tour busted him for turning in a falsified scorecard. But beyond the controversy over his remarks about Sorenstam, Vijay hasn't said or done much on the record to provoke our emotion.
He spends most of his free time on the golf course, working on his game. His work ethic is unmatched. It's a characteristic that should make him more likeable, more respected. Instead, it makes Vijay boring.
His defenders argue that he's a victim of substance -- too much of it. Vijay is devoted to his profession and his family. That's it.
Come on, give us something, Vijay, like the other guys do. Colin Montgomerie's old lady is kicking it with Hollywood's leading men. John Daly's new fling recently reached a plea agreement with law-enforcement officials. Look, I'll settle for anything. Make a pass at Elin, Tiger's nanny. Hire Butch Harmon as your swing coach. Just do it. Do anything to make yourself interesting.
You're killing the game.
Jason Whitlock is a columnist for the Kansas City Star and a regular contributor on ESPN The Magazine's Sunday morning edition of "The Sports Reporters." He also hosts an afternoon radio show, "The Doghouse," on Kansas City's 61 Sports KCSP. He can be reached at ballstate68@aol.com.