By Jason Whitlock
Special to Page 2
Randy Moss isn't the only NBA player masquerading as a football star in Paul Tagliabue's NFL.
That's the beauty and brilliance of the NFL, a league that has done a remarkable job of hiding the fact that it has just as many petulant malcontents as the NBA does, as well as more performance-enhancing drug cheats than Major League Baseball and Olympic track and field, combined.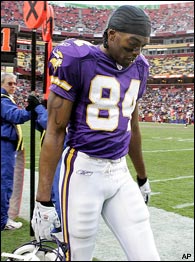 This wasn't the first time Randy Moss walked off the field early -- or acted like a malcontent.
No one should be all that surprised that Moss abandoned his Minnesota teammates near the end of their seventh loss in 10 games last Sunday, walking off the field as the Vikings lined up for a last-ditch onside kick with two seconds to play.
Randy Moss, self-absorbed?
This is the man who thanked Marshall University for offering him a home by skipping the press conference called to announce his early entry into the NFL draft. This is the man who told the world that he routinely takes plays off, and plays only when he wants to play.
Randy Moss is no Avon Barksdale. Randy doesn't love the game. He loves what the game can do for Randy Moss. And with two ticks on the clock and the Vikings trailing by three but still with a damn good chance to back into the playoffs, the Redskins' game had nothing left to offer Moss. So he headed for the locker room, seizing the opportunity to be the first man in the shower and grab a clean, unused bar of soap.
Surprised? Heck, Moss had done it twice before last Sunday. This latest early exit received national attention only because Minnesota is in the middle of another predictable meltdown and Vikings coach Mike Tice is in jeopardy of losing his job.
Everything gets magnified during a 3-7 slump. We also tend to lose perspective.
Yes, Randy Moss is a coward and a punk and has the leadership skills of a five-year-old Girl Scout placed in charge of Navy Seals. Moss is not a winner. He contaminates and undermines everything with which he comes in contact. Dennis Green, the man who ignored Moss' rap sheet, looked like a genius for drafting the freakish wide receiver when he caught 17 touchdowns, averaged 19 yards per catch and ignited the Vikings to a 15-1 record in his rookie season.
But three years later, partially because of Green's inability to control Moss, the coach lost control of his team, and then lost his job when the squad fell to 5-11. Green, as talented a football coach as there is, tried a full-out NBA approach to coaching in the NFL. He shared the power with his two most talented and influential players -- Moss and Cris Carter -- and it blew up in his face.
I mention all of this to make the point that Randy Moss isn't alone as a cancerous pariah lurking in the NFL waters. Tagliabue's league, with its salary-cap-driven reliance on huge signing bonuses, is developing uncontrollable superstar malcontents at an NBA pace.
Moss walked off the field before the end of the Redskins game because Vikings owner Red McCombs -- at the behest of Green -- gave Moss an $18 million signing bonus (and a $100 million contract) just before training camp opened in 2001, which just happened to be Green's final miserable season in Minnesota.
It's impossible to motivate, discipline or control a young man with Moss' attitude and personality once you've handed him lifetime financial security and surrendered the only piece of leverage you ever had over him.
You can't cut Moss once he's holding $18 million of McCombs' cash flow. You really can't afford to cross him or tick him off, either. You can only beg and pray. NBA coaches -- who deal with teenage and 20-something, shoe-deal-emboldened, guaranteed-contract-fortified multi-millionaires all the time -- have begging and praying down to a science. They call it Zen. And when the Zen doesn't work, they retire and write books about it.
NFL coaches are playing catch-up. They're just coming to grips with the negative influences of gigantic signing bonuses. The league used to threaten and manipulate super-talented jerks such as Moss by threatening to waive them, which would void their contracts and end the stream of money. The NFL wasn't encumbered by guaranteed contracts.
Now, $20-to-$30 million signing bonuses are making un-guaranteed contracts work just like a guaranteed deal. And that brings out the NBA in NFL players.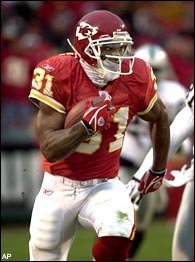 Priest Holmes is one of the good guys -- and even he has caused his team headaches.
It's widespread throughout the league. The NFL is masterful -- with its petty fines for violating all sorts of petty rules, such as the league's uniform policies -- at hiding the fact that it has little control over its players, particularly its high-profile stars. Take Kansas City Chiefs running back Priest Holmes. He's a legitimately good guy. But Chiefs coach Dick Vermeil and team president Carl Peterson have no idea what Holmes is going to do, day to day. None.
At metaphorical gunpoint (Holmes threatened to sit) just before the start of the 2003 season, the Chiefs gave Holmes a contract extension and more upfront money. (He deserved it.)  Holmes shattered the NFL's single-season touchdown record and then disappeared during the offseason and contemplated retirement. He changed cell phone numbers and broke off all communication with the organization. When he finally re-emerged after two months and many frantic phone calls from the Chiefs' brass, Holmes told the team he wanted to rush for 2,000 yards this season and needed to cut down on his number of receptions to do it. (If you check the stats, you'll see that NFL backs who have approached or surpassed 2,000 yards have never been a big part of their team's passing game.)
A high-scoring, wide-receiver-deficient offense that had for three years been built around throwing 70 passes a season to Holmes then had to re-work its philosophy to accommodate its well-paid star. This year, in eight games, Holmes caught 19 passes before he suffered a season-ending knee injury.
You think Allen Iverson is the only superstar with a healthy disdain for practice?
"Practice! We talkin' 'bout practice?"
NFL players spend nearly every free second complaining about practice. Tom Coughlin spent the offseason bickering with his Giants players about practice, and I'm not sure if Coughlin has figured out even now that his team quit on him because of it.
Just like there's a little Allen Iverson inside every NBA player, there's a little Randy Moss inside every NFL locker room. As the signing bonuses get bigger, don't be surprised when all the Li'l Randys come out to play ... and take their balls and go home early when things don't go their way.
Jason Whitlock is a regular columnist for the Kansas City Star. His newspaper is celebrating his 10 years as a columnist with the publishing of Jason's first book, "Love Him, Hate Him: 10 Years of Sports, Passion and Kansas City." It's a collection of Jason's most memorable, thought-provoking and funny columns over the past decade. You can purchase the book at TheKansasCityStore.com. Jason can be reached by e-mail at ballstate68@aol.com.