By Jason Whitlock
Special to Page 2
The ridiculous media overreaction to the Randy Moss "mooning" at Lambeau Field made me once again ponder retirement from all this and consider starting my own business as a sports broadcasting and sports journalist consultant.
Clearly, my peers need help. In this age of sports media oversaturation, my peers are in need of someone to call for advice about when it is and isn't appropriate to shred an athlete, a coach or an executive for poor behavior or decision-making.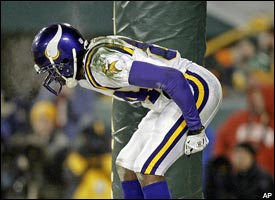 C'mon...if the Vikings had lost, Moss and his teammates would have been mooned for real.
Because so many media people are crawling all over each other to make sure they can be the first to blast an athlete publicly, it's obvious we now require some sort of commissioner to sit in judgment of all the ripping and shredding.
I'm the man for the job. I've been second-guessing and ridiculing coaches for as long as I can remember.
My seventh-grade football coach, Janis Janelsin, who was quite possibly the finest junior-high football coach in all of America, was the first victim of my acid tongue. Mr. Janelsin's questionable end-of-game play-calling and near misuse of some late-game timeouts caused my Stonybrook Redskins to tie Carmel rather than win. I lambasted our coaching staff the whole bus ride home.
By the time I hit high school, I was a frequent caller to Bob Lamey's night-time sports-talk radio show. I specialized in beating up the Indiana Pacers for their various crimes against basketball common sense, including their consistent acquisitions of every slow-moving, non-athletic 7-footer in the league (Steve Stipanovich, Greg Dreiling and Stuart Gray) and their decision to turn back-to-the-basket scoring machine Wayman Tisdale into a face-the-basket, put-it-on-the-floor, only-somewhat-effective small forward.
So my credentials in sports smack talk run deep. And America is in need of a Commissioner of Criticism.
Remember the initial reaction to the Ron Artest-Pistons fans basketbrawl, when most of the blame was being placed on the fans while Artest was defended? That would've never happened had I been consulted as COC. Even highly-skilled critics such as the ESPN basketball analysts on the air that night occasionally need an editor, especially when time to reflect isn't an option.
If Joe Buck had called me last Sunday before he blew it in Green Bay, there wouldn't have been so many people who followed his lead on the Moss mooning. And Vikings owner Red McCombs wouldn't be so peeved about it that he's asked Fox to remove Buck from this Sunday's broadcast team at the Minnesota-Philadelphia divisional playoff game.
Buck is a mild-mannered play-by-play man who had no business going Stephen A. Smith on Moss. Buck's shouts of "That's disgusting! That's disgusting!" when Moss flashed his covered rear-end certainly won't be remembered alongside "Down goes Frazier! Down goes Frazier!" or "Do you believe in miracles?" But his rant will stand as a symbol that the media need help.
Just think. Had Buck had the option to call me in the seconds after Moss began his end-zone celebration, I could've reminded him that Fox is the same network that brought "Who's Your Daddy?" and "Temptation Island" to America, not to mention all sorts of other titillating television programming.
I also would've reminded Buck that every pro sports league is supported by sexually explicit beer and penile-erection advertisements.
Moss wiping his covered booty on a Lambeau goal post hardly qualifies as "disgusting." Heck, I wouldn't even necessarily label it as classless.
I'd lean toward calling Moss' celebration "justified" and "appropriate" and "hilarious."
And keep in mind, I don't like Randy Moss. Just a week ago, Moss sparked an avalanche of deserved criticism by walking off the field with two seconds still to play in a Vikings' regular-season loss. Even though Moss technically was right -- there was virtually no chance of the Vikings recovering the onside kick in time to run another play -- he was wrong for walking off the field before the final whistle. It was childish and petulant, and it set a poor tone for a struggling team.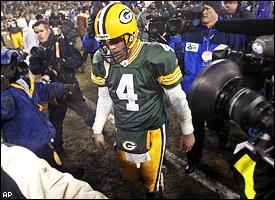 AP
Aaron Rodgers will benefit from being able to observe a veteran QB like Brett Favre.
But in pro sports today, when games have been turned into reality TV shows by the networks, there's a very thin line between petulant and proper.
Moss walked that line against the Packers. Playing on a bad ankle and with a week's worth of criticism fueling him, he turned in a heroic, clutch performance. His two touchdown catches helped the Vikings whip the Packers. But his performance was overshadowed -- not by his rump-shaking, but by Buck's histrionics.
Moss has every right to tell his critics to kiss his grits. Had the Vikings lost, Packers fans, as is their tradition, would've greeted the departing Minnesota team bus with bare butts.
It's unfortunate that it takes a mountain of criticism to bring out the best in Moss. But when Moss' best is on display, we shouldn't look for an easy excuse to ignore it. Or was that even what we were trying to ignore in the first place? Were we really looking for an excuse to ignore Brett Favre's choke job?
The networks' favorite folk hero tossed four interceptions that afternoon. But no one has talked much about that, because we've all wasted our week talking about Randy Moss' rear end.
So here's my first act as Commissioner of Criticism: I'm outlawing all discussion of men's butts.
Jason Whitlock is a regular columnist for the Kansas City Star. His newspaper is celebrating his 10 years as a columnist with the publishing of Jason's first book, "Love Him, Hate Him: 10 Years of Sports, Passion and Kansas City." It's a collection of Jason's most memorable, thought-provoking and funny columns over the past decade. You can purchase the book at TheKansasCityStore.com. Jason can be reached by e-mail at ballstate68@aol.com.