By Jason Whitlock
Special to Page 2
Chris Webber's basketball career is a lesson in why it's important to be yourself. The basketball world has never seen the real Chris Webber, at least not for very long.
We've been treated to C-Webb, the 6-foot-10, 240-pound marvel who has more in common on the court with Magic Johnson than Karl Malone, and more in common off the court with Allen Iverson than Grant Hill. That's a shame.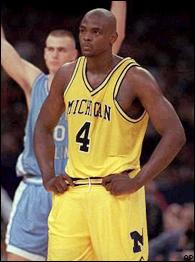 Ever since his days at Michigan, Chris Webber hasn't been himself.
Because Chris Webber is better than C-Webb.
Chris Webber had the potential to become the best power forward the game has ever seen. He could've been as reliable in the low post as Kevin McHale, as consistent and relentless as The Mailman, as immovable as Wes Unseld. He could've been a terrific last line of defense.
Instead, C-Webb focused on redefining the position. C-Webb wanted to do a little bit of everything -- shoot the 3, lead the break, dish the ball behind his back and avoid the daily bump and grind of typical low-post play.
C-Webb is no flop. In 12 seasons, he's averaged 22 points, 10 rebounds and 4.5 assists. When he's been healthy, he's been an NBA All-Star. In 2000-01, he made a strong run at league MVP. But he's never reached his potential. He's bounced around to four different franchises. Sacramento, the city C-Webb put on the NBA map, recently decided it had a better chance to contend without C-Webb, and dealt him to the Philadelphia 76ers. Webber lost a power struggle with Peja Stojakovic, a one-dimensional shooter.
MORE ON WEBBER
Page 2's Skip Bayless says that Chris Webber continues to be dogged by 'loser's intangibles', even after the trade to Philly.
The knock on C-Webb is that he doesn't make his teammates better, despite his versatility. Sacramento's offense seemed to run more efficiently when C-Webb was in street clothes.
That would've never been said about Chris Webber. On draft night in 1993, shortly after Orlando made him the No. 1 overall pick, Golden State's Don Nelson acquired Webber from the Magic in the hope of turning him into an in-the-paint beast capable of causing Shaquille O'Neal a few problems. The thought of battling Shaq caused Webber to go on a hunger strike and shed 25 pounds. He shrank to C-Webb size and started working on his perimeter game.
Soon after that, C-Webb started working on a rap sheet and a rap album. Chris Webber disappeared. Now we only hear from him when ESPN does a package on Webber's love of art or African artifacts.
Chris Webber was never comfortable being Chris Webber. I could see it when he was a member of Michigan's Fab Five. I covered those teams for the Ann Arbor News. Webber wanted desperately then to be Jalen Rose, a player with half of Webber's potential and polish. Webber loved the fact that Rose was from Detroit's mean streets. Webber's parents, a factory worker and a school teacher, had placed him in a pricey, predominantly-white private high school.
Webber rebelled by idolizing Rose. It was as if Webber was embarrassed that he'd come from a solid two-parent home. Rose was never a bad guy. He was just "city" and cool. It was odd that Michigan's best player, the player with the most intellect, deferred to Rose's overpowering personality. Rose defined the Fab Five. His game was undisciplined, and so were the Wolverines. They achieved remarkable feats, but never won an NCAA title or even a Big Ten championship. In retrospect, particularly given the subsequent NCAA investigation into the Wolverines' program, they were the epitome of style over substance.
Webber's upbringing was all about substance. His mother made him read books and take quiet time just to reflect. If you spend any time at all around Webber away from the basketball court, you'll discover a man knowledgeable and passionate about a wide variety of issues. You'll also discover a man completely conflicted.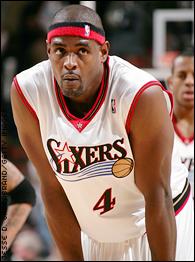 Don't expect things to go much better for Webber in Philly.
That's one of the reasons Webber was busted carrying marijuana. That's one of the reasons he was involved in a rape allegation. That's one of the reasons he was the front man for DaDa sportswear. That's one of the reasons he tried to become a rapper.
And that's one of the reasons he won't leave much of an NBA legacy.
We will forget about Chris Webber shortly. Injuries have eroded his ability to explode to the basket. He never developed a low-post game, so he's an inconsistent scoring threat in the clutch. He's a bunch of numbers and a great quote.
He isn't going to help the Sixers win it all this year, even though Philadelphia has paired him with Allen Iverson. Iverson will lead C-Webb straight to hell, and C-Webb will be more than happy to follow.
We all know people just like Chris Webber -- people uncomfortable with who they are, people who follow rather than lead, people who look for material things to define them, people who find momentary confidence in their association with others.
We're just shocked when we find those insecurities in people we view as possessing every gift that God has to offer.
Jason Whitlock is a regular columnist for the Kansas City Star. His newspaper is celebrating his 10 years as a columnist with the publishing of Jason's first book, "Love Him, Hate Him: 10 Years of Sports, Passion and Kansas City." It's a collection of Jason's most memorable, thought-provoking and funny columns over the past decade. You can purchase the book at TheKansasCityStore.com. Jason can be reached by e-mail at ballstate68@aol.com.