Single page view
By Jason Whitlock
Special to Page 2
At the conclusion of ESPN's two-hour town hall meeting Thursday night on whether college athletes should be paid, Bob Ley offered each of the panelists an opportunity to fire a parting shot. I was jealous. I wanted to be heard.
This is what I would've said.
You don't give young people what they want. You give them what they need. College athletes don't need money. They need additional opportunities to educate themselves. They need a deeper understanding of why it's important to be educated.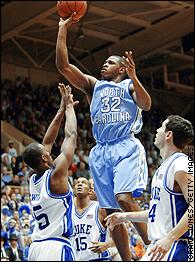 Should college athletes be paid? Yes -- with a real education.
We're holding this debate because revenue-producing sports such as college football and basketball are fueled by a significant portion of poor, undereducated black athletes, many of whom have little interest in a college education and are bothered by the fact that white coaches and administrators get rich off the athletes' ability to entertain.
So what should we do?
Should we openly acknowledge that we are exploiting them? Should we admit that college football and basketball have nothing to do with the educational experience? Should we cut these kids a small monthly check and thank them for their service?
Although very appealing – it would end much of the hypocrisy that fuels corruption in college athletics – none of that will happen. We're rarely that honest, and it could damage the marketability of our money-producing sports. Our customer/fan base loves to live in a college sports fantasy world in which they can believe that when Tommy isn't sequestered inside a tattoo parlor (or tattooing a sorority sister), he's locked in the library preparing for his political science quiz.
Those of us who have been directly involved in college athletics know this is not the case for the overwhelming majority of football and basketball players, despite the cries today about athletes' being on campus without the money to get their clothes washed, go to the movies, entertain guests or whatever. No one is starving. Plus, struggling to make ends meet often can build character in the young. And, quite honestly, for every poor basketball or football player, there are 20 gold-digging bimbos waiting in line to shower them with gifts and cash.
Nope. The direction in which we should be going is this: We should invest our profits in the education of these athletes. Education is a currency that many athletes don't respect. That's fine. We shouldn't concern ourselves with giving young people what they want. We should give them what they need.
These young athletes, particularly the ones from economically- and educationally-disadvantaged backgrounds, need educational coaching staffs, men and women who travel with the team and meet with the players on a daily basis.
I'm serious. A football team needs a 10-man education coaching staff that is totally independent of the football staff and just as powerful. The education staff should report to the school president, not the athletics director. The school presidents should be involved because football and basketball have a huge impact on the way the universities are viewed nationally, and because those sports generate money for the rest of the university.