By Jason Whitlock
Special to Page 2
Dan Le Batard's column in the Miami Herald won't go away. And former NBA player and current TNT analyst Rex Chapman fanned its flames even further the other night.
Late in the fourth quarter of San Antonio's victory over Seattle, Chapman and co-commentator John Thompson debated the merits of Le Batard's contention that race might have played a role in Steve Nash winning the NBA MVP award over Shaq.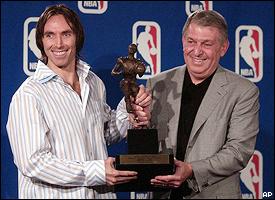 No one's saying Nash wasn't a worthy MVP candidate -- but the color of his skin still could have helped.
Chapman, a white former NBA player who considers Nash one of his closest friends, backed Le Batard's assertion, saying that race is "the elephant in the room" and we're naive if we believe that at least a few voters didn't take Nash's white skin into account when they cast their ballots.
"There's plenty of things in this world that I don't feel strongly about, that I'd be politically correct about, but race and racism is really not one," Chapman told me. "From an early age, I saw it. I experienced it. You can stick your head in the sand and not acknowledge the elephant in the room, but it's there … I probably didn't do it justice [Tuesday night on the air]. I brought it up when it can't really be talked about in much detail."
Well, it's being talked about in significant detail in a lot of places this week. Thompson, who is black, criticized Le Batard during the TNT broadcast, claiming it does a disservice to Nash's fine season to bring race into the debate.
Monday night, Charles Barkley ripped Le Batard on TNT's postgame show, calling the column "asinine." Tuesday morning, respected columnists across the country were ridiculing Le Batard in print. Wednesday morning, when I logged on, I was greeted by a rip of Le Batard and a defense of Nash on AOL's homepage.
One man shouts racism in a crowded building and an unruly mob flogs him publicly. Le Batard didn't shout. He suggested that race might have combined with several other factors – Nash's size, America's love for the underdog, Phoenix's 33-game turnaround, Phoenix's poor record without Nash, the voters' desire to avoid the obvious choice – to hand Nash an award Shaq deserved.
Chapman, who is director of basketball operations for the Suns, agrees with me. Nash earned the MVP. His selection is not an injustice to Shaq. But it's foolish to dismiss Le Batard's assertions.
"I know [Le Batard]. I played in Miami for a year," said Chapman, a 12-year NBA vet and an All-American at Kentucky. "He's in Miami covering the Heat. They'll throw the 'homer' tag on him. Other journalists might say he just wants the shock value. I don't know Dan well enough to know what his motives are. But when I heard it, the first thing that went through my mind was, 'Damn right.'
"What mainly lends it credence, gives it some merit, is the MVP voting was close. You know, I grew up in a place (Owensboro, Ky.) where racism is an epidemic. I'm not talking about 20 years ago. I'm talking to this day. Drive through the South. But it's not just the South. [It's] other parts of this country, rural areas – hell, in the cities. It doesn't take but just a handful [to swing the vote].
"It was silly to dismiss Le Batard's article as nonsense. Of course, race could have been a motivating factor in some people's vote."
In my view, if there were 10 factors that swung the vote in Nash's favor, his skin color cracked the bottom of the top 10. Race was a factor. In this case, I just don't happen to believe it was a determining factor.
Nope. This is nothing like the Heisman Trophy voting that has handed college football's top individual prize to five straight white quarterbacks, most of whom were undeserving. Did you really believe that Jason White, Eric Crouch and Chris Weinke were the most outstanding players in college football? If you did, you probably thought Danny Wuerffel, Gino Torretta and Ty Detmer also deserved the Heismans that voters stole for them during the 1990s.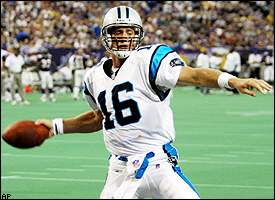 Many recent Heisman winners, including Chris Weinke, haven't done much in the NFL.
Rather than put any thought into rewarding college football's most outstanding player, Heisman voters simply identify the quarterback of the nation's top-ranked team and make him their Heisman front-runner in mid-October. Television broadcasters do the rest, relentlessly hyping the QB. Quarterback still is primarily a white position, which is the main reason the position is valued significantly more than running back is, when running back is a make-or-break job at least as important as QB.
Elite-level college football, just like the NFL and the NBA, is dominated by black athletes. And college football is truly dominated by black running backs. But – just by coincidence? – voters have figured out a way to tab Matt Leinart, White, Carson Palmer, Crouch and Weinke as college football's most outstanding players over the last five years.
Seriously, do you think anyone ever watched an Oklahoma game or practice and concluded that White was the Sooners' most outstanding player? Last season, the man shared the same backfield with the most breathtaking, perfectly put-together running back since Bo Jackson, and yet somehow White still received more first-place Heisman votes than Adrian Peterson did. White was so outstanding in his six years of college action that an NFL team invited him to walk on just last week.
My point?
Le Batard might have chosen the wrong example to make his case, but there's no reason for us to act like race doesn't play a significant role when Americans step into the voting booth. Remember Willie Horton and all the other racial props that get used in campaigns.
Sports journalists – black and white – are not immune to carrying their racial biases and preferences into the voting booth. In fact, I believe we're more prone to do it than people in other professions. Our industry seethes with racial tension. Forgive me for the generalization, but many white sports writers feel like they're being passed over for jobs by unqualified, minority candidates, or they have a friend who was passed over by a less qualified minority or woman. Black sports writers, surveying near-lily-white press boxes, feel like they don't get an opportunity to advance.
Both perceptions are unrealistic, but the perceptions and constant whining about discrimination and reverse discrimination create the atmosphere that makes Le Batard and anyone else with common sense suspicious of the role of race when we vote.
Chapman said white sports writers who covered him in high school, college and the pros never made a secret of the delight they took in his athletic exploits.
"I would hear things all the time, things I would probably object to today, but at the time, I wouldn't say anything," Chapman said. "It would be stuff like, 'Boy, it's good to see one of my own out there showing them boys how to do it.' Hell, they didn't hide it …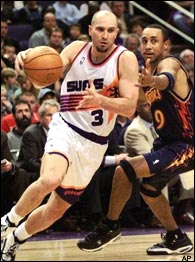 Rex Chapman felt the impact of race during his own NBA career.
"I can't tell you the number of people in my life, be it reporters or everyday white people, who I spent a day or so around and thought they were good people, and then all of a sudden they open their mouth about somebody or something pertaining to race and completely show themselves. And at that point, I've completely written them off. Maybe I should be a little more understanding, because I know where it comes from. Most of these people don't have a choice. It's every bit as ingrained in them as is religion."
Chapman was particularly bothered by his belief that sports writers in Kentucky didn't hype high school stars such as Derek Anderson and Allan Houston the way he was hyped as a prep. Chapman was known as the greatest high school player the state of Kentucky ever produced.
"I ended up going to [the University of] Kentucky, and on the one hand, I was the Great White Hope and had 24,000 people cheering for me every day and every night," Chapman said. "Off the court, then I'd hear the whispers that I was a n----- lover. It was just asinine and ugly. That was part of the reason I left school early."
Chapman dated a wide variety of women while he was at Kentucky, including black women. He said his color-blind dating habits were frowned upon by Charlotte Hornets owner George Shinn, who selected Chapman with the eighth pick of the 1988 draft. Chapman said the first time he met Shinn, the owner had just one question – and it had nothing to do with the purpose of the meeting, which was to end Chapman's weeklong rookie holdout for $25,000.
"He asked me if I ever dated black girls," Chapman said. "I told him that I wasn't right now, but that I probably would. My contract was done 20 minutes later. To this day, I believe he thought I might go to the press. [Shinn] started, 'Well, I guess, what I'm saying, you know we live down here in the Bible Belt. I'm just saying be careful.' "
Chapman said the NBA, like the rest of society, is filled with just-below-the-surface racial tension. That's what frustrated him about the knee-jerk reaction to Le Batard's column.
"Look, our game is dominated by black players. But the last two guys on the roster, half of them are white," Chapman explained. "Those are business decisions for the white customer to come to the game."
The same people ripping Le Batard won't touch that.
Le Batard's column is being evaluated in an unsophisticated manner. He didn't state (or even suggest) that Nash won the MVP award because there were a small number of closet KKK members among the voters. He said (or insinuated) that there were compelling arguments for both candidates – Shaq's was the strongest in Le Batard's mind – and the vote might have swung in Nash's direction because some voters wanted to reward Nash for dominating a game dominated by blacks.
Do you think if the PGA Tour was covered predominately by black journalists, the exact same thing wouldn't happen if Tiger Woods and Phil Mickelson both had terrific years?
I rooted for Willie T. Ribbs in auto racing. Why wouldn't a white guy root for somebody who looked like him in basketball? It's natural. And it's not a problem until someone is denied a reward they deserve. In my opinion, that didn't happen with Nash and Shaq.
But all the name-calling of Le Batard needs to stop. And all of the people ranting about the evils of the "race card" need to get a grip. There are 52 cards in the deck, along with a couple of wild cards. One relatively harmless card that creates momentary guilt doesn't swing the game in the favor of people who didn't create America's version of the game.
Le Batard's column needed to be written. The discussion needed to take place. We – black people and white people – take so much pride in telling everyone how we're free of prejudice that we never free ourselves of our obvious prejudices. You can't combat an issue you ignore.
"Steve earned the MVP," Chapman repeated. "But in my mind, all it takes is a handful [of bigoted voters], and Steve gave them an opportunity to vote for him. I'll go a step further. I have another best friend, Jason Kidd. He left Phoenix and went to a team [New Jersey] that had been in the toilet for years and took them to the NBA Finals. Part of me wonders if Jason wasn't just half-white and had floppy hair flying around, what that MVP vote would've been. And Tim Duncan earned that MVP."
Jason Whitlock is a regular columnist for the Kansas City Star. His newspaper is celebrating his 10 years as a columnist with the publishing of Jason's first book, "Love Him, Hate Him: 10 Years of Sports, Passion and Kansas City." It's a collection of Jason's most memorable, thought-provoking and funny columns over the past decade. You can purchase the book at TheKansasCityStore.com. Jason can be reached by e-mail at ballstate68@aol.com.