"It was silly to dismiss Le Batard's article as nonsense. Of course, race could have been a motivating factor in some people's vote."
In my view, if there were 10 factors that swung the vote in Nash's favor, his skin color cracked the bottom of the top 10. Race was a factor. In this case, I just don't happen to believe it was a determining factor.
Nope. This is nothing like the Heisman Trophy voting that has handed college football's top individual prize to five straight white quarterbacks, most of whom were undeserving. Did you really believe that Jason White, Eric Crouch and Chris Weinke were the most outstanding players in college football? If you did, you probably thought Danny Wuerffel, Gino Torretta and Ty Detmer also deserved the Heismans that voters stole for them during the 1990s.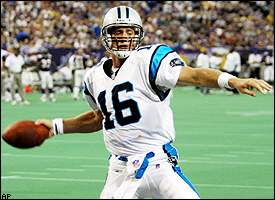 Many recent Heisman winners, including Chris Weinke, haven't done much in the NFL.
Rather than put any thought into rewarding college football's most outstanding player, Heisman voters simply identify the quarterback of the nation's top-ranked team and make him their Heisman front-runner in mid-October. Television broadcasters do the rest, relentlessly hyping the QB. Quarterback still is primarily a white position, which is the main reason the position is valued significantly more than running back is, when running back is a make-or-break job at least as important as QB.
Elite-level college football, just like the NFL and the NBA, is dominated by black athletes. And college football is truly dominated by black running backs. But – just by coincidence? – voters have figured out a way to tab Matt Leinart, White, Carson Palmer, Crouch and Weinke as college football's most outstanding players over the last five years.
Seriously, do you think anyone ever watched an Oklahoma game or practice and concluded that White was the Sooners' most outstanding player? Last season, the man shared the same backfield with the most breathtaking, perfectly put-together running back since Bo Jackson, and yet somehow White still received more first-place Heisman votes than Adrian Peterson did. White was so outstanding in his six years of college action that an NFL team invited him to walk on just last week.
My point?
Le Batard might have chosen the wrong example to make his case, but there's no reason for us to act like race doesn't play a significant role when Americans step into the voting booth. Remember Willie Horton and all the other racial props that get used in campaigns.
Sports journalists – black and white – are not immune to carrying their racial biases and preferences into the voting booth. In fact, I believe we're more prone to do it than people in other professions. Our industry seethes with racial tension. Forgive me for the generalization, but many white sports writers feel like they're being passed over for jobs by unqualified, minority candidates, or they have a friend who was passed over by a less qualified minority or woman. Black sports writers, surveying near-lily-white press boxes, feel like they don't get an opportunity to advance.