When sportswriters start dissing Detroit, keep that in mind. They're jealous. We all wish we had the Pistons, Red Wings, Tigers, Lions, Wolverines and Spartans to cover. In the last decade, Michigan football has won a national championship, and Michigan State basketball has won a national title as well.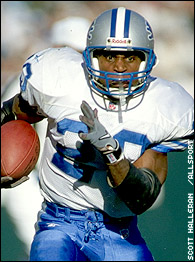 Detroit's been blessed with tons of stars, like Barry Sanders.
In the 20 years Albom has owned Detroit, he's had Barry Sanders, Isiah Thomas, Thomas Hearns, the Fab Five, The Flint Stones, Steve Yzerman, Dennis Rodman, Desmond Howard, Charles Woodson, Jud Heathcote, Cecil Fielder, Scotty Bowman and Sparky Anderson to write about.
And I haven't even mentioned Detroit's high school basketball scene.
Now I grew up in Indiana. There's nothing better than Hoosier high school basketball. The teams and the coaches are incredible.
But the individuals, the stars, and the unbelievable stories make Detroit prep basketball second to none. Detroit is the only city in the world that could produce Antoine "The Judge" Joubert, the greatest prep basketball player of all time. Detroit is the only city that would legalize for athletic competition the Jheri curl The Judge sported.
Detroit has style, a swagger, a confidence that belies its condition. Detroit is the big, sweaty woman squeezed into a size-10 dress, daring anybody to suggest her body ain't booming.
When I was playing college ball, you could always tell the difference between an athlete from Detroit and everybody else. Detroiters had an attitude. When I was at Ball State in the late 1980s and early 1990s, we had three basketball players from Detroit -- Paris McCurdy, Curtis Kidd and Scott Nichols -- and they damn near willed our team to a Sweet Sixteen victory over Larry Johnson and Greg Anthony's UNLV championship team. We were the only team to play the Rebels close that year. Our best football player was from Detroit, too, an undersized linebacker named Timmy "Shoe" Walton.
Detroit has a spirit, an energy that's infectious. It's an awesome place to take in the sports world. You have the whole package -- great teams, bad teams, terrific talent, wonderful characters, championships, two newspapers, two all-sports radio stations, good facilities, passionate fans.
There's nothing funny about Detroit when it comes to sports.
Jason Whitlock is a regular columnist for The Kansas City Star. His newspaper is celebrating his 10 years as a columnist with the publishing of Jason's first book, "Love Him, Hate Him: 10 Years of Sports, Passion and Kansas City." It's a collection of Jason's most memorable, thought-provoking and funny columns over the past decade. You can purchase the book at TheKansasCityStore.com. Jason can be reached by e-mail at ballstate68@aol.com.