Single page view
By Jason Whitlock
Special to Page 2
You know, in just about every professional sport that matters in the U.S., a superstar athlete can get away with loafing without damaging his or her reputation.
The lone exception is professional football. You don't play hard in football, ask any coach, and it's a recipe for getting hurt. You take a play off, you earn a lazy rep, you risk turning off your fan base, you flirt with incurring the wrath of your teammates.
Professional football leaves little wiggle room in terms of effort. That's why we love the sport. That's why the NFL is king. You don't give your best effort on a consistent basis, you get cut. You get cut, you don't get paid.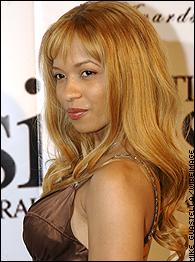 Karrine Steffans turns the tables with her kiss-and-tell book.
In baseball, Barry Bonds can jog down the first-base line on nearly every ground ball. No biggie.
If Phil Mickelson wants to spend two weeks in Hawaii with the wife and kids rather than grind it out on the PGA Tour, so what? A top golfer only needs to compete in 15 events per year.
In basketball, Shaq can conserve energy for the fourth quarter or a playoff run if that's what he chooses. We've come to expect it.
In tennis, Maria Sharapova or the Williams sisters can play when they want to. Skip a major championship because of a tummy ache? You go, girl. She'll make up for the lost dollars with a couple of fat appearance fees.
On the racetrack, who knows how hard Dale Jr. is trying week in and week out? We can't really see inside the car, and we definitely can't see what's going on inside Junior's helmet.
We don't watch hockey on TV, so no one really knows who's mailing it in on the ice.
Football players live under an unusual microscope. They're huge stars, performing in the league that matters most to advertisers, and they're under -- by far -- the most performance pressure of any group of athletes. The threat of injury is constant in this violent contact sport.
If any group of athletes needs guaranteed contracts, it's NFL players. Their careers are short. Far more so than baseball or basketball players, NFL players suffer long-term damage to their bodies. Football players take the most risks, get the smallest rewards, contribute to the biggest game and have the least financial protection.
I bring all this up to help you understand what is going on in the mind of Philadelphia Eagles wide receiver Terrell Owens, the man in desperate need of a new contract. T.O. is underpaid. And worse, compared with other high-profile, TV-ratings-driving professional athletes, the contract Owens signed a year ago isn't worth the paper it's written on if Owens' play somehow slips.
If T.O. underperforms or his market value drops, the Eagles can force Owens to take a pay cut or cut him and void his contract. NFL teams do it all the time.
That's why it's inappropriate to be upset with Owens and his agent, Drew Rosenhaus, for threatening to disrupt Philadelphia's training camp with a holdout or in-camp protest.
You say no one forced Owens to sign the contract he inked with the Eagles just one year ago, after forcing the Baltimore Ravens to hand over his services to Philly. You're right. But as long as the contract can be voided by the team, then T.O. should retain the right to breach his contract when he feels he has outperformed it. That's only fair.