Single page view
By Jason Whitlock
Special to Page 2
You know, this week I expected my e-mail in-box to be overflowing with apologies from humbled Cincinnati Bengals fans. I thought for sure I'd get hundreds of e-mails reading something like this:
Dear Jason:
Boy, you're right. The Bengals might not be as good as I previously thought. If not for a bogus fumble ruling against David Carr, it's likely the lowly Houston Texans would've rallied to beat us in Cincy. Jason, I'll never doubt your expertise again. You are indeed the greatest football mind in all of sports journalism.
Instead, my in-box was filled with celebratory Bengals fans chanting "Who Dey?" after the Bengals got lucky and stole a 16-10 victory over the Texans. Bengals fans are harassing my brother at work. He made the mistake of marrying into a Bengals family and settling in Cincinnati.
Hey, look, leave my brother alone. He's just like everybody else in Cincinnati. He doesn't know a damn thing about professional football. When God was passing out football intellect, he was standing in the long line of future Cincinnatians waiting for season passes to Kings Island.
When it comes to the NFL, I'm the only Whitlock with an opinion that matters. Here are the 10 NFL truths from Week 4: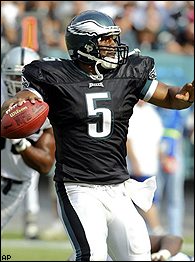 AP
You can't help but admire the effort McNabb has put forth, despite his injury.
10. In terms of poise, toughness and creativity in the pocket, Donovan McNabb is in the same class as Tom Brady.
My respect for McNabb, already high, elevated in Week 4 after watching him rally the Eagles from a 24-6 deficit against the Chiefs. McNabb, playing with a hernia, sidestepped pressure all afternoon, kept his eyes on his receivers and made plays downfield.
McNabb is the league's MVP in the first quarter of the season, followed by Indy pass-rusher Dwight Freeney and San Diego running back LaDainian Tomlinson.
9. The 0-4 Green Bay Packers will win the NFC North.
OK, the division might be the worst in the history of the league, but I envision the Packers going 8-4 or 9-3 the rest of the season. The Packers are not as bad as their winless record.
Had the Packers huddled and taken their time before their final fourth-down play against the Carolina Panthers, Brett Favre and the Packers would've finished off their rally and upset the Panthers on Monday night.
The Packers will win their next three -- vs. Saints, at Vikings, at Bengals -- and finish the season on a five-game winning streak -- at Bears, vs. Lions, at Ravens, vs. Bears and vs. Seahawks. In between those strings of victories, they'll grab a win on "MNF" against the Vikings.
Will the Packers still fire Mike Sherman after he leads them to a division crown? Probably.
8. Dick Vermeil and Mike Martz are far more concerned with fielding great offensive football teams than with fielding championship teams.
The Chiefs and Rams have enough defensive talent to be competitive. The problem is neither Vermeil nor Martz sets a tone with his ballclub that defense is as important as offense.
Vermeil came to Kansas City determined to prove he was the mastermind of St. Louis' Super Bowl offense -- not Martz. The Chiefs have set all sorts of offensive records while winning very little. Meanwhile, Martz probably doesn't know the names of his defensive players.