By Jason Whitlock
Special to Page 2
A quick look at a few e-mails and then it's time to tell the truth.
Jason,
Of all the people, I thought you would understand better than anybody. I made an @$$ of myself at T.O.'s press conference to take all the negative attention away from T.O. Jason, you know I'm not that stupid. No one is as stupid as I looked that day. I can't believe you haven't written about this in your weekly column.

--Drew
J,
Of all the people, I thought you would understand better than anybody. I made an @$$ of myself this season to take all the negative attention away from Drew. Jason, you know I'm not that stupid. No one is as stupid as I've looked this season. I can't believe you haven't written about this in your weekly column.

--T.O.
Boo Boo,
You can't keep stringing me along like this. I know it's football season, your busy time of the year. But I need to know if you want me. If you can't make a decision, I'm going to work things out with Nick.

--J.S.
Here are your 10 NFL Truths for Week 12:
10. It was painful watching Bill Cowher coach against the Indianapolis Colts. Cowher, one of the best coaches in football, never recognized what kind of football game he was in and failed to give the Pittsburgh Steelers a chance to compete on "Monday Night Football."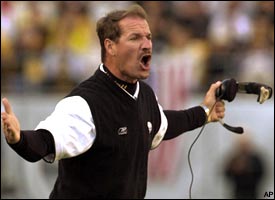 Frustrated with Ben, Cowher? Let him throw more!
John Madden recognized early on that the Steelers needed to open up their passing game. He questioned the Steelers' first-down running game early in the first quarter.
When you play Peyton Manning inside the RCA Dome, you're going to have to outscore Manning. You're not going to slow the game down and out-field-position Manning inside the dome.
If Ben Roethlisberger is half the quarterback he's hyped to be, Cowher needs to take the diapers off Big Ben and let him try to win a game with his passing. The Steelers were afraid to run play-action passes and throw deep on first down. Instead, they consistently faced third-and-long, which put Roethlisberger and Pittsburgh's overmatched offensive line at a disadvantage.
As I watched the embarrassing mismatch Monday night, I started losing respect for Cowher. He's one of my favorite coaches. But he looked like the evil son of Marty Schottenheimer on Monday.
Pittsburgh's defense did enough good things to win that football game. Holding Manning to 26 points is an accomplishment. Pittsburgh's offense made one play all evening, taking advantage of a miniature field after an interception.
9. Just because I believe Donovan McNabb's teammates are jealous of his contract and view him as overrated doesn't mean that I agree with them.
Last week I explained what I believe is driving much of the division in the Eagles' locker room -- McNabb's hefty contract and Philly management's hardball negotiating tactics with many of its veterans.
Many of you read that and assumed I was dissing McNabb and agreeing with Terrell Owens and Rush Limbaugh. I was not. McNabb deserves his contract and conducts himself with the kind of class and professionalism you wish every pro athlete had.
But the reality in sports is no different than the reality in every other endeavor. Money is at the root of all evil -- not T.O.
8. Tedy Bruschi should've sat out the entire season, and the Patriots need to switch defensive schemes.
I have no problem with Bruschi's coming back to football after suffering a stroke. He should've just rehabilitated for an entire year. Bruschi isn't close to being the Pro Bowler he was before his stroke. Against the Chiefs, Bruschi missed several tackles and should've been benched. He wasn't helping his team.
Besides all the injuries in the secondary, New England's defense is suffering because its linebackers, led by Bruschi, are no longer the strength of the defense. The Pats should scrap their 3-4 scheme and play a 4-3. New England's best defensive personnel -- Richard Seymour, Ty Warren and Vince Wilfork -- play along the line of scrimmage. Those guys need to be featured in a 4-3 scheme.
7. When my advice is correct, I don't respond to complaints. Dallas Cowboys fans, quit e-mailing me. The Denver Broncos covered the spread.
Yes, I predicted the Broncos would rout the Cowboys on Thanksgiving. And yes, Bill Parcells' Cowboys are better than I anticipated at the beginning of the season. But a 3-point victory in a game with a two-point spread is still considered a cover. Case closed.
6. I still believe Joey Harrington can be a good football player in this league.
When Steve Mariucci benched Harrington on Thanksgiving, the TV broadcaster said he hoped Mariucci instructed Jeff Garcia to block.
Detroit's offensive line and receivers were horrible against the Falcons. There was no reason to bench Harrington, especially considering Garcia was far from 100 percent healthy.
There are rumors the Lions are interested in Kansas City offensive coordinator Al Saunders as their next head coach. Saunders would be a good fit with the Lions. Saunders' specialty is coaching the hell out of wide receivers and putting in a system that puts training wheels on the QB position.
Saunders could salvage Harrington and get Mike Williams, Roy Williams and Charles Rogers to play up to their ability.
5. Mike Sherman probably deserves to be fired in Green Bay, but his replacement is going to have a very, very difficult job because of Brett Favre's legend.
Packers fans and Favre's fans in the media are reluctant to put any blame for the Packers' dismal performance on Favre's undisciplined play. The Packers (2-9) have lost seven one-score games. Several of the losses could've been avoided had Favre not thrown so many boneheaded interceptions.
The Packers had a chance to rally for a late score against the Eagles, but for some reason Favre flung the ball into the end zone and was intercepted. There was plenty of time on the clock to try to move down the field 10 or 15 yards at a time.
It was a totally stupid play by Favre, and the decision couldn't be justified by all of the injuries to Favre's receivers. Favre has lacked patience and has made rookie mistakes. He appears to be uncoachable, and fawning fans and media only accentuate the problem.
4. As Mike Tice saves his job in Minnesota, you have to believe Daunte Culpepper is losing his.
With Really Bad Brad Johnson quarterbacking the Vikings to four straight victories, it makes less and less sense for the Vikings to keep Culpepper around as their franchise player if Denny Green is silly enough to take Culpepper off Minnesota's payroll.
The word is Denny wants to reunite with his favorite QB in Arizona. If that's truly the case, the Vikings should give the Cardinals a first-round draft pick just for taking on Culpepper's contract. Culpepper is a fraud without Randy Moss.
Really Bad Brad isn't the answer in Minnesota. The Vikings would need to sign a veteran to challenge Johnson for the starting job next season.
3. There are a lot of similarities between Chris Simms and Eli Manning. Seriously.
Everyone in the media is comfortable questioning Chris Simms' toughness, but as I watch Eli throw off his back foot and struggle with "happy feet" (just like his older brother) I wonder why his toughness is rarely questioned.
The Manning family certainly deserves respect. But last I checked, the Simms family has more Super Bowl hardware than the Manning family. You could argue that father Phil was one of the toughest QBs in the history of the league.
2. Just because I was critical of Charlie Weis' contract extension doesn't mean I can't admire his coaching when he does something brilliant.
Al Messerschmidt/WireImage.com
L.T. is great, but doesn't match the great Earl Campbell of 1980.
With Stanford about to score the go-ahead touchdown with about two minutes to play, Weis began using his timeouts and conserving time for his offense. Weis understands that Notre Dame's offense is far more talented than its defense, so his strategy is always predicated on his offensive unit (not his defense) winning the game.
Weis basically conceded the touchdown to Stanford and started contemplating Brady Quinn's game-winning TD drive as his defense tried to keep the Cardinal out of the end zone.
1. I like LaDainian Tomlinson as much as anybody, but Marty Schottenheimer went too far proclaiming that L.T. is the best running back he's ever seen.
It takes more than five seasons to surpass Jim Brown, Walter Payton, Barry Sanders, Eric Dickerson and O.J. Simpson, and I don't care how many qualifiers Schottenheimer added.
Even if the standard is "give me one back for one season at his physical best," Earl Campbell wins that debate every day of the week during any era. And it doesn't matter that Campbell wasn't much of a pass-catching threat. Earl Campbell's 1980 season stands the test of time.
Jason Whitlock is a regular columnist for The Kansas City Star. His newspaper is celebrating his 10 years as a columnist with the publishing of Jason's first book, "Love Him, Hate Him: 10 Years of Sports, Passion and Kansas City." It's a collection of Jason's most memorable, thought-provoking and funny columns over the past decade. You can purchase the book at TheKansasCityStore.com. Jason can be reached by e-mail at ballstate68@aol.com.