By Jason Whitlock
Special to Page 2
The people who chose to rationalize Mike Davis' every misstep or to privately seethe as Davis trampled Indiana University basketball traditions are in a rush to talk tough about Kelvin Sampson.
"It's an absolute disgrace," former Hoosiers star Ted Kitchel told the Indianapolis Star about Sampson's hiring. "I wouldn't hire that guy to coach my fifth-grade girls team. That guy is absolutely what we don't want at IU." Kelvin Sampson, my second-favorite college basketball coach (after Roy Williams), stepped into a mess Wednesday afternoon when he was introduced as the successor to Bob Knight's successor. The hostility that overflowed in the days after Myles Brand dismissed IU's most legendary coach and replaced him with an unknown assistant resurfaced this week when Indiana's brass shunned the Knight tree and plucked a ripe, proven winner to restore Hoosier Hysteria and relieve Hoosier Hatred.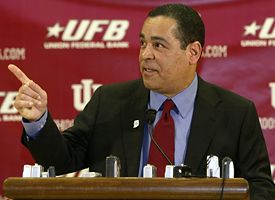 AP Photo/John Harrell
In 12 seasons at Oklahoma, Sampson coached the Sooners to 11 NCAA Tournaments and one Final Four berth.
Take this to the bank: Sampson, unlike his predecessor, is man enough for this job.
Kitchel will eventually offer a public apology. He'll regret his harsh words and have no choice but to admit that he was wrong. And so will all the other Sampson critics who lambaste his players' graduation rates and his NCAA Tournament record while at Oklahoma. Sampson is as good as it gets. The winningest coach in the history of the Big 12 conference won 20 games nine straight years, advanced to the Elite Eight twice and one Final Four despite coaching just one NBA player -- Eduardo Najera. Under Sampson, the Sooners always overachieved in conference play by giving a superior, more consistent effort than their opponents. OU's NCAA flameouts were somewhat predictable. Sampson never really had the horses, and his teams were generally worn out in March because they'd played harder for longer than just about every team in the country. Give Sampson a lottery pick -- let alone the all-star squad Williams had at UNC -- and he'll have no trouble winning in March. But there's little reason for Sampson to take the criticism he's currently receiving personally. The initial unrest with his hiring is just leftover toxic waste from the Davis era. Six years of Davis' whining, complaining and insinuating that the Hoosier Nation wouldn't accept anything less than one of Knight's former white stars as coach had readied IU faithful for just that eventuality. Randy Wittman or Steve Alford was supposed to be tabbed to unite the Hoosiers and lead Indiana back to national prominence. The shock of athletic director Rick Greenspan's decision to pick Sampson in some ways makes Sampson's job more difficult than Davis'. Davis caught a pass from sympathetic media members because he was "thrown" into a job that he was in no way prepared for. Sampson's arrival is calculated and therefore will be much more critically analyzed. There are numerous reasons why I believe Sampson will excel in uniting the Hoosier family, which was the No. 1 area where Davis failed: Sampson has the necessary self-confidence and record of achievement to embrace Bobby Knight. You can't properly love the fruit if you can't love the tree. Like it or not, Bob Knight is Indiana's tree. "I'm going to embrace Indiana fans. If they're Bobby Knight fans, I'm going to embrace them, too," Sampson told me when we chatted by phone late Wednesday evening. "This isn't the start of the Kelvin Sampson era. We're carrying on a tradition, and coach Knight is a big part of that tradition. I'm just going to do my part. I'm going to win people over with how hard we work, how hard we play. I don't want them to support Kelvin Sampson, because this is bigger than any one person. I want them to support Indiana basketball." No one at Indiana will ever again have to feel bad about supporting Knight. Davis saw every Knight supporter as an impediment to Indiana's success. Sampson will see them as the reason for Indiana's previous success and a potential part of IU's future triumphs. Sampson, with good reason, believes in the force of his personality. He can win people's love and respect. At Wednesday's introductory press conference, Indiana president Adam Herbert summarized my feelings about Sampson and this situation perfectly. "He will connect with the members of our IU family," Herbert said. "And to those members of that family, I want to make these very clear observations. The more you get to know our new coach, the greater feelings of pride you will have that he has become one of us. You will love his values." Translation: Kelvin Sampson is best appreciated up close. You can't fully appreciate him from a distance. I grew up in Indiana and have a deep understanding of what Hoosier basketball fans respect. I've known Sampson and watched him work for the last decade. He's the ideal coach for Indiana at this time. He will heal the wounds from Knight's departure and IU's rejection of Wittman and Alford. He started the process Wednesday with his emotional meeting with Indiana's current players. "I told 'em, 'I'm here for you. We're going to get to know each other before we worry about basketball. We've got time to figure this thing out,'" Sampson said. "I need a team so bad. I cried my eyes out when I talked with my Oklahoma team, and I had an emotional meeting [Wednesday] with this new team. We need each other. I get emotionally attached to my players. I don't have to be their life, but they are mine. I'm a basketball coach 24/7."
Whether Sampson connected strongly enough with Indiana sophomore stars Robert Vaden and D.J. White to stop them from transferring remains to be seen. Davis is pursuing the Arizona State and Alabama-Birmingham jobs, and he probably needs Vaden and White to shore up his candidacy. But it would be foolish for either player to leave IU. White has already sat out enough with injuries. He can't afford a redshirt year. And Vaden, an Indianapolis native, should not leave his home state and a coaching staff that is going to recommit to recruiting and developing homegrown talent.
"The first thing I'm going to do is try to get the best players from the state of Indiana to come to Indiana," Sampson said. "That's where it starts." Yes, it does. Sampson comes to Indiana with an undeserved poor reputation for graduating players. The perception is a product of the NCAA's flawed way of calculating graduation rates (they don't count juco transfers) and being a basketball coach in the state of Oklahoma. There's a reason Sampson's Oklahoma program and Eddie Sutton's Oklahoma State program heavily relied on transfers. The state doesn't produce an abundance of big-time Division I talent, and much of the elite basketball talent the state does produce wants to get out of Oklahoma. The "Grapes of Wrath"/Dust Bowl syndrome is still very real in Oklahoma. A lot of Oklahoma kids dream about leaving Oklahoma. Well, junior college transfers don't count toward a school's graduation rate. For instance, Sampson got no credit when Jabahri Brown and Jason Detrick, juco players, graduated from Oklahoma. During our phone conversation, Sampson rattled off the names of nearly a dozen junior college players who graduated from OU during his tenure.
"I get very defensive about it because our kids graduated," Sampson said, growing emotional. "I have kids call me all the time asking me, 'Why don't I count? Why are they saying no one graduates?' And now there's this perception out there. It's not right, and that's why I get defensive about it. We have seven or eight kids playing professionally overseas -- take Hollis Price. He hasn't graduated. I'm wearing him out every summer about coming back, work a camp and take a class or two and get your degree. And he's doing it. Quannas White just graduated."
At Indiana, Sampson won't have to rely as much on junior college players. The state, particularly in recent years, produces plenty of Division I players. Plus, Indiana's tradition should give Sampson easier access to recruits from college-friendly households. "At Oklahoma, Kelvin dealt with a lot of at-risk kids," a veteran college assistant told me. "At Duke or North Carolina or some of the other elite schools, you're dealing with kids from two-parent households. The parents are the main reason kids graduate and take school seriously. You can blame the coach all you want, but it starts with the parents and then it comes down to whether the school has a good academic support system in place." President Herbert made that same point when he pointed out that it was the entire athletic department's responsibility to ensure that IU's student-athletes worked toward degrees. Indiana has a good system in place. Now it has a coach who will appreciate the system, the traditions and, most important, the people of Indiana.
Jason Whitlock is a regular columnist for The Kansas City Star. His newspaper is celebrating his 10 years as a columnist with the publishing of Jason's first book, "Love Him, Hate Him: 10 Years of Sports, Passion and Kansas City." It's a collection of Jason's most memorable, thought-provoking and funny columns over the past decade. You can purchase the book at TheKansasCityStore.com. Jason can be reached by e-mail at ballstate68@aol.com. Sound off to Page 2 here.