By Ralph Wiley
Page 2 columnist
Welcome to Floston Paradise, also known as the desert coast of the greater L.A. basin. I'm Dogman, your sick, twisted guide, representing the melange of characters played by Bruce Willis, Chris Tucker, Gary Oldman, Ian Holm and Milla Jovovich in the "The Fifth Element" by that lunatic, Luc Besson.
Now we all know The Fifth Element is Love. However, Love will be in rare supply on NBA All-Star Weekend, so we are in search of a Sixth Element.
Good luck, right? We'll need it.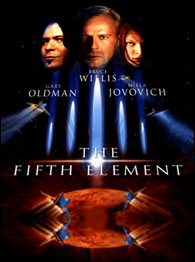 Five Elements won't cut it during NBA All-Star Weekend.
First, let us gaze upon the visiting aliens -- wanna-be rappers and hip-hop nationals with scowling personas they borrow from the businessman Ice Cube and rassume like so many vogueing models, preening like the "bitches" they claim to disdain, in cars and SUVs with 22-inch Sprewelled rims, along with phalanxes of bejeweled Future Felons of America trying to look hard, and for the most part succeeding -- not really FFAs, cool guys, probably, if you got to know them, but who carries enough insurance these days?
It's the look that, for some reason, calls them into question. Ours is not to reason why, ours is to only have a gut feeling that it's flee or die, especially fleeing from the many vans and RVs painted up as rolling billboards for wanna-be musical artists like Glory Velez there, sitting gap-legged on the side of her painted RV with her bleached blonde mane and her no-shot-in-hell. So all you have to do to be an artist is use peroxide, dress skimpily, pose boldly, provacatively. Wish I'd known. Would've saved me a whole lot of trouble.
Speaking of me, there's also scads of pinhead media types, plus a whole fleet of 6s, astoundingly flawed groupies with one outstanding trait they hope anybody with a way in will fixate on while not noticing their warts, etc., etc., etc., all believing they are more attractive, hip, swole and tight than they are. All I know for sure is I'd like to have the condom concession this weekend. They say the 9s are coming, along with the saving grace of both place and event, wide-eyed child believers of the great game, Hoop, of all ages, stripes, nationalities, political affiliations.
We are gathered here today, Friday, for the "festivities."
Personally, I ain't feeling as much festive as agape at the human flotsam and jetsam tying traffic in knots in an incredible conga line stretching Westward Ho! -- and I do mean 'Hos -- from the Staples Center downtown up Melrose, Wilshire, Hollywood and Sunset Boulevards, past the House of Blues on Sunset, where Shaq just judged an X-Box contest and is on his way to the dinner honoring Earv. The HOB was recently outfitted like a movie set out of "Apocalypse Now Redux," the river USO show scene; only here doll-women in electric blue wigs and minis dance on a platform rigged above the club amid floodlights, shaking that thang to the strains of "Hey Ya" and "I Like The Way You Move." Reminds me of "Suzy Q." But then, I'm old.
Basketball? Oh. Yeah. That.
* * * * *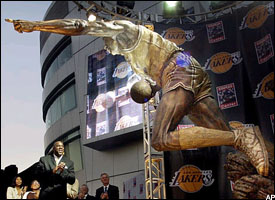 It's a fine-looking statue, but where are the groupies?
The unveiling of the 17-foot state of Mister Master Earvin Earv Buck Magic Johnson in front of the Staples Center drew a small audience on Wednesday and probably caused Johnson's fellow TNT inmate Charles Barkley to break out in hives. Five rings and a statue? How about a bunch of highly profitable Starbucks and TGI Fridays and billboard/ads backing from Lincoln and American Express and a spot on the TNT pregame show while you're at it? Magic's internal Genie complied. Nothing seems to be beyond him. Role model my black ass. Where's the cookie cutter when you need it?
Before I rolled up on him and I was reading the cover story about him in "Rolling Out," a local "urbanstyle weekly," where Magic says, "I was tired of seeing people making millions then coming out of sports and entertainment broke. I hope a lot of these young artists would listen to me. We've got to take advantage of the money that we make and start making that money work for us and make that money grow for us. We dominate sports, we dominate entertainment. But when are we going to start dominating money?" Somebody make a church-gospel revival "Color Purple"-style commercial out of that.
"My man!" Earv always remembers my face if not my name on sight. We go back to when he was 18 and playing in the Sunshine summer basketball tournament in Oakland, coached up by my boy Fle. That's when I first saw him play. Boggled eye and mind, a smiling, laughing 6-9 tangle of arms and legs, running point! And having it seem like the most natural thing in the world. Now he's beginning to round out, starting to look like Magic the Hutt, but, then again, that's the result of many years of the good life. And I'm not the one to talk. Earv proves a fondness for his and your share of groupies, icky porn stars, nice girls and Fembot CEOs and busting a verb here and there won't stop you from having a good life and sharing it. He said he'd had to address HIV and AIDS, prostate cancer and high blood pressure, and that he looked forward to waking up every morning to address those things, and I cannot help but like and admire the hell out of him, warts and all, but you can't take anything from that, I guess, because, like I said, I'm old.
The Chuckster and Magic have a very good take on the inadequacies of much of the league's rank-and-file. "Man," said Magic, turning the word into a warning, "first -- you looking good. But it's all about responsibility. Too many of these guys in the league don't want to take it. I'm hoping the young boys, Carmelo and LeBron, get infected by us (meaning himself, Chuckles, Air, Bird Man) instead." This is where the HIV or the AIDS joke is supposed to come in, but I don't get that either. Like I said, I'm old.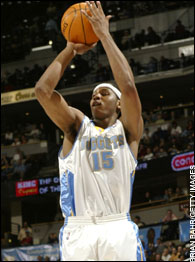 The Pistons blew their chance at lottery luck by passing up 'Melo.
Chuckster is Costello Magic's Abbott. Chuck just has a natural sense of humor and natural timing. No training, he just has it, along with a simmering sense of personal outrage that the league's gone to s*** due to personnel, or lack thereof. It's true, you could take the rank-and-file out back and dump them into the ce-ment pond and we'd never miss them. But the familiar old Superstar strain, the lifeline that they, Magic, Jordan, Bird, Barkley & Isiah, represented to the league, is still alive and well, thank you, only the KGs and Barons and such have been playing on lesser teams due to expansion and true drafts.
Detroit had an opportunity to tilt a draft the way Auerbach and the Celtics did when they got Bird, the way the Lakers did when the New Orleans Jazz signed an aging and distracted Gail Goodrich (a player of great skill, once, later proof that a bored, indolent rank-and-file is not a new thing -- the rich have never been like you and me -- they've always been lazy) and got Magic as compensation. But the Pistons did not take 'Melo. Still, Tim B. Dunkin, for all his blandness, is a two-time world champ, and together Shaq and Kobe have won three. KG finally has a squad around him, and T-Mac, eh, well ... if he was on the Celtics, Bulls or Knicks, it would've gone better for him, and the NBA.
Why? We live in a highlight-reel, instant-gratification culture. Nowhere is that more in evidence than this weekend in Los Angle-leez, not only at the Floston Paradise version of the NBA All-Star Game but also in the release of a Mel Gibson vanity production entitled "The Passion of the Christ," which purports to be the "real" story of the crucifixion and yet stars a man named Jim Caviezel, who looks like he's from Australia, import division. Damn us all to hell, and I probably don't need to ask God twice for that one, do I?
Back on point. For pure ass-out balling, you can't convince me Isiah was any better than Allen Iverson. They are both as good as six-footers get, so far anyway. Isiah was not better -- well, maybe he was a better rebounder. Mostly, he simply played on a better team than Alley I., and better by far; Detroit went 10-deep, with skilled size, Laimbeer, Sally, Buddha Edwards, then Worm, Microwave, Aguirre/Dantley/Tripucka, and, at the end of the day, Joe Dumars. Allen Iverson never played with anybody remotely as good as Dumars, although McKie and Snow are gamers and I like them.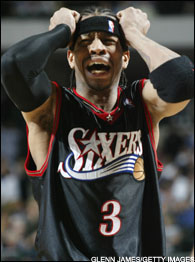 Hey, you'd be crying too if you had to play with Alley I.'s teammates.
But not that much.
The problem is the Salieris, not the Mozarts; the Glenn Big Dog Robinsons, the Ricky Davises, the Chris Webbers, and Christian Laettners, the greater rank-and-file, ungrateful to be where they once dreamed they would get, but now miffed that they aren't Superstars, with Superstar immunity, although nobody has Gretzky immunity; all can be cuffed about by that other evil suckhole of the league, the Dogmen, hack artists and hatchetmen like Corliss Big Nasty Williamson and the Bad Shaq. See, there's two Shaqs. There's the Good Shaq, and the Bad Shaq. And they kill the league, the Dogmen butcher hatchetmen and indolent rich, who are always insufferable in my experience.
Luckily for us, it's about the Superstars this weekend, and indeed is instant gratification, as we find it Friday at the Century Plaza Hotel, over near Avenue of the Stars in Century City. We have already passed the NBA Read to Achieve Caravan on Monday, and Tuesday's Basketball and Books clinic, and Wednesday's Wheelchair Clinic, the community events. Thank God for them not forgetting the Boys and Girls Clubs, for whom I have so much respect, on Thursday. But now it's time to trot out the big boys at the Century Plaza Hotel, where the All-Stars and their coaches will be made available to the media on Friday at 1 p.m. I will be there to make myself available to them -- me and a small army of other pinheads. What we are all making ourselves available fo is a bit of a mystery, but you can bet it has to do with making money for soda pop and beer companies, networks like TNT and the league itself. Now that charity is safely out of the way.
The Century Plaza Hotel, or as they term it, The Century Plaza Hotel and Spa, just in case there was some confusion, is etched in my memory because it was also, and perhaps still remains, the place where they used to make the contestants of the Miss Universe pageant available as well. I was once in the lobby as they were being made available, to oil barons and other magnates who were appraising them and making covert and selected sealed bids on them. The pageant contestants looked me and Dub up and down from the tips of our shoes to the tops of our heads, making a strict dollar evaluation -- the only reason we were appraised at all was because we were younger then, and better looking -- before rejecting us, not out of hand. There must've been a tell, somewhere. Mine was probably in the cut of my (only) $300 suit.
* * * * *

The Big Man is coming. Who is the Big Man? Hard to tell. No longer a lock. No longer does the citizenry mutter "Shaq," and move off to one side and shade their collective eyes once His Blingness strides onto the court.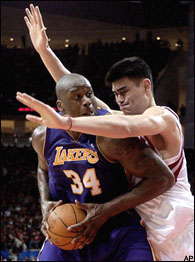 Yao cleaned up on Shaq in the recent Rockets-Lakers battle with 29 points and 11 boards.
Tonight's Rookie Challenge boasts two of the new wave of Biggies, 'Melo and LeBron. They will face the second-year men, led by Yao Ming. Even soft-spoken Carlos Boozer brags that the rooks have no chance. But that's a perfect sitchie for LeBron and 'Melo. They get to play together for once, and can dominate the rock between themselves. The game is at 6 p.m. so it can show starting at nine back East. The crowd will be late-arriving, but it'll be a sellout and no doubt rocking. Now this is what the man paid to see!
Meanwhile, the hometown Lakers limped back in after an ignominious end to their recent seven-game road trip, grousing to the pinheads who follow them out on the road, who in turn dutifully wrote this up in the local sheets. Phil Jackson had his contract extension taken off the table, Kobe said he didn't care (is he outta there after this season or what? Or what's the smart money).
And Chairman Yao just did Shaq.
Oh yeah he did. Rockets 102, Lakers 87.
"I don't like the fans having the vote. Yao shouldn't be the starter in the All-Star Game," Chuckster said on "The Tonight Show with Jay Leno." "Although Yao just did whup Shaq's butt last night." Pregnant, ominous, even hopeful pause from Jay Leno and everybody else on the set. "Oh yeah, he did," Chuckster repeated. "He whupped Shaq's butt."
I wondered why eberybody else, including the play-by-play guy who actually did the game, acted like it hadn't happened. Yeah, yeah, yeah, the Lakers were at the end of a seven-game roadie and you don't have any legs left at that point, but still, in case you missed it, Chairman Yao served notice on us all, quietly, during that 102-87 thrashing of the Lakers in Houston. Yao Ming did things in that game no one has ever done to Shaq. Basically, he busted that ass, straight up, one-on-one, within the context of a team game, and he did it by flatly out-skilling O'Neal.
Let that sink in.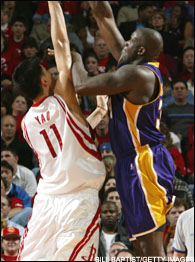 Let's put it this way: You don't want to meet Yao and the Rockets in the playoffs.
It wasn't such much that 29 points and 11 rebounds compared to the 24 points and 10 rebounds. It was the way Yao got them. Yao can shoot his J right over the top of Shaquille, something no other player can do, with the possible exception of KG, and he was doing that, but that wasn't unusual. What was different was when Yao rolled into sweeping Sky Crane hooks, or pulled a Shaq and flipped a rebound away from behind Big Fella, a patented Shaq more, recovered it, and went to finish. Shaq, tired, feeling threatened, then clonked Yao on the head. Hard. It was a back-down hit, calculated to take a toll on Yao, not on that play, but for the rest of the game. Yao dunked it anyway, and hit the free throw, and if anything, became even more stoic, and effective.
Afterward, Jim Gray asked him if that hurt. Of course it hurt, but Yao's reaction was telling. First off, it was in English. That interpreter guy will soon be obsolete. I'm not saying Shaq will be too, but something is changing ... Yao said, "What? Oh. I don't remember it." Did it hurt? "No."
Yao went about his business, gliding out to see super-high screens and then diving back into the hole. The Lakers had Shaq on him one-on-one in the fourth quarter, as they tried to mount a patented, superior NBA team "Y'all ready to play now?" comeback. Yao was having none of it. From the left block, moving left with a right-hand dribble, he moved Shaq into the lane, then drop-stepped him, whirled right and finished with the left hand. Shaq blasted him and no foul was called, but Yao finished and ran back on D.
Yao dropped 15 points in the fourth quarter -- the equivalent of a 60-point game -- on Shaq' massive dome and the Rockets won going away. Yeah, I'm sure Shaq will get some get-back when they meet again, but the die is cast.
It's just a matter of time. Shaq is 31. Yao is 23. People have been saying that Yao's cultural differences will keep him from dominating, and that physical play from the Bad Shaq and all of the brutal Dogmen will keep him at bay, and that he doesn't want it bad enough, which is just a way of saying he is too weak and weak-minded, and isn't physical enough. All I keep thinking to myself is that Bruce Lee came from that same culture. And all I know is, I would not want to draw the Houston Rockets in the first round.
But for All-Star Weekend, we have the Five Pillars of Hercules to admire -- LeBron and 'Melo, and Shaq and Yao, and KG the MVP. Hopefully, they will lead us to identify, possess and control the Sixth Element.
And what is the Sixth Element?
Pain.
But first, before we explain all that in Part II on Monday, Sunday's All-Star Game will provide us with at the very least a golden opportunity for the game to take another quantum leap forward. Can you envision Shaq moving to power forward? That's his best position -- if Yao is his teammate. So will we see Yao at 5, Shaq at 4, Tim B. Dunkin at 3, KG at 2, and Kobe at point? Will we see that team of Supermen on the court, together, at the same time?
If we don't, Flip Saunders, then in the immortal words of one anonymous coach when told Sir Charles would not make Bobby Knight's 1984 Olympic team: " ...then I'm rootin' for the Russians." Oh yeah. They're here too.
You're free to slap your head now.
The game is changing, even if Floston Paradise isn't.
(Part II will appear in Monday's edition of Page 2.)
Ralph Wiley has written articles for Sports Illustrated, Premiere, GQ, and National Geographic, and many national newspapers. He was one of the original NFL Insiders on NBC. His many books include "Serenity, A Boxing Memoir," "Why Black People Tend To Shout," "By Any Means Necessary: The Trials and Tribulations of the Making of Malcolm X" with Spike Lee, "Dark Witness," "Best Seat in the House" with Spike Lee, "Born to Play" with Eric Davis, and "Growing Up King" with Dexter Scott King and the children of Martin Luther King Jr. He contributes to many ESPN productions, and bats cleanup on a weekly basis for Page 2.