By Ralph Wiley
Page 2 columnist
Tuesday, Feb. 24, 2004. Rush hour. Manhattan, coming in from Jersey. Skies threatening, cheerless, grey. My kind of day. Why? Because it's the day God sent to us.
I'm driving in to tape intros for a new ESPN show called "Timeless."
Producer Al Szymanski has already shot nine show segments about the off-beat, the underplayed (and sometimes even the overplayed) people and events in sports -- whatever has the rare element of lasting consequences that makes a thing "Timeless."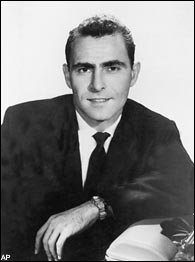 Rod Serling, creator and host of "The Twilight Zone."
I've described the concept as "Twilight Zone meets Wide World of Sports." But what makes up the elemental trait of Timelessness? And can I describe it to the audience in 20-to 30-second set-ups that intrigue, yet don't give away the segment?
If done properly, this should become part of the charm for the viewer, figuring out which segment comes behind what kind of lead-in. It would be a kind of mental three-card monte that should make you look at a sports subject from an entirely different viewpoint.
I'm on my way to tape interiors at The Plaza.
It's like I was just born. I feel fresh.
It's the feeling you have when you're going to do something new and intriguing, yet familiar and comfortable; something new, yet old; something you want to do, mostly. I know I'm supposed to do something today. This is it.
A few weeks earlier, I did a sit-down with a young producer named Peter Rogaris, talking-head interviews for ESPN 25 at a posh hotel in downtown D.C. I followed Tom Boswell of the Washington Post in the chair. I'd run into Boz in the lobby. "Knock 'em dead, Ralph," Boz said. Meant it, too.
Peter encouraged me to ramble on. Somebody with a few weeks to kill might be able to edit something out of it. Peter said he'd talk to Al about doing some other things. "Cool," I said. Szymanski is a veteran producer. Has skins on the wall. Soon, Al was on the horn describing what he had in mind.
"Hmm," I said. "So it's ... kind of 'The Twilight Zone' meets 'Sunday Sports Spectacular.' No, what am I saying? Wait, it's kind of 'The Twilight Zone' meets '60 Minutes II.' No, wait. It's 'The Twilight Zone' meets 'Wide World of Sports'."
Al kindly allowed me to bite on 'The Twilight Zone' and Rod Serling hook, since that and the part about Timelessness seemed to be what intrigued me.
****
For me, this goes back to the year 1963, when the little boy I used to be began to remember and process the world around him. I can still see in my 1963 mind's eye Valery Brumel, long-striding up and then jumping 7 feet, 5 3/4 inches in the rain in Moscow, the image flickering in front of me from many thousands of miles away on a small black-and-white TV.
I recall jumping -- climbing, actually -- the backyard fence, then crossing the street and paying 35 cents to enter the W.C. Handy Theater to watch John Sturges' "The Magnificent Seven." I watched it over and over, overwhelmed by the score, sound, dialogue, story -- not yet relating to the rampaging hormonal imbalance that was Horst Buchholz, being charmed by the brown-skinned, raven-haired beauty of his love interest, Rosenda Monteros.
There was that, and then "The Twilight Zone," its eerie musical prelude making me smile and rush back in to a black-and-white TV to watch and hear the man with the bushy eyebrows introduce me to a whole new world of different and intriguing possibilities.
There was the church, and Ma (the English teacher savant), and Tom Sawyer. And then "Lady Chatterly's Lover;" and then only later was there "Huck Finn," and football, and track and field, and hoop, and boxing, and baseball. And now, many thousands of miles gone by, there's just ... me.
I know this limits me -- but not as far as "Timeless" is concerned.
****
Al and I are on the horn again, both driving into Manhattan at the height of rush hour to meet by 10 a.m. at The Plaza. I'm at the Holland. He's at the Lincoln. He's not nervous. Not much, he's not. This is Al's baby. I'm the X factor. He has the ESPN 25 tapes. Calls them "brilliant." That was a whole different game. He needs a face for his show. With my face, maybe he just needs a voice. With a platform, the concept is strong enough to take it a long way. He's the guy to do it.
But it all hinges on today's execution. One at-bat. Over at The Plaza. Al's nervous about sending me up to hit in this situation. But that's just because he doesn't really know me yet. I hint at a smile.
I, on the other hand, am not nervous at all.
"Don't worry, Al," I say. "I feel like Bonds, Barry Bonds, today."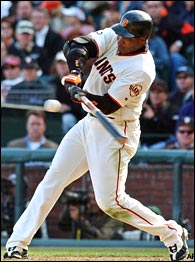 Ralph felt like Barry Bonds at the plate, swinging for the fences.
This isn't because I now weigh 225 pounds, when I used to be a lean, mean, writing machine at just a buck-eighty. Nope.
"I feel like Bonds at the plate."
Bonds has said he's not handicapped by facing left-handed pitching any more than he is by facing right-handed pitching, even though he's a left-handed hitter.
"Sooner or later (if it's a strike), the ball has to come straight," Bonds says calmly. "And then, it's a matter of simple physics."
I feel the same way; this is a confluence of my creative interests -- the picturesque story-telling aspect, taken from Kurosawa by way of "The Magnificent Seven;" the timelessness of church, and of good writing; the iconic host/narrator/writer Rod Serling; and of course, the world of sports, that eternal gift of youth from God and lesser gods.
This is also a confluence of what I'm trained to do -- write on deadline, from journalism, from sportswriting, all-purpose writing. What Al is asking me for is what I do: Deliver the ironic, the fantastic, the sarcastic, the absurd, the challenging, the revealing of that which is one layer deeper. This is what I can do. So it's just a matter or time. Of pitches to hit. ABs. Sooner or later, the ball has to come straight. When it does ... outta here.
Simple.
This works for me. I feel like a natural at it. I have studied it for so long, it feels intrinsic, intuitive. So the trick is all in the set-up, the "bridge," the "wraparound," the "bumper," the "lead-in," the "intro," whatever word you want to pick from the jargon of video and film. The host must tell what is timeless about what the viewer is going to see, and also give it a different spin. But at the same time, he is not to give it away. That part of it, as described by Al, is intriguing and challenging, at least to me. It's a fastball in my zone, and I'm a dead fastball hitter. It's like trying to sneak sunrise past that rooster.
****
Before heading for the Apple, I had to get in the proper New York creative state of mind. After screening "Against the Ropes" recently, I was moody, depressed. Spike suggested I go see Fernando Meirelles' "City of God." I did, and had my faith restored in cinematic storytelling.
A great picture. A brilliant evocation. Transporting.
Talk about Timeless. I was so inspired, I was thinking like a newspaper ad.
But even here, the real world, the other Timeless one, intruded. A man and his son -- natural, adopted, step-child, I couldn't tell which -- sat behind me and to my right during the film. The father was of African or Caribbean origin. He was a bit too tightly dressed. Too much leather and double-knit, and the toes of his leather shoes were a little too sharp. The son was 15, or maybe 16, with unruly Afro hair, loose clothes, slouchy pants, glasses, Tims, trying to get along and find a point of relation with this strange man.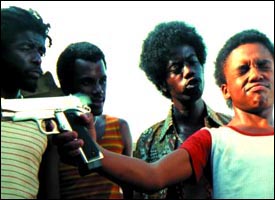 A scene from the film "City of God."
"City of God" is a violent movie, as "The Godfather" is violent. The nature, color and bestowers of this violence were off-putting to the father. He complained. We could hear him, the maybe 20 people in the theater. The teenaged boy whispered in frustration that they could leave and he could get his money back. At the mention of money, the father flew into a rage, demanding, "How? How can I get my money bahck?! Tell me!"
Then he slapped the boy across the face. It was a violent act of frustration, and also fear. What was the boy trying to tell him by bringing him here? That people who look like him are as violent as these? That the boy himself would soon turn violent and become a hood? The boy started, shocked. He jumped in his seat as if electrified. But he did not run, or storm out, or leave. He sat there stiffly, suffering nose-burning humilation, and stared ahead.
It was hard to watch both that scene and the movie for the next few minutes, but I accomplished it. Soon, the picture began to work its magic on us and absorbed me. It did to this father, too, even though you could tell he was fighting against it. The young boy, I figure, had seen it before. As the picture wound to its climax, the purveyors of violence gained the inevitable and Biblical fruits of what they'd sown.
The father was now moved by what he'd seen. And now he was the one humiliated. And the boy knew that he'd won. They left the theater, boy in front, showing the way out of the confusing maze of a mall. The step-father was now contrite in his confusion, asking for directions; and, between the lines, for forgiveness.
I was ready to swing the bat now. Oh, yeah.
****
As I emerge from the tunnel, Al gives me Jonathan "J-Master Bottom Hammer" Fierro's cell number. Jonathan is a young associate producer. When he clicks on, it's like he's known me for years. Says he's already there, no problemo valeting the car. Room's in his name, 231. He'll send somebody down to meet me in the lobby. I drop off the car and wheel into the lobby with my wardrobe duffel, and hear, pumping softly out of the hotel loudspeakers, Miles Davis, Bill Evans, John Coltrane and Cannonball Adderly, jamming "All Blues."
I consider this Good Omen No. 1.
Coming off the elevator is the person sent to meet me. She turns out to be Joanne Noel, make-up artist from the Bronx, who has worked on not only me, but the late Dick Schaap, his son Jeremy, and scads of ESPN folks. She is cheerful and glad to see someone she knows, as am I. Good Omen No. 2.
In the suite, the crew is busy setting up. Elliot "Buzz" Fisher is handling the audio, dress and boom mikes. Andres "Sweaty" Vasques is the gaffer. Figure Andres is cool if he's letting people call him "Sweaty." Brendan "The Great Brendini" McLean is the camera assistant. And then there's Pete Franchella, the shooter, the DP, the director of photography. As far as I'm concerned, he's the most important guy in the room at this moment; what he sees and shows is what the viewer will see.
"Yeah ... just like that. That's definitely the look," Pete says, chuckling at my road uni of loose black soft cloth painter's pants and green poodle-hair fleece.
"We could shoot it this way, but ... nahhh," I say, smiling. I think to myself, "Pete's my kind of guy," as Jonathan makes the intros all around. I'll never remember all the names. I never do. But I'll definitely remember Pete's.
Al walks up and we shake hands. Al looks like a combination of coach Joe Gibbs and trainer Teddy Atlas, which, for some reason, is reassuring to me.
We're working off three segments today. One is a story about the National Spelling Bee. One is a story about athletes (and others) and the peculiar art of tattooing. One is about Indiana's Milan High team of "Hoosiers," 50 years later.
Just to gauge the mindset of the guys I'm dealing with here, I'd mentioned something. Since we were doing Milan High and "Hoosiers" with a new light, I suggested later on that we should do the team that lost in the semis to Milan in 1954, just as Milan had lost in the semis in 1953. (One of the best scenes in the great mythic "Hoosiers" is when the Gene Hackman character, Norman Dale, sees the team awed by the size of the city fieldhouse. He quietly goes over and measures the distance fom the hardwood floor to the hoop -- 10 feet, like always. There's a lesson any performer can use.)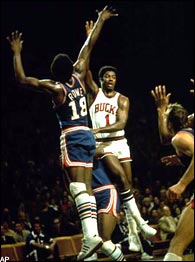 Looks like Oscar Robertson will appear on an episode of "Timeless."
That team was Crispus Attucks High of Indianapolis, featuring Oscar Robertson. Bobby Plump had sent the Big O's team home. In 1955 and 1956, Oscar's team sent everybody else home. And that actually ushered in a different era, and made Milan's win all the more Timeless, in the end. By doing both on "Timeless," it gives us the storyteller's mythic through-line. Maybe we do Attucks High in show eight, or something. I'd mentioned to this to Al over the phone.
As I dress, Al says, "Jonathan thinks doing Attucks is a great idea; of course we have to do Oscar, too."
I nod. These are obviously guys I can work with, easy.
Al had sent DVDs of two of the three segments to me so I could compose text for the lead-ins. One of the segments will lead off the one-hour pilot and the series itself, so that one has to be a lead-in that both explains the nature of the show, and also the nature of the segment -- what makes it Timeless.
I have a lead-in for the show and the first segment -- what is myth, why sports more immediately reveal that myth, which ring is most Timeless.
Al smiles. Outta here.
We tape a stand-up in front of an oval frame surrounding a sepia-toned painting of some Victorian wastrel in a powdered wig. I call him Young Ben Franklin. I got a lot out of reading about Ben. Didn't seem to leave much on the table.
Pete gets the shot.
We go back to work on the set-up for the second segment. It has to do with this segment's relationship to boxing. Care to guess now which one that is?
Al's feeling better, looser. He talks about what he has to show the suits. Nice and clean and straight and simple, although he (or you) also wants to show them what he can do, creatively, in the edit bay, the bells and whistles.
As he talks, I do the text for the next set-up solo, in about, oh, three minutes. Al looks as if he wanted to collaborate on it, but he's too late. I work fast. Joanne is talking and babbling along. It's not distracting; it's even comforting in a way. I don't need quiet to play today. She did a good job on the makeup. I look human, almost.
Al leaves to approve the next set-up. I see the wheels turning. He has his opener, his statement. Now get the next two shots. I'm out at 1. Al comes back in and shares with me some things he needs to do. He talks about working with Pete, how visual Pete is. Al suggests a camera move. Pete says, "Why? We've got the shot here." Al thinks, and nods.
We're engaged, playing like Miles and Co. Kind of Blue.
For the last set-up, Al, Jonathan and I collaborate on the copy, the text, the script. First, I lay down a 30-second grid of thoughts on scrap paper, making allusions to the history of tattooing, allusions to the Mayans (could just as easily have been the Maori, but the Mayans were closer), Queequeg of "Moby Dick," Popeye, Worm Rodman, or some of the rest of us with tattoos, trying to give the flavor of what a person with tattoos is communicating. Al is right on it. Says to keep the part about the skin being a palette. Lose ... I forget what he said to lose. I just remember that he was correct.
Jonathan shows me the segment on his laptop, then hands me a legal pad. I write a quarter-page intro, rip that page away, write another, rip that away. Al contributes, I add it, rip that page away. Jonatoan says don't lose the screaming-through-our-skins. I leave it in, edit, rip that away. Then ... there it is.
To the viewer, it should be seamless, and timeless.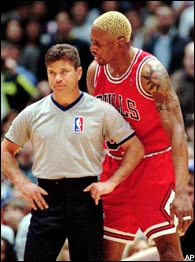 Perhaps the most famous tattooed athlete in sports -- Dennis Rodman.
We go out and Pete shoots it. Composing it this way helps me remember the lines better on this lead-in. We are using no prompter. Al felt like it would take away from the natural ease, the intimate feel. Jonathan whispers to Al after the second take. Al immediately says, "Jonathan says the intro is better than the piece."
I smile.
"Not my problem," I say. Of course, it would be, if that were the case for long. But I can look at Al's wheels turning and see that it won't be for long. He's already figuring out ideas, locations. I like to do this, when given the opportunity. Set the creative bar high, and people will study your effort and attempt to match or better it. It's called "progress."
Worked for Page 2.
So. A little while later, as The Lone Ranger (Clayton Moore/Jay Silverheels version) packs up his saddlebags and prepares to wheel out of The Plaza, I can tell by the look on Al's face, he's already gone, isn't even there any more. He was in the edit bay already. He was already in New Zealand looking at Whale Rider tats, as he would write later in an e-mail:
I walked away from yesterday convinced we've got a strong foundation -- that's the tough part. There's a ton of possibilities for how we package it. That's the one area where I'm a little pissed at myself and Pete. The images from The Plaza are gonna be slick, but ultimately it's a f***ing room at The Plaza. You've got energy -- the environment has to have it, too -- or at least a strong vibe: in a field, on a beach, in a library, a coffee house, an old gym, a street corner, a cab. The environment has to give us images that complement what you're giving us. That's the theory -- now we have to make it work. Our stories have to be stronger. Tattoos and Spelling Bee aren't good enough. If we're going to do tattoos, then let's go to New Zealand. Can't believe there wasn't one cute kid at the spelling bee. Who cares who won -- give me the little kid without a prayer's chance of winning who's going to break my heart when he loses.
I'm not so egotistical as to think I'm mass general market material, not as the face of anybody's TV show. But I do have my pilgrims out there, my little following of those who appreciate what's timeless. Now, if this was a three-network universe, like back in 1960, there's no chance for a show like this. But in today's kaleidoscopically-splintered cable universe, one half of a ratings point is significant. In cable, it's all about a 1.0. A 1.5 is, like, crazy good.
I felt it in my hands. I knew I went deep for Al and the crew. Gave them something they could work with. As I left, Al said, "Oh yeah, Ralph. I've thought about the other show idea. Maybe we can talk about that later."
"Right, Al," I said, knowing another show was the furthest thing from Al's mind at that moment. He was back in the arena again, a sports producer again, a big-league manager in Yankee Stadium again, Proximo returning to Rome with Maximus and Juba, saying to Maximus, "Win the crowd ... "
That project Al mentions? It's like "Charlie Rose" spliced with "Abbott and Costello Meet Frankenstein." But that's another show. And another story.
EDITOR'S NOTE: "Timeless" will air on ESPN Classic on March 4, March 18 and March 25.
Ralph Wiley has written articles for Sports Illustrated, Premiere, GQ, and National Geographic, and many national newspapers. He was one of the original NFL Insiders on NBC. His many books include "Serenity, A Boxing Memoir," "Why Black People Tend To Shout," "By Any Means Necessary: The Trials and Tribulations of the Making of Malcolm X" with Spike Lee, "Dark Witness," "Best Seat in the House" with Spike Lee, "Born to Play" with Eric Davis, and "Growing Up King" with Dexter Scott King and the children of Martin Luther King Jr. He contributes to many ESPN productions, and bats cleanup on a weekly basis for Page 2.