By Ralph Wiley
Page 2 columnist
The response to last month's "Anti-Trash Talk -- Sports' Greatest Shut-Down Lines" column was phenomenal. We received notes from all over and beyond sports -- Pilgrims Inc. and others sending in contributions.
Frankly, I had no idea that yak, smack, wolf tickets and atomic trash-talk were so prevalent. It's everywhere, the Esperanto of human endeavor, and it transcends occupations and disciplines.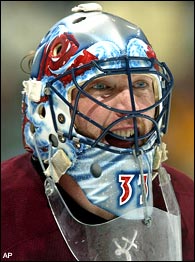 Patrick Roy had a great line about his Stanley Cup rings.
When did this happen? I don't know. But I do know I got mail suggesting Anti-Trash Talk Shut-Down Lines for Texas hold-'em poker, It's Academic quiz bowls, white-water tubing, ping pong, band, rodeo, ultimate frisbee and ballet (ballet!?), just to name a few.
Mentioned 10 times: Patrick Roy saying he couldn't hear somebody trash-talking because his Stanley Cup rings were clogging up his ears.
Also, I heard lines from soccer, bodybuilding and video games of all kinds (one called "Halo" was mentioned at least a dozen times). Not to mention tennis, volleyball and track and field -- and we haven't even brought up baseball, football, basketball and the granddaddy of them all: golf.
Yes, Magdalena, we are all members of Trash-Talk Nation; and, thus, all in need of some anti-matter trash, smack-to-end-all-smack, Shut-Down Lines.
Below are just a few of the hundreds of Anti-Trash SDLs sent my way. Some of them are quite good; some are not so good. I threw in a few groaners just to suggest what not to say. There are many worthy comebacks here. But so far, Jim Brown's "Do you think you can kick my ass?" is still the bomb to end all bomb Shut-Down Lines. So here we go again. The Shut-Down Lines are identified by contributor; parenthetic comments are by yours truly, Moi-Dub.
If these don't satisfy you, send any others to Rwiley1@aol.com.
Darron K. Grahn: Jealousy -- a tough emotion for you, huh?"
James Choi: "You're unoriginal."
Steve from the U.K.: "Awww ... someone's tired ... "
Eric Miller: "I woulda double-bagged it."
Jeremy Ward: "Put that on your resume."
Chris Dunn: "One word. Midol."
Carlos Razi Ferrer: "I can still get up, so keep playing."
Joe Nihiser: "Have another apple." And, "I woulda brought a casserole myself, if I knew that's all you were bringing."
Justin Justin: "B****, I'm me!"
James Barry: "If you ever even dream of beating me, you better wake up and apologize."
"Blind Smudge": "Adam and leave." (Now we know how he became BS.)
BJ Bethel: "You are under the mistaken impression that I give a s***."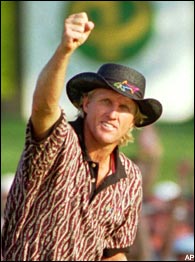 Greg Norman wouldn't like hearing some smack from Michelle Wie.
B Connor, Bill Rayburn: "Does your husband play?" (Ascribed to Frankie Sinatra in golf, most effectively said after a poor shot by a male golfer, preferably Greg Norman, by a female golfer, preferably Michelle Wie.)
Jay Sparks: "Bet."
Larry Queen: " ... or what?"
Harison Star: "Did I mention I'm from the Make-A-Wish foundation?"
Chris A. Kirmet: "Hear that? That's the sound of your bus starting up."
Kevin Boates "Brave words ... from somebody in your position."
Chuck Marangola: "We can't all be classy like you." (Uh, Chuck, the guy is not trying to be classy; he's trying to humiliate and disconcert you.)
Larry Hinton: "Oh, I think you know better."
Justin Killian: "Yeah, but I wrote Serenity. " (That one was for my own personal use, offered to me by Killian; I found it charming, will use it to nuke some unsuspecting trash-talking would-be literary critic in the future.)
Dave Bagley: "Rack 'em."
Charlie Knowlton: "You've got a booger whistlin'." (Like one is better.)
DeAngelo Starnes: "Your mama still asking about me?"
William Poccia: "Know what I like about you? Nothing."
Frank Garza: "I'm gonna cut off your ear and stick it where the sun don't shine so you can hear me kicking your butt."
Robert E. Dombrowski: "Yo mama." (A classic; Robert gets no credit here.)
Alex Yap: "Fool, I'm from East Oakland. My grandmother could whip your ass." (Alex suggested "wife," but that implies a societal domesticity and safety that's incongruous with the threat. Beside, Granny's better; don't sleep on Granny. It's Grannies out here that's stronger than "yo mama.")
Jonathan Tedesco: "I'm what you used to be."
Dave Wright: "Shut up and let me enjoy the ride."
Aaron Welch: "Sorry to hear about the size of your equipment." (Aaron got this one from a woman friend of his, who used it to shut down an annoying guy hitting on her. Only, according to Aaron, she didn't say "equipment.")
Tyler Jorgenson: "Don't be humble; you're not that good." (Supposedly lifted from Golda Meir.) Also, "I s*** (crap) bigger than you." (Lifted from one Ron vander Schaaf, and also from Jack Palance as Curly in "City Slickers.")
Gary Bloom: "Did you miss what I just did to you?"
Tony Perez: "You're not that good."
Chris Singley: "I think your mom just saw what I did to you."
Suzanne Senackerib: "I know you'll have a good view, from wherever your seat is." (Suzanne credits Tom Brady.)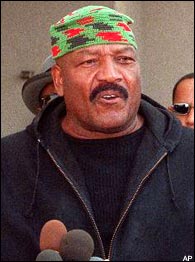 In the end, it's tough to top Jim Brown's classic line.
Jay Johnson: "Just wait."
Tommy McDonald: "So young to be so angry." And, "I can't help it if I'm better."
David White: "You tried your best. I respect that." (Taken from a female battle character who is good with knives in the video game, "Soul Calibur II." I really like this, except satire escapes the cognomuscleheadscenti.)
Mark Young: "Take it to the Improv."
Jon Macone: "Next."
Stephen Kinnell: " ... you really ready to take on the champ?"
Ben Hoffman: "You're all gonna get hurt." (If the trash-talker breaks and asks, "All who?" or "Who?", then you've got him; you can go team, family, religion, tribe, region, sexual orientation -- it's wide open.)
Homer Chien: "Save it for your PlayStation."
Mike Bernstein: "You know, suicide would cure that."
Roxanne: "Is that it? I mean, is that all you got?" (Depending on the situation and the gender asking the question, this can be every bit as devastating as Jim Brown's "Do you think you can kick my ass?")
Think about it.
Ralph Wiley has written articles for Sports Illustrated, Premiere, GQ, and National Geographic, and many national newspapers. He was one of the original NFL Insiders on NBC. His many books include "Serenity, A Boxing Memoir," "Why Black People Tend To Shout," "By Any Means Necessary: The Trials and Tribulations of the Making of Malcolm X" with Spike Lee, "Dark Witness," "Best Seat in the House" with Spike Lee, "Born to Play" with Eric Davis, and "Growing Up King" with Dexter Scott King and the children of Martin Luther King Jr. He contributes to many ESPN productions, and bats cleanup on a weekly basis for Page 2.