By Ralph Wiley
Page 2 columnist
I say C. Vivian Stringer should be the next men's basketball coach at Georgetown. Not because I expect her to get the job. I think she should get it. Even in an imperfect world, Georgetown should interview her, just as a professional courtesy -- to itself, more than to Vivian.
Vivian Stringer has earned it. I can think of no coach better suited to the job by temperament, training and skill. There is certainly no one more qualified to be the head coach of a big-time college basketball team.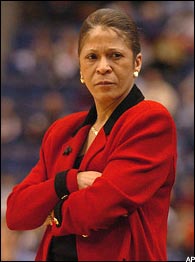 Vivian Stringer's a great candidate for the Georgetown job. She just happens to be a woman.
Who would be better? Patrick Ewing? Please. We don't want to embarrass Patrick by comparing him to Vivian Stringer as a coach. Patrick should stay in Houston with Yao Ming.
Johnny Dawkins should be interviewed. He's a D.C. native, went to Mackin High, helped turn Duke into what it is today -- as a player. He comports himself well on the bench, where he's taken root next to Coach K. But we don't seriously want to compare his coaching chops with Vivian Stringer's resume.
John Thompson III should get an interview on the strength of his pedigree alone. He is, after all, the son of the Daddy of G-Town hoop, Big John, the Nike Voice-Over of "Greatness." In point of fact, JT III would seem to have the inside track. He should definitely get an interview. And Princeton should sweeten the pot for him to stay as its head coach. JT III is a perfect fit ... for Princeton.
Trent Johnson of Nevada, Kevin Stallings of Vanderbilt, Thad Matta of Xavier, Bobby Gonzalez of Manhattan, Mike Anderson of UAB ... they've all won a couple of games in the NCAAs and are going to be in the mix for a lot of openings, like Stan Heath a couple of years ago at Kent State before he was hired away by Arkansas. But do not presume to put these coaches on the level of a Vivian Stringer, who has taken three different schools -- not traditional national power schools -- to three Final Fours!
Still, if Vivian Stringer gets the job -- and sets off a firestorm of comment and resentment -- there will be those who say she got it because she's a woman.
But that isn't really the case. This is more like the case: If Vivian Stringer was a man, she'd have been hired at Georgetown yesterday.
*****
I've been on this Vivian Stringer kick for a while. It heated up in the last week, after Craig Esherick was fired as G-Town's head coach. Craig complained he shouldn't be judged as a pro coach, because he isn't a pro coach. Bad combat tactics there. He is a pro coach, in that coaching is his profession. After hearing the list of his possible successors, I began to think of Vivian Stringer, and came to the conclusion that she is perfect for this job. She's in the tradition, so to speak.
I first aired these thoughts on SportsTalk 980 radio in Washington, D.C. Hosts Andy Pollin and Steve Czaban were talking about who should replace Esherick. When I said it should be Vivian Stringer, they were stunned. At least one of them considered me certifiable. I'd recorded a "Voices of SportsCenter" segment about Stringer, about how she is one of the most admirable figures in American sports, about how much she has overcome, about how much she has accomplished in her career.
It might seem as if women's coaches like Pat Summitt and Geno Auriemma have accomplished more, but have they, really? Pat and Geno can get (and then cuss at and ream out) any high school All-American they want, whereas Vivian has always had to make do with much lesser talents.
Still, she's taken Cheyney State, Iowa and Rutgers to the NCAA Women's Final Four.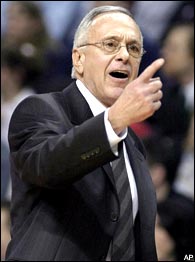 Larry Brown may not have all the rings -- but he may have the best resume.
That record is as strong as the credentials Larry Brown brings to the table. Most wouldn't put Brown on the same level as Phil Jackson or Pat Riley -- not until lately, anway. Phil and Pat have 13 NBA rings between them. And there's something to be said for handling and massaging the egos of the Magics, Michaels, Shaqs and Kobes.
But there is also something to be said for getting the Nets, Nuggets, Spurs (the pre-Tim Duncan variety) into the playoffs, or for getting Allen Iverson and a bunch of Moes to the Finals, or for getting the L.A. Freaking Clippers to the playoffs, for God's sake. And these are all things Coach Brown has done.
If I could hire one of those three to coach a team, whether it's a mid-level contender or a championship squad or an expansion team that has to come up from nothing ... if I had to hire one to teach the game, regardless of gender and regardless of institution, I'd take Larry Brown every time. No doubt in my mind.
Likewise with Vivian Stringer and Georgetown. Who better? None that I know of. I'm not looking at the coach's gender. I'm looking at the coach. When I mention this to people, I'm amused by their reactions, by the troubled grumbling and desperate search for reasons it won't work. There isn't one. Example: "Well, she wouldn't be able to recruit, because other schools' recruiters would say, 'You don't want to play for a woman.'"
Nobody would get away with that. If there's one thing all these recruits have in common, it's mothers. So if anything, Coach Stringer would have an advantage in recruiting. She'd be less likely to bury a kid's academic responsibilities, or bury a kid, period. A kid would have real expectations in his life. That's my take on it.
So what's the hold-up? There's no physical limitation. You can't say, as is said of women golfers, that she can't hit the ball far enough, that the tracks are too long. She's not playing basketball; she's coaching it.
My estimable colleague, Dan Le Batard, asked me on his ESPN Sunday Morning Magazine radio show, "What about the Fear Factor?" That is to say, the manner in which many, if not most, college basketball coaches rule by fear. But what's to fear? Being put off the team? Having playing time cut? Being suspended? Or, worst of all, having a scholarship taken away, being encouraged to transfer, or to just leave? This fear is not a physical fear. Believe me, to a 20-year-old college athlete, the gender of a 50-plus year-old coach is irrelevant as far as physical fear is concerned.
Dan then allowed that if Auriemma was to be interviewed for the Georgetown job, nobody would think anything of it. They'd say, "Interesting move."
It's a question of respect. I think Vivian Stringer has that respect, and engenders that respect, because of who she is and how she is and what she knows and how she imparts it and what she's done and how she does it.
This past season, Stringer led Rutgers to a runner-up finish in the Big East tournament and to a No. 7 seed in the NCAA tournament, despite losing three starters to injury, the last on the final play of the Big East semis when guard Dawn McCollough hurt her knee. Coach Stringer had to suit up two student managers, Erin Boccher and Devon Groomes, just to have nine dressed for the Big East final against Boston College.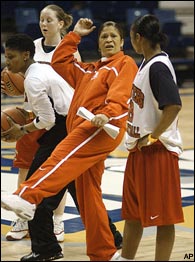 Stringer and her squad went down to Chattanooga, but she handled it the right way.
When that game was hopelessly lost, Stringer put the student managers in the game. What a novel idea -- putting actual students in a college game, rewarding the true hardest workers on the athletic staff with an opportunity beyond their wildest dreams. They actually played in a varsity game. Can't imagine Bobby Knight at Indiana putting student manager Lawrence Frank in a game under any circumstances.
Can you?
The NCAA put the higher seed, Rutgers, against 10th-seeded Chattanooga -- not merely in Tennessee, but in the Chattanooga gym! Bad idea. But Rutgers went down to play shorthanded without complaint, other than Coach Stringer calmly saying that NCAA games should be at a neutral site, where one team's student-athletes shouldn't be able to walk from their dorm rooms to the game if the other team didn't have the same advantage.
Chattanooga, which had never won an NCAA tourney game, shot some 40 free throws against Rutgers. Short-handed, Rutgers played okay, if nervously. As ESPN commentator Nancy Lieberman trenchantly pointed out, "But you know Coach Stringer is not going to be over there screaming and hollering at them. She's going to be teaching."
At the end of the game, with Chattanooga holding a three-point lead, Rutgers took a shot. The rebound was slapped off a Chattanooga player's leg and went out of bounds along the right baseline, setting up what looked as if it ought to be Rutgers' final inbound play with 2.8 seconds left. And Coach Stringer can get a shooter a shot.
But the lead ref quickly informed Coach Stringer that, in his estimation, the rebound had gone over the backboard and thus the possession now belonged to Chattanooga -- effectively taking away even that longest-of-longshot chances that Rutgers could tie the score.
Most men's coaches would have gone ballistic, from Coach K to Pitino to Calhoun to Boeheim to Tubby. Even John Wooden would've had a few choice words about that one while he slapped his rolled-up program into his palm. Coach Stringer looked at the ref in disbelief, arms akimbo, then turned back, cocked her head at her team and offered them a wry smile.
I was reminded of 1980, when Coach Larry Brown took his UCLA team all the way to the Final Four, despite having no starter over 6-foot-6. In the final game against Darrell Griffith and Louisville, UCLA was hopelessly down with less a minute remaining. Coach Brown looked at his team, and instead of going off, or screaming and hollering, he smiled wryly and said, "Hey, don't give up on me now. Something funny might happen."
That was when a little bell and light went off in my head about Coach Brown. The same bell and light went off in my head long ago about Coach Stringer.
*****
Charlene Vivian Stringer was born in a small West Virginia town, the daughter of a coal miner named Charles. She is the classic coal miner's daughter, whether we're talking about Loretta Lynn or Clarice Starling. These are not women who have trouble with men. These are women who love men and respect the work men put in, and put in the work themselves. If men have trouble with them, they know how to handle it. And them.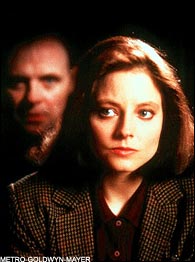 Clarice Starling could handle men pretty well -- so could Stringer.
As Clarice Starling handled the taunting from Dr. Hannibal Lecter (I like to think of us, the media, as Dr. Lecter).
"Did your father stink of the lamp?" Lecter asks.
Well, yeah, Doc, come to think of it, he did.
"You see a lot, Doctor," Clarice says. "Now do you want to train those high-powered perceptions on yourself? Or, are you afraid ... "
(And we could continue with this sterling dialogue. Dr. Lecter: "A census taker once tried to test me. I ate his liver, with some fava beans, and a nice chanti -- SSSSSSS!" Recall, in "The Silence of the Lambs," that the character of Clarice was undeterred, and came back and got what she needed from Dr. Lecter. Eventually, she outsmarted the men, solved the crime, and apprehended the perp.)
Vivian Stringer raised a small program -- not even a program, really -- at Cheyney State. Then she went to Iowa, where she lost a husband to a heart attack at the beginning of a 1992 season that saw her take the Hawkeyes to the Final Four.
"I try to tell (her players), be at your best when things are at their worst," she says.
She has a daughter, Nina, who has been confined to a wheelchair all her life. She has two sons, David and Justin. One of them was in a horrific automobile accident after Coach Stringer took Rutgers to the Final Four. Through it all, the coal miner's daughter has endured and excelled.
Can't say she isn't tough enough. It has nothing to do with crying.
Or maybe it does have something to do with crying. Men crying. Now we are getting into the psychological rub on the thing, a woman taking "a man's job."
When Jackie Robinson came to Brooklyn, some of the Dodgers wrote a petition complaining he was taking "a man's job." So what is the definition of "a man's job?" What is the definition of a man? Or a woman. Do we really want to examine that? Shouldn't we? We've all seen studies -- or been personal case studies -- of man's dominion, of how if a man isn't making more money than a woman, or doesn't have an academic degree as high as a woman's, he is insecure and uncomfortable.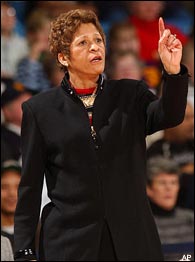 Don't you think Stringer could hold her own with the Calhouns and the Coack Ks of the men's game?
Wouldn't it be most interesting to see Stringer coach against the Boeheims, Calhouns, Pitinos, Tubby Smiths, Gary Williamses, Paul Hewitts, the Coach Ks? She's the one coach in the women's game who I can see handling this room full of men, and doing it with aplomb. As old-school graduates of tiny Cheyney State have observed, Coach Stringer often would take the men's team there and put it through its practice paces on certain days, while the men's varsity coach, a fellow named John Chaney, would take the women and coach them up.
What network wouldn't want to televise Georgetown's men's games if it had a great college basketball coach who happened to be a woman? Wouldn't the networks be climbing over each other to televise Georgetown games? Do networks have a problem televising UConn because the Huskies have a coach who happens to be a man coaching women? Would Georgetown alumni contributions disappear if Coach Stringer heads up the program? If so, would that be instructive?
I'm not talking about a woman sitting on the end of the bench as some sort of assistant appendage. I'm talking about the head coach of a historic program fallen on hard times.
What's not to like about this? Name one person more qualified to coach Georgetown men's basketball. You can't, can you? I can't.
*****
As I say, all this is probably moot, and not because the world isn't "ready" for it. The only people who have to be "ready" for it are the people doing the hiring at Georgetown. Nobody was "ready" for a 6-foot-10-inch man who looked like a black Yogi Bear with an Afro back in the mid-'70s. But the John Thompson deal sort of worked out. That's what started Georgetown's hoop tradition.
Ironically, all this probably is moot for precisely the reason that Vivian Stringer is a great fit: She has too much integrity. She cares about her players too much -- the ones at Rutgers, I mean.
"I want their parents to be comfortable that their children are in an environment of learning and of caring," she says. "I want them to grow, to feel cared about. I feel so lucky and fortunate to be able to put into practice that which I know and love."
That is coaching basketball. Not women's basketball. Not men's basketball.
Basketball.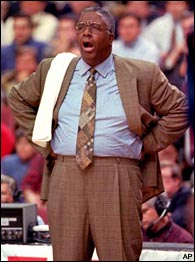 John Thompson's Hoyas won the 1984 title, but they were ousted by lowly 'Nova in '85.
Vivian Stringer probably thinks she owes women's basketball too great a debt, has seen it come too far -- from nothing, really -- to abandon it now for the far, far greater glory and compensatory packages of the men's game. Stringer probably wouldn't want to get caught up in the cutthroat politics, economic exploitation and tawdry recruiting practices in the men's college game. She probably would feel as if she is abandoning the women's game.
But somebody at Georgetown should ask her. When John Thompson took the job in the mid-'70s, G-Town hoop was special, groundbreaking and mythic. It would be in Georgetown's tradition to hire Vivian Stringer.
It's the smart move.
There'd be buzz to it.
I'd like to see it happen.
What do you think?
Ralph Wiley has written articles for Sports Illustrated, Premiere, GQ, and National Geographic, and many national newspapers. He was one of the original NFL Insiders on NBC. His many books include "Serenity, A Boxing Memoir," "Why Black People Tend To Shout," "By Any Means Necessary: The Trials and Tribulations of the Making of Malcolm X" with Spike Lee, "Dark Witness," "Best Seat in the House" with Spike Lee, "Born to Play" with Eric Davis, and "Growing Up King" with Dexter Scott King and the children of Martin Luther King Jr. He contributes to many ESPN productions, and bats cleanup on a weekly basis for Page 2.