By Ralph Wiley
Page 2
"Who in the hell is Mel Kiper?!"
I'll tell you who. He's King of the Spring Bacchanal. He's Puck in A Midsummer Night's Dream. He's so Baltimore it's ridiculous. So why has Mel Kiper gone from a being just a squirrel trying to get a nut to an Oracle caught up in a Matrix? Well, there are several reasons, none of which have anything to do with hair. Mel is all NFL Draft all the time, pilgrims, and you do know what's become bigger than all spring sporting festivals, bigger than Yankees-Red Sox, the NCAA Tournament and the NHL and NBA playoffs?
The NFL Draft. The Draft! Not a game. The Draft!
Can you believe it? Does the NFL totally rule, or what? Mel happened to be there, riding that wave. Mel probably still can't believe he's getting paid to do this. When you're able to click off all the physical attributes of some 5-8¾ cornerback from Appalachian State and have projected him, by need and temperament, to a team and do all this with a straight face, and make it sound authoritative, like it matters, who cares if turns out that way or not? That's when you know you're a total geek. You do realize that Mel Kiper would be doing this for free. He has passion for it. Sometimes your personal passion is mirrored by the greater society. That's what happened to Mel. He caught the boom market, and that's when he went from being Who the Hell to not just Mel Kiper, but Mel Kiper Jr., That's Who, And I'm A Made Freaking Man.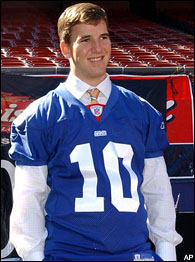 Eli Manning got his wish; now he just has to prove he's the real deal.
Mel and the fascination with the NFL Draft has yet to crest. They've even started to add a little drama to it. What have been the biggest off-the-field stories of the spring? Steroids? Kobe? UConn? Don't make me laugh. The big stories were all pro football stories. One was the battle between Maurice Clarett and his lawyer against the NFL and its lawyers, lobbyists, political bedfellows and powerful media friends, of which yours truly is occasionally one. (This is what Mel Kiper Jr. has to watch out for -- going from anti-hero or gadfly or expert speaking truth to power to Walking Satire by being co-opted, neutered; as we know, the NFL is so powerful, and seductive, and powerfully seductive, that it sucks you in like light itself into a black hole, and then there you are, part of the Body, almost before you realize it).
The Clarett legal battle went all the way to the chambers of two Supreme Court justices. That's big. That's huge. If you're Clarett, that's messed up. And it's not over. It was almost embarrassing to see how many former anti-heroes, gadflies, ex-journalists, Lone Rangers, D'Artagnans, Robin Hoods, etc., fall for the company line on Clarett, as opposed to following the tenets of the Constitution and Declaration of Independence; something about life, liberty and the pursuit of happiness.
What did Clarett do? Did Barry Bonds die or something? Clarett was showing symptoms of too-much-entitlement disease, yes, but let's see you hang out with LeBron James and see him get a credit line of $100 million while if you get a sausage sandwich for free you're a criminal. What's the big deal? After Herschel Walker went to the USFL (it being a competing league, there being no monopoly at the time), and the NFL saw the handwriting on the wall and allowed players in after three years in the minor-league feeder system of NCAA D-1 college football. Clarett has already spent two years past high school, and, oh by the way, helped Ohio State win the NCAA national title. So one year is worth denying him work? The other big stories were Pat Tillman dying in combat in Afghanistan and Eli Manning, the consensus No. 1 pick, telling the San Diego Chargers, thanks but no thanks.
As to the latter, it reminded me of fat Clemenza in "The Godfather" when he was counseling and prepping Michael to go "visit" Captain McCluskey and Virgil Sollozo at Louis' Restaurant in the Bronx. "How bad will it be? Pretty g$!%@ bad. But these things gotta happen every 5, 10 years or so, to get rid of the bad blood. The last one was 10 years ago ..."
Back in 1983, it was John Elway who attempted to determine his own fate as the No. 1 pick, and did, to a point, and suffered for it. Elway was a senior at Stanford, played baseball like Drew Henson. He did not want to be taken by the Colts at that time, who were led in the front office by a former Baltimore newspaperman named Ernie Accorsi. Elway and his father Jack didn't have any particular alternative plan, they just didn't want to play for the Colts. Elway had spent four years dodging pass rushers at Stanford, performing brilliantly for some less than brilliant teams and coaches. It was kept quiet, but Elway wanted at the time to play for the Raiders. The Colts of then where not the Colts of today; they were without sage GM Bill Polian, coach Tony Dungy or very much class. They soon bolted Baltimore in the dead of night. The Irsay family, in terms of their football acumen, reminded few in the league of, say, the Maras, or even Al Davis.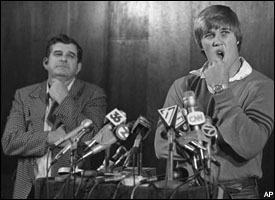 Elway orchestrated his way out of Baltimore back in 1983.
So Elway wanted to play for the Prince of Darkness. Al was willing to deal with the Colts and Accorsi, just as Accorsi -- now with the New York Giants -- was willing to deal with San Diego for the Eli pick this year. You can confidently say the Giants were hot to do it. Especially Accorsi. This would right some historical wrongs. Back in 1983, the league wanted no part of John Elway forcing a trade of the No. 1 pick. Not to the Raiders. To the league, the draft is a cornerstone of its logic, its credo of On Any Given Sunday, where the last shall draft first and the first shall draft last.
As the NFL's monopoly and as its power, clout and commercial, legislative and judicial influence has grown, so has it grown much accustomed to having its way, when any good lawyer could look at this system and tell you that it was not defensible before the eyes of a judge or jury. But the NFL can bury you in lawyers, break you, as it is attempting to break Alan Milstein, Clarett's lawyer. In 1983, there was no way Pete Rozelle was letting John Elway go to the Raiders. It would be like giving Lasix surgery to Sauron the All-Seeing Eye. The league and Davis were already embroiled in what was a series of lawsuits.
The Colts took Elway, and Elway bluffed that he was going to play with the Yankees, and the Irsays and Accorsi didn't call. So Elway was traded to the Raiders' divisional rival, the Denver Broncos, for bodies rather than draft picks, in part, I believe, just to nettle Davis a little more. Elway took it as half a loaf, at least, and then he got bailed out further when Pat Bowlen bought the team The result was a long, magnificent career for Elway, five Super Bowl appearances and two championships.
* * * * *

In '91, the consensus No. 1 pick was one Raghib "Rocket" Ismail, Heisman Trophy runner-up in 1990 to Ty Detmer of BYU. These are the ways to get people to like a protagonist: 1) give him extraordinary abilities; 2) make him likeable and pocket-sized; 3) have him endure underserved misfortune. Rocket didn't get the Heisman after what he did, which was to carry Notre Dame's offense and special teams at 5-10, 170 pounds. After he lost the Heisman, he also ran back a punt 91 yards for an apparent score on the penultimate play of that season's Orange Bowl national championship game, but the play was called back on a phantom clipping call.
But, as far as the NFL Draft was concerned, the fact it had happened couldn't be called back out of people's heads and memory. People would subconsciously get all that and that it would counterbalance the fact he'd gone to Notre Dame - some people would love him for that fact, and some would hate him for it - and had an Islamic name at the height of Desert Storm. I knew something about this, having met Rocket and done an acceptable story on him, Notre Dame and his family, as a 1989 cover story for Sports Illustrated. Later, when the Notre Dame press guide came out, in the thumbnail player bios under "Person You Most Admire," Raghib said, "Ralph Wiley, Sports Illustrated."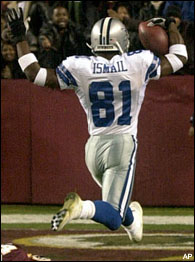 Rocket initially turned his back on the NFL for big bucks in the CFL.
Gives you something to think about.
Later, after the Orange Bowl, when he called me and said, "My family is destitute. I need to go pro. Will you help me?" I wrestled with it for about two seconds. By then I had the expertise. Team Rocket was devised to get the Rocket a worthy deal, not a typical NFL deal at the time, for a total of less than 3 percent of the contract price. At the time, Jerry Rice, the best position player in the league, was making about $790,000 a year. What could a rookie wide receiver who was projected as a 'tweener and who was "not a quarterback" expect? What could he expect from the New England Patriots, owners of the to pick, who were playing on artificial turf, and not anything like the current model in any way, shape or form, up and down the line?
Well, we knew Sam Jankovich was a first-year GM with the Patriots, and a former AD at Miami, where he'd brought in Jimmy Johnson, who was now beginning his glory years with the Cowboys, with Jerry Jones, a man who didn't mind paying the talent -- suffice it to say, we knew where Sam would trade the pick once we forced it. But then another wild card named Bruce McNall came into the mix, having bit hard on the A&P. SI had done a story on the construction of Team Rocket before the draft. There were more strategy meetings and low-profile visits. Rocket signed with McNall and the CFL's Toronto Argonauts for $3.5 million a year, under a personal services contract; like Wayne Gretzky, he was a speciality item, sent from one country to another to help establish one national game to the other land.
Rocket Ismail ended up being drafted by his preferred NFL team, the Raiders, in the fourth round. He ended up playing for the Raiders and the Cowboys, as well as the Carolina Panthers. The final contract Rocket signed, with the Cowboys, at the start of this decade, was worth just about what the first one he signed with the Toronto Argonauts was worth. And that draft was why it takes the full 15 minutes for each pick now. After the Rocket signed in Canada, NFL team execs, both paranoid and imperious to an alarming degree, called the pick they had in mind, "Are you sure you haven't been talking to Canada?" They didn't know what to do when faced with a competing bidder. The dirty little secret that's not such a secret is that the league is usually a monopoly.
When Rocket asked me, "I'm coming out. Can you help me?" I thought about it, I thought about my protective little cocoon of "journalism," how much I liked and admired him and his brothers Qadry and Sulaiman, and how they were living in abject poverty, and how much I knew about the machinations of the NFL, and I said, "Yes, I can help you." So I did.
The scenario? It was worth a book. It came down to both days of the 1991 draft. After Rocket had signed in Canada on the day of the draft, sort of deflating and enervating the NFL proceedings, a guy named Fred Edelstein said at the time Rock would "rue the day!" he spurned the NFL. If anybody was going to do any rueing, it would be Edelstein, not Ismail. One of my occasional sources and friendly acquaintances, Leigh Steinberg, was sitting at home in the Bay Area with the two guys who became the No. 1 and 2 picks, Miami tackle Russell Maryland, who went to Dallas, and safety Eric Turner, who went second to Cleveland.
Leigh said something about how American football players should stay in America as his two clients sat there stoically, with their necks spilling over their white shirt collars like biscuit dough. ESPN's Mark Schwarz, I believe, then asked, "But both these guys put together are going to get about half of what the Rocket's getting." And both of those massive bull necks cracked to the side at the same time ... Leigh chuckled and said, "You've put quite a hurdle in front of me." I sat on a bed somewhere and laughed and put my fist threw a straw boater.
Talk about heady times. Rocket got his. Free agency came in behind him.
* * * * *

That brings us to the two thousands, pilgrims, 2004, some 13 years after the Rocket Saga. Now we had a man who basically personifies the NFL, Elisha Archie Manning, one of the most gifted NFL players ever who had his career buried in cement by being drafted by an inappropriate team. Archie is still feeling the slings and arrows of incompetence of the New Orleans Saints, not to mention still feeling some of those licks. Incompetence can take a toll on a QB's body. Nobody has to tell Archie, just like nobody has to tell him or his prematurely arthritic bones when it's going to rain. He didn't want to see his son go through that. I don't blame him. I had to love him for going up there to stand by Eli when the kid went out on stage and felt boos. Archie patted him on the back. Supported him. I thought of Rocket. Sometimes a man's gotta do what he's gotta do, and supporting a son is one of them.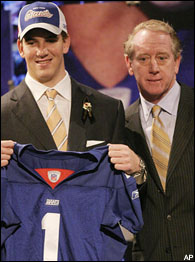 Dad knows all too well the pain of playing for a losing team.
Since Peyton just signed the richest contract in NFL history, including the largest signing bonus ever, he could leave tip money for Eli to live off for a year. And that was Eli's leverage, just as a baseball career with the Yankees, no matter how gossamer the chance of it, was John Elway's leverage, and a guaranteed $3.5 million a year personal services contract to play in the CFL was Rocket's leverage. The Chargers' hand was forced. They took Eli -- the smart move, if they planned to trade him. He had value, particularly to the New York Giants and Mr. Accorsi. At the same time, the Chargers had to move him, or else Eli would've surely sat out the season and re-entered the draft next year. The Chargers would've gotten nothing but bad ink and karma out of it.
So the Chargers wisely traded Eli to Accorsi and the Giants and got Philip Rivers, who's not bad player himself, plus a third-round pick, a kicker named Nate Kaeding from Iowa, and the Giants' first-round pick next year.
As for the draft itself, the marquee value of the first day was over by 2 p.m., when the last of the Nine Great Picks -- Manning, Robert Gallery, Larry Fitzgerald, Philip Rivers, Sean Taylor, Kellen Winslow II, Roy Williams (!), DeAngelo Hall and Reggie Williams -- was taken. The rest was fill. But important fill. In '91, Team Rocket had publicized that Rocket had signed a four-year deal in Canada. It didn't publicize there was an out after two years. The Raiders knew it, and the Cowboys knew it.
Dallas had the 97th pick. The Cowboys shouldn't have taken a running back from Pitt named Curvin Richards with the 97th pick. The Raiders had the 100th pick and when it was announced, "The Oakland Raiders select ... is this right? ... Rocket Ismail, Notre Dame," you can say it woke up the room. Just a little bit.
I love pro football, don't you? Nothing else compares. The NFL rules. So now, is everybody happy? Not quite. Not until NFL season actually starts up again. In the interim, you got your appetite whetted. To keep in the mood, here are the 2004 NFL Draft Uncensored Thought Balloons.
Until next year, then ... so long, Mel. Have a nice trip.
* * * * *

Elisha Archie Manning, retired -- "San Diego? Great place to visit, but I wouldn't want my son playing quarterback there. Not for that group of cellar-bats. Been there, done that. Note to the Spani. Don't call us, we'll call you. And when you don't hear the phone ring? That'll be us, not calling."
Paul Tagliabue, commissioner, NFL -- "Be careful not to stumble on your way up there, Paul. I'm just counting down the days to retirement. But who will succeed me. Maybe I won't step down. Nice easy steps, Paul. Look at them, waiting to hear what I'm going to say. It's like being the President. Say, there's an idea. Not that big of a leap. I'm already President, in a way."
Eli Manning, QB, New York Giants -- "When did I get to be 6-5?"
Al Davis, managing general partner, Oakland Raiders - "No-braina (sucks teeth). Had to take the Great One. We lost Lincoln Kennedy, Robbins went nutzoball ... (sucks teeth) ... note to self: bring in Art Shell as a consultant? But will Gallery even know who Art Shell is? And then it would be wasted money. I remember. I remember Art made Jim Marshall disappear. Made Howie Long cry. The Raidess. We dominate. I like that word. Dominate."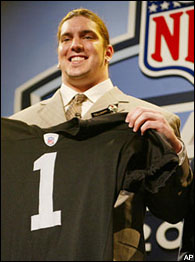 The QBs got all the fuss, but Gallery may be the star of this draft.
Robert Gallery, OL, Oakland Raiders -- "Pancakes, anyone?"
Dennis Green, coach, Arizona Cardinals -- "Heaven ... I'm in heaven ... and my three-wides so nice I can hardly breathe ... now if only some fans came to watch and see ... we'll be end-zone dancing soon cheek-to-cheek. They changed that rule? Guess not then. We'll keep Fitzhammer though."
Ernie Accorsi, GM, New York Giants -- "Yes! Yes, yes, yes! Finally! Revenge is a dish best served blackened with Cajun seasoning! Anybody with half a brain knew what was up when we took Philip Rivers, didn't they? Twenty years ago, I got royally screwed outta Elway. Elway was by rights all mine back when I was with the Colts. Since then I've bided my time. Grew up on Johnny Unitas. Covered him. Worshipped him. Know it when I see it. I saw it in Elway. When I look at Eli, I see Unitas, I see Elway. Who cares how many draft picks it took? Kerry Who? Oh yeah, him."
Marty Schottenheimer, coach, San Diego Chargers -- "Excuse me? How does it make me feel that the Mannings rejected me? They didn't reject me. Does it look like my name's Spanos? I rejected them. Why does Salisbury keep asking how it felt when Tom Coughlin rejected me? Oh, I thought you said Tom Coughlin, not Tom Condon -- you didn't know Condon is the agent for Eli and for Coughlin? You did know that, Sean? Where you been. We'll pretend Rivers is better than Eli Manning and we'll see what happens. If you get the Raiders in the fourth quarter, they'll quit every time, I promise you."
Tom Coughlin, coach, New York Giants -- "Eli and I have the same agent? So? That had no bearing on this decision. Chris Snee and my daughter Katie have a child together? So? That had no bearing on Accorsi's decision to draft Snee in the second round -- although somebody's got to be responsible. I'm hungry. So? That has no bearing on eating this hot dog."
Joe Gibbs, coach, Washington Redskins -- "I was torn so bad it took me like two seconds to tell Renfield, I mean Cerrato, to pick Sean Taylor. I could've had a ball, scheming stuff for K2, but I had second thoughts when I couldn't find him when he came for his visit. He wasn't where he was supposed to be, let alone on time. This tends to give a man pause ..."
Kellen Winslow II, TE/WR, Cleveland Browns -- "I will have my revenge!"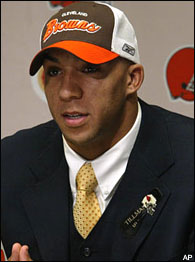 Winslow was ticked that the Redskins didn't draft him at No. 5.
Sean Taylor, S, Washington Redskins -- "Revenge? What in the hell is K2 talking about now? I've found myself asking that question a lot during our time at the U together. Total specimen, and I would know. But Space Cadet City. Let me get this straight, it's an insult to get draft one spot behind me?"
Butch Davis, coach, Cleveland Browns -- "We're leaking like a sieve here; the front office is a shambles; Policy finally took the hint, and I had to think a lot to get Wolf to jump over the side, receivers bailing out on me left and right, that freaking Johnson, that freaking Northcutt; maybe Winslow will be big enough for all the blame to stick to him, just in case this thing implodes before I can turn it around; I will turn it around, but, just in case ..."
Matt Millen, GM, Detroit Lions -- "Roy Williams is there? How you like me now, all you fake guru-talking-meatball-heads!!"
Michael Vick, QB, Atlanta Falcons -- "Dang! Almost got Roy. Hall's my boy and everything, and sooner or later we gotta stop somebody. I guess."
Charlie Casserly, GM, Houston Texans -- "Dunta Robinson, cornerback, South Carolina. We load up on D down here in Texas. This guy better start, and he better cover, and I better keep this overly stern look on my face like I'm a tough guy, despite the fact that I really like the feel of silk underpants."
Ben Roethlisberger, QB, Pittsburgh Steelers -- "But the Giants said they wanted me! This ain't the way Pop said. They said they would take me! They said there was something in it for me! Next thing I know they're taking Rivers and trading him for Eli! I'm big as Eli. Bigger! I'm tough as Rivers! Tougher! I'm smart; not like they say, like I just starting playing last year. Pittsburgh? Let's see ... wait a minute; Hines Ward, Plax Burriss, Antwaan Randle El. Hey, know what? Eli can have the rotten Apple. Lied to me ..."
Ernie Accorsi, GM, New York Giants -- "Welcome to the big leagues, kid."
Herm Edwards, coach, New York Jets -- "I'll be calling 'Vil-maaaaaa!' so much until Woody's spies will probably think I'm Fred Flintstone. Jonathan Vilma, then Straight, the Oklahoma corner ... all I need now is a life-sized blow-up doll for the passenger seat to get me through the H.O.V. lanes ..."
Tom Donahoe, GM, Buffalo Bills -- "I'm smart, Mr. Wilson. Right? Right? Mr. Wilson? Mr. Wilson, are you still there? Can you hear me now? Hallo?"
Lovie Smith, coach, Chicago Bears -- "I prayed with Tommie Harris. After Tommie went home, I prayed by myself that we would get Tommie Harris. Then I saw what Tommie was wearing for the draft, the Oran Juice Jones look, and then I prayed for Tommie Harris. You could say Tommie's the answer to my prayers. Urlacher's too."
Jon Gruden, coach, Tampa Bay Buccaneers -- "Eli has a rifle under his shoulder pads that we should investigate? I sound like Ron Jeremy. Michael Clayton. I like the idea of putting him with Joey Galloway and McCardell in a three-wide shell game. Brad Johnson has been skipping around all day like Rebecca of Donnybrook Farm. Think I'll join him ... hey, this is fun!"
Andy Reid, coach, Philadelphia Eagles -- "We'll take 'Arkansas Road-Graders' for a hundred, Alex ... some teams went for flash. We went for power. So did the Raiders. We'll take 'Pancakes' for a thousand, Sal ..."
Donovan McNabb, QB, Philadelphia Eagles -- "Good answer, good answer."
Mike Shanahan, coach, Denver Broncos -- "God Jesus, is this fun or what?"
Terence Blanchard, jazz trumpeter, New Orleans Saints fan -- "Will Smith? Perfect. Another lineman prone to fat? We gotta stop this. This is Big Easy, cholesterol capital of the Free World. If a guy is prone to fat, we can't take him. Even parking tickets come with a side order of jambalaya, gumbo and a shrimp and oyster po' boy. Once we signed a D-tackle named Grady Jackson at 350; he was up to 430 by that evening. Just put a paper bag over my head; only this time don't cut any holes in it. Somebody wake up Benson."
Dan Marino, commentator/ex-exec, Miami Dolphins -- "Do I like the guy we took? I don't know. Who'd we take? Oh, Carey, offensive lineman, Miami? Bingo. I need protection on my backside. Oh, my backside doesn't play any more? It sits around in the sun getting tanned ... since when? That long? If that's so, then who's our quarterback, Mr Smarty-Pants Warfield. Touch-Feeley? Oh. Excuse me, there's the shuttle to CBS. Oh, I mean to HBO."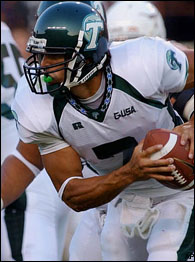 Losman talks a big game, but can he bring it to the field?
Mike Tice, coach, Minnesota Vikings -- "We like Kenechi Udeze. Once we figured out how, we even liked saying it. Ken-eech-chee oo-day-zay. Sounds Buddhist. Maybe we can turn let Randy turn it into a mantra for us, finger cymbals, incense and everything. Yes I'm nuts. No one must ever know ..."
Bill Belichick, coach, New England Patriots -- (humming a familiar tune to New Yorkers) "We'll take Vince Wilfork, the Bronx and Staten, too ..."
J.P. Losman, QB, Buffalo Bills -- "I am second to none! I am second to none! If I keep thinking and believing it, then I can sell it. Wait a minute. First round?! You mean they bought it. Donahoe actually bought it? I can't believe it! First-round money?! Who cares if I play or not! Domino, baby!"
Mike Holmgren, coach, Seattle Seahawks -- "Yeah, we take Tubbs. Can you tell how enthusiastic I am about that pick? We else were we gonna do? We lost Randle. We were going to have to start lining up Microsoft employees."
Marshall Faulk, RB, St. Louis Rams -- "No I'm not going to be a jealous diva queen b**** of the universe about it. I'm willing to show Steven Jackson the ropes. I am not going to go out like Emmitt Smith, kicking and screaming and crying like some girl ... sniff ... Tito, bring me a tissue ..."
Mike McKenzie, CB, Green Bay Packers -- "What did he mean, which one am I, Milli or Vanilli? Why that punk little DB Ahmad Carroll say that to me? What does he mean, he didn't say that? I heard him say that. Punk. He's almost as big a punk as coach. Wonder if I'll be here next year. I'm not going to be Milli, I can tell you that right now. You better go talk to Al."
Marvin Lewis, coach, Cincinnati Bengals -- "Who drafted best? Detroit's wasn't bad; and how about ... us!! Chris Perry? Are you kidding me?! He fell to us?! I like Mel as well as the next guy, but he's wrong if he says there are backs, like Jackson or Kevin Jones, better than Perry. Perry nearly ran himself to the Heisman, he carried a stiff like Navarre, beat Ohio State by production and example in his senior year. Put it this way. We'll keep him, and New England can have Marshall Dillon. Let him clean up Dorchester."
Dom Capers, coach, Houston Texans -- "What's a Black-Eyed Pea anyway?"
John Fox, coach, Carolina Panthers -- "Gamble this."
Michael Jenkins, WR, Atlanta Falcons -- "Who took me? Atlanta. Uh-oh. I go from that Replicant 6 Krenzel trying to throw howitzer shells right through me to Michael Vick's laser-guided bullets. I've got football-tipped scars all over my body, and you know what ... I ... freaking ... love ... it!!!!!
Joey Harrington, QB, Detroit Lions -- "Roy Williams and Kevin Jones? Heh. Heh-heh. Hehhehheh. Hehe-hoohoo-hahahahHAAhahaha!!! Tell me how it's gonna be again, Mooch, when we get the rabbit farm!"
Rashaun Woods, WR, Oklahoma State -- (to the guttural beat of Dr. John) "I went to the right bay, but it was to the wrong club ..."
Tom Brady, QB, New England Patriots -- "What if this was all a dream?"
Mel Kiper Jr., draft guru, ESPN -- "Jesus? A great value pick at this point."
Ralph Wiley has written articles for Sports Illustrated, Premiere, GQ, and National Geographic, and many national newspapers. He was one of the original NFL Insiders on NBC. His many books include "Serenity, A Boxing Memoir," "Why Black People Tend To Shout," "By Any Means Necessary: The Trials and Tribulations of the Making of Malcolm X" with Spike Lee, "Dark Witness," "Best Seat in the House" with Spike Lee, "Born to Play" with Eric Davis, and "Growing Up King" with Dexter Scott King and the children of Martin Luther King Jr. He contributes to many ESPN productions, and bats cleanup on a weekly basis for Page 2.