Commentary
From the Heat, and now into the fire
Updated:
December 2, 2010, 10:27 AM ET
By
Dave Wilson
| Page 2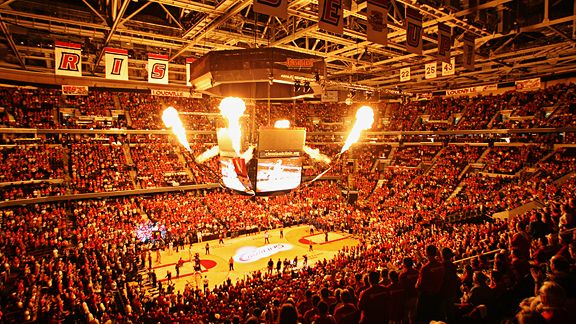 Ned Dishman/NBAE/Getty ImagesThere will be plenty of Heat in Cleveland on Thursday.
"You don't want to see anything stupid happen. I don't want to see anybody do something they shouldn't do, whether it was Thursday night or any night. I'm sure a lot of them will make their feelings known, but as long as everybody plays by the rules and doesn't go over the top, everything will be fine.
Cleveland Cavaliers owner Dan Gilbert, on the Miami Heat visiting Cleveland on Thursday.
---
This game has been circled on the calendar since July.
That's when Cleveland Cavaliers fans saw one of their own head south to Miami to chase a championship ring, leaving behind just a full-page ad to fans.
Thursday night, after hysterical hype and months of pent-up tension, he returns.
Zydrunas Ilgauskas.
What will happen then? No one is quite sure.
"The reality is that I'm playing for the Miami Heat right now and our team is going to get a harsh reception," Ilgauskas said this week.
The fan favorite
[+] Enlarge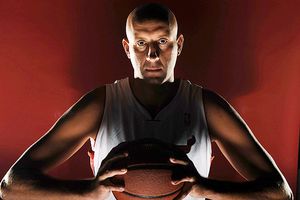 Marc Serota/Getty ImagesCould Cleveland fans have fallen victim to Zydrunas Ilgauskas' devious plot?
Ilgauskas played all 13 seasons of his NBA career in Cleveland, where he was known as one of the tallest Lithuanians in Ohio. He became the team's career leader in games played, blocked shots and rebounds.
Despite this, and despite being named to the All-Star team twice, Cleveland traded Ilgauskas to the Washington Wizards. He was waived eight days later, but clearly had a bigger master plan in mind.
Big Z signed a one-year contract to return to the Cavs, setting up his ultimate revenge: Once the season was over, he bolted for the Heat.
"It's hard," his agent Herb Rudoy said in July. "It was very hard for him. I know that. … It was definitely a hard decision at this stage of his career. But he wants to win a championship. That's how he made this decision."
The return
Ilgauskas knows tensions will be high in Cleveland.
"Thursday is going to be hard for us," he said this week of the Heat, who also has another player -- LeBron James -- who played for Cleveland last season. "It is going to be emotional for me and I know that."
Cleveland fans have obviously been preparing for this night for months, and their game plan is to keep their scorn under wraps.
Mike Potraffke, general manager at Harry Buffalo in Lakewood, where fans angrily reacted to other Heat defections this offseason, obviously was trying the ol' reverse psychology ploy.
"I honestly would see him getting a standing ovation when he came out there," he said Wednesday, still playing it cool. "I don't know if Z had many options. I don't know if it was a situation where he could've stayed with us or we didn't want him anymore.
"Same thing with Shaq leaving," he said, referring to Shaquille O'Neal, one of most famous players who left the Cavaliers this summer. "It was more of like, 'Thanks for your time, bud.'"
Patrick McGinty, owner/general manager of The Clevelander, a downtown bar, cracked a little bit, admitting there were some hard feelings, but then stuck to the "we didn't want him anyway" talking points.
"I think there is [resentment], just from some of the feedback," he said. "There are some conflicting reports as to whether the Cavs offered him a contract or not."
These guys are good.
But you don't have to look too far for proof of the underlying rage. The other player, James, who left Cleveland for Miami, still has a burger (The King James) named after him, according to the Clevelander's website. Anything for Ilgauskas? Nope. But there is one called the Big O burger. Or is that the Big Zero? Sly.
One of their own
[+] Enlarge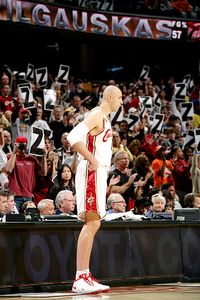 David Liam Kyle/NBAE/Getty ImagesCleveland fans loved their 7-foot-3 Lithuanian. But how will they react to his return Thursday?
It's always hurtful when one of your own turns his back on you.
But we found yet another example of Cleveland's cooperative spirit on this subversive effort. Andrew Belzinskas, a loan officer at the Taupa Lithuanian Credit Union in Cleveland, stuck with the theme.
"He put an ad in the paper," Belzinskas said. "Everybody is happy for him, proud of him and wants him to succeed. He will get a good reaction when he comes back to Cleveland, without a doubt.
"He's in good standing," he reiterated. "He didn't punch us in the face and go on TV like some other person who I won't name."
High standards, Mr. Belzinskas. Ads in the paper? Not punching you in the face on television like unnamed people? We're supposed to believe that makes up for the betrayal? And then he really lays it on.
"He actually wants to come back here when he's done," he said. "Not many people want to do that."
Oh, that is rich.
The big day
Cleveland obviously has organized a quiet, calm, collected resistance. There's no telling what to expect for Ilgauskas' return Thursday night. But the Cavaliers are taking no chances, beefing up security.
For his part, Ilgauskas has tried to quell the anger before he returns.
"I appreciate Cleveland. It will always be a home to me," Ilgauskas said. "The fans have meant so much to me over the years, and that will never change. But we happen to be on a different side of the barricade this time."
Will that calm any fans who are angry about Ilgauskas' defection to the Heat?
"People just need to get it out of their system, get the anger out of their system and move forward," Potraffke said.
"I think it's going to be a little anticlimactic," McGinty said. "I don't think you'll see anything too crazy. Clevelanders, in general, will be on their good sports behavior. You might have one or two idiots."
Potraffke may have even offered one final cautionary hint at some sort of dastardly plan.
"Unless something crazy and wild happens during the game," he said, "I think Friday will be a brand new day."
Dave Wilson is an editor for Page 2.