Commentary
Coach has baby, on sideline next day
Originally Published:
March 3, 2011
By
Dave Wilson
| Page 2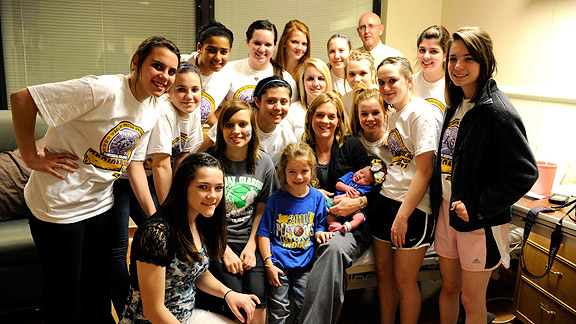 Greg Kendall-Ball/Abilene Reporter-NewsThe Lipan Lady Indians at the hospital with head coach Amber Branson and her newborn daughter.
Amber Branson had a pretty good 24 hours for a coach: Two wins, one baby.
Branson, the girls basketball coach in Lipan, Texas, gave birth to a daughter after a game on Friday, at 10:18 p.m., then coached her team to a state tournament berth at 2 p.m. the next day.
That's 15 hours and 42 minutes after giving birth to an 8-pound, 7-ounce and 19-inch-long human being, without the aid of any painkillers.
Coaches are organized and know schedules. It's what they do. Branson was no exception, saying she'd pondered this scenario for months.
"I knew the timing of my due date might coincide with the playoffs, if we made it that far," Branson, 34, said while riding the bus carrying her team and family to the state tournament in Austin. "If there was any way possible to not miss a game, that's what I wanted to do."
Her team reached the regional semifinals in Abilene, about 100 miles from home, but Branson's friends in Lipan -- population 425 at the 2000 census -- had helped her prepare for emergency scenarios. Her son's first-grade teacher had a baby in Abilene about 20 years ago, and made a call to her doctor there, who said to pass along his cell phone number as a precaution. That number was put to use on Friday night, just after the team's big semifinal win over Roby.
These are the benefits of living in a small town. "It's always helpful to know somebody," Branson said.
Branson said she went to the hotel after the game to rest. Her husband, Les, took the girls about 30 miles away to Tuscola to watch the Lipan boys in their playoff game.
[+] Enlarge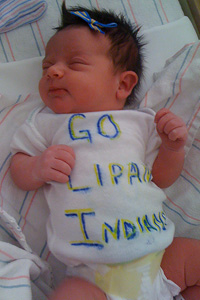 Courtesy Amber BransonNurses at Abilene Regional Medical Center made baby Leslie this T-shirt.
Back at the hotel, the coach, who already had a 7-year-old son, Tate, and a 6-year-old daughter, Taylor, realized the baby wasn't waiting around. She called Les to come back, and his aunt rushed her to the hospital in Abilene.
They got to the hospital around 9 p.m.. The baby, Leslie Telese Branson, arrived a little more than an hour later.
"God worked it all out," she said. "I didn't have time to have an epidural. If I did, I wouldn't have made it to the next game. He's the one who gave me the strength."
Branson was back on the sidelines on Saturday for the regional final against Newcastle, and her girls rewarded her with their own valiant effort. They rallied from a 15-point deficit with six minutes to play, going on a 21-2 run to close out the game to earn a trip to the state tournament for the first time since 2003.
For Amber and Les Branson, who both grew up in Lipan and played basketball there, it was a proud occasion. Les was on the boys team that made the state tournament in 1994. Amber has been the girls coach for four years. They both said they know the decision was unusual, but it's really the only decision they could imagine making. The girls on the team are as much a family as their children, they said.
"Ultimately, if it wasn't for them, we wouldn't be out there [in Abilene] having the baby, in the middle of this whirlwind right now," Les said.
"I've gotten some criticism. People say, it's just a game, I should've taken care of my baby," Amber said. "If I could've taken her with me, I would've. A lot of people don't understand our community revolves around basketball. It's just something that's really important to our kids and our town and I felt like I was making the right decision."
Branson said her confidence was bolstered by the nurses at Abilene Regional, who were supportive, even making a "Go Lipan Indians" T-shirt for the baby. She also said she had plenty of help from friends and family.
Branson laughed that most of the stress probably fell on assistant coach Ray Michou.
"He has been wonderful. He's probably been stressed out the whole season, closer to my due date," Branson said. "It had to have been a stress on him too. I couldn't have done it without him or my husband and all of our friends and family.
And of course, the support of her team, which had to ponder the absence of their coach during the most important game of their season. Surely, however, even they thought she was crazy for coaching the game.
"I don't know if they think I'm crazy. I don't think I did that much of a big thing," Branson said. "They just know how much I love them and want to be there for them. I don't want to take away from their moment. This week, going to Austin, this is all about them. "
Branson shrugged off the suggestion that professional players miss games for far more minor reasons.
"I don't know. It's just different where we are at, at the high school level," she said. "They have a lot invested in themselves, and we have a lot invested in our kids."
With a state tournament game looming for Lipan (27-9) on Friday afternoon against Neches (35-4), there's still no rest for the Bransons, but that's just fine with them.
"It means a lot to our town and community what these girls have done," Branson said. "I've been blessed to be a part of all three experiences -- the two games and the birth of my daughter. It's just been a wild, crazy three or four days, but it's been so much fun."
Dave Wilson is an editor for Page 2.