Commentary
How Jamaal Charles got even faster
Originally Published:
March 31, 2011
By
Dave Wilson
| Page 2
Jamaal Charles is fast. He's used to getting to places in a hurry.
Last season, he ran for 1,467 yards, leading the league with 6.4 yards per carry, second in NFL history to the great Jim Brown.
But what's an All-Pro running back to do when he needs to get to Wal-Mart in a hurry? If you're Charles, who recently earned a $32.5 million contract extension, you take your new Lamborghini.
"Who goes to walmart in a lambo," Seattle Seahawks safety Earl Thomas wrote on his Twitter page.
Charles and Thomas are old friends. They played at Texas together, and are both from Southeast Texas -- Charles from Port Arthur and Thomas from Orange -- in an area known as the Golden Triangle.
The two emerging stars have been working out together all summer in Austin (where the Lamborghini is) and back in Port Arthur. And that includes trips to big-box discount retailers in an insanely fast car.
[+] Enlarge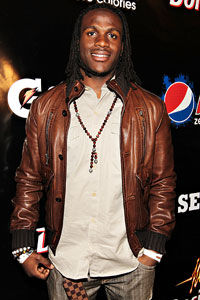 Christopher Polk/Getty Images Jamaal Charles spends his summer in Texas, working out at his hometown YMCA.
"It's ridiculous, man, I love it. That was my dream car, and that was my goal this year," Charles said. "Every time I'd be in the backfield, saying, 'You gotta get this Lambo, you gotta get this Lambo.' So that's my motivation."
It worked. He racked up all that yardage despite only getting an average of 14 carries per game.
So we had to ask Charles, who visited ESPN this week, if he was a fantasy football owner, would he be frustrated that Jamaal Charles didn't get more carries?
"Probably kind of, but in a way I'd be looking out for his health too, to see how many years I can use this man down the road," Charles said, delicately handling the question. "He had this type of year without getting the ball that much, just imagine if he got the ball more. But I feel good, I feel healthy. Going into my fourth year, I feel real strong about my body."
And he got that Lamborghini. But the fulfillment of that dream hasn't slowed Charles' drive. He and Thomas have spent the summer back home, pushing each other.
"Me and Earl Thomas, we went to UT together, he's kind of like a little brother to me. I talk to him and try to keep him working hard, talk to him keep him focused. I try to stay in his ear," Charles said. "He just bought a house there. I just bought my mama a house there, too."
Charles said Port Arthur (population 57,755), an area which has long produced an abundance of NFL talent, offers plenty of opportunity for workouts against other local players, including Jordan Babineaux (Seahawks safety), Jonathan Babineaux (Falcons defensive lineman), Anthony Collins (Bengals offensive lineman), James Johnson (Steelers running back) and Danny Gorrer (Ravens defensive back).
"There's a lot of talent that comes out of there," Charles said, adding that the players all work out at the YMCA. "Sometimes we all get together when we're back home and we play a little 7-on-7, or we play basketball and work out together."
But maybe there's an ulterior motive.
"Right now it's crawfish season. I would fly a couple of hours just to get some crawfish," Charles said. "In front of the Y is a crawfish place called Bruce's and we go right across the street after working out. Man, that's the best thing ever. That's why I like home that much."
And he's been spoiled by barbecue, growing up in Texas and playing in Kansas City.
"In Port Arthur, my uncle, he cooks the best barbecue. He smokes boudin [a type of Cajun sausage filled with rice], you got the Zummo's sausage [a local sausage company]. I really don't try to eat that much barbecue, but when I go back home, and my uncle cooks, I'm gonna eat it," Charles said. "But when I go back to Kansas City, I go to Oklahoma Joe's. I love that spot. They even let me do a commercial for them."
A Longhorn can go to a place called Oklahoma Joe's?
"I don't care about the word. I just care about the food," Charles said. "Delicious."
While Charles is back in Texas, Chiefs fans are working the vote for Charles in the "Madden '12' cover voting. He's facing Jaguars running back Maurice Jones-Drew in the second round of the bracket, with voting for the matchup running until April 3.
"Oh yeah, Chiefs fans are behind my back 100 [percent], but some of them said they wouldn't vote for me because of the Madden Curse," Charles said. "We talked about it, but curses can be broken, too. Drew Brees had a great year and didn't get hurt."
Their support allowed him to dispatch Denver Broncos quarterback Tim Tebow in the first round of voting.
"I kind of feel like if you look at who's been doing stuff in their career to that point, yeah, I think I deserved it," Charles said. "But at that time, you know he has a big fan base. He's coming from winning two national championships and a Heisman trophy. You'd think this god of football would be whipping my tail in the 'Madden' cover thing."
So while the voting continues, Charles will keep working out, hoping the NFL labor situation edges closer to resolution. Charles, a former track star, says he may try to find a track team to join if the lockout lingers too long. Or he might be back in Southeast Texas, a superstar NFL player working out at the local YMCA, which he doesn't think is all that unusual -- at least to him.
"I'm not trying to be in this league to be a superstar. I'm trying to be in this league to be a Hall of Famer, so that's how I'm approaching the game," Charles said. "To be a Hall of Famer, you have to work hard, stay low, stay successful off the field, be in the right place and be around good people."
Dave Wilson is an editor for Page 2.