Commentary
Texas A&M's Reveille wants equal time
Originally Published:
April 5, 2011
By
Dave Wilson
| Page 2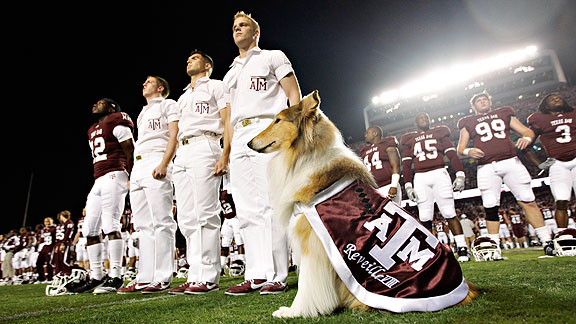 AP Photo/David J. PhillipReveille is a five-star general, the highest-ranking member of Texas A&M's Corps of Cadets.
Butler's mascot, a 7-year-old English bulldog named Blue II, became quite the celebrity during Butler's NCAA tournament run.
At the InterContinental Hotel in Houston, the hotel bar had a bed and monogrammed bowls laid out for him and a signature martini named in his honor. The Blue II Martini featured Blue Curacao, vodka, lemon juice and blueberries.
Meanwhile, another canine mascot who's long been a star on her campus has a team playing for the women's basketball national title Tuesday night. Reveille VIII, Texas A&M's mascot, is a collie who easily has more in common with students than any animal mascot. She lives in the dorms, goes to classes and even has a student identification card.
But unlike Blue II, Reveille might not make it to the title game. According to Texas A&M officials, Reveille will be in Indianapolis for Tuesday's championship game between the Aggies and Notre Dame at 8:30 p.m. ET on ESPN. There, she'll meet the team and fans, and offer her support. But, officials say, the limitations on the number of students on the court might mean there's not enough room for her handler, a student, to accompany her.
So we'll just have to wait and see if the students can manage to get her into the game.
Such uncertainties are not usually a part of the pampered pooch's life. Despite living on campus like a student, the Reveilles have had quite a bit of an advantage over the typical college kid (including traveling by private jet to the title game for Reveille VIII):
• Reveille is the highest-ranking member of Texas A&M's Corps of Cadets, and was given an honorary designation as a five-star Cadet General after World War II by the U.S. Army to thank Texas A&M, then a military school, for its assistance in the war effort. Members of the still-sizable Corps of Cadets address Reveille as "Miss Rev, ma'am."
• A specific Corps of Cadets company, E-2, is known as the "mascot company" and a sophomore in the unit is designated, via a tryout process, as the "mascot corporal," responsible for her at all times. If Reveille wishes to sleep on the bed, the cadet has to sleep on the floor. "I groom her about once a day, and during the school year she gets professionally groomed once a week," Cody Guffey, her mascot corporal, said last year. In a recent video, she had a spa day with Reveille VII.
• Tradition says if Reveille barks during class, then the professor is to dismiss the class immediately, ostensibly because she is bored.
• Reveille also has her own cell phone, but obviously has an assistant to handle all her phone duties.
• All of the Reveilles who have taken that long walk to eternity are buried outside the north end of the Aggies' beloved Kyle Field with paws and faces pointed toward the stadium, "so that they can always watch the Aggies outscore their opponent on the field," the Texas A&M student handbook says. They formerly could face down a tunnel to the main scoreboard, but a stadium expansion plan meant it was walled off. So the university installed a separate scoreboard, known as the Reveille Scoreboard, outside the stadium near the burial sites.
So Blue II may have had his run of the place in Houston, a mere 90 miles from Reveille's home in College Station. But Reveille's star status in Texas won't be threatened anytime soon.
Dave Wilson is an editor for Page 2.